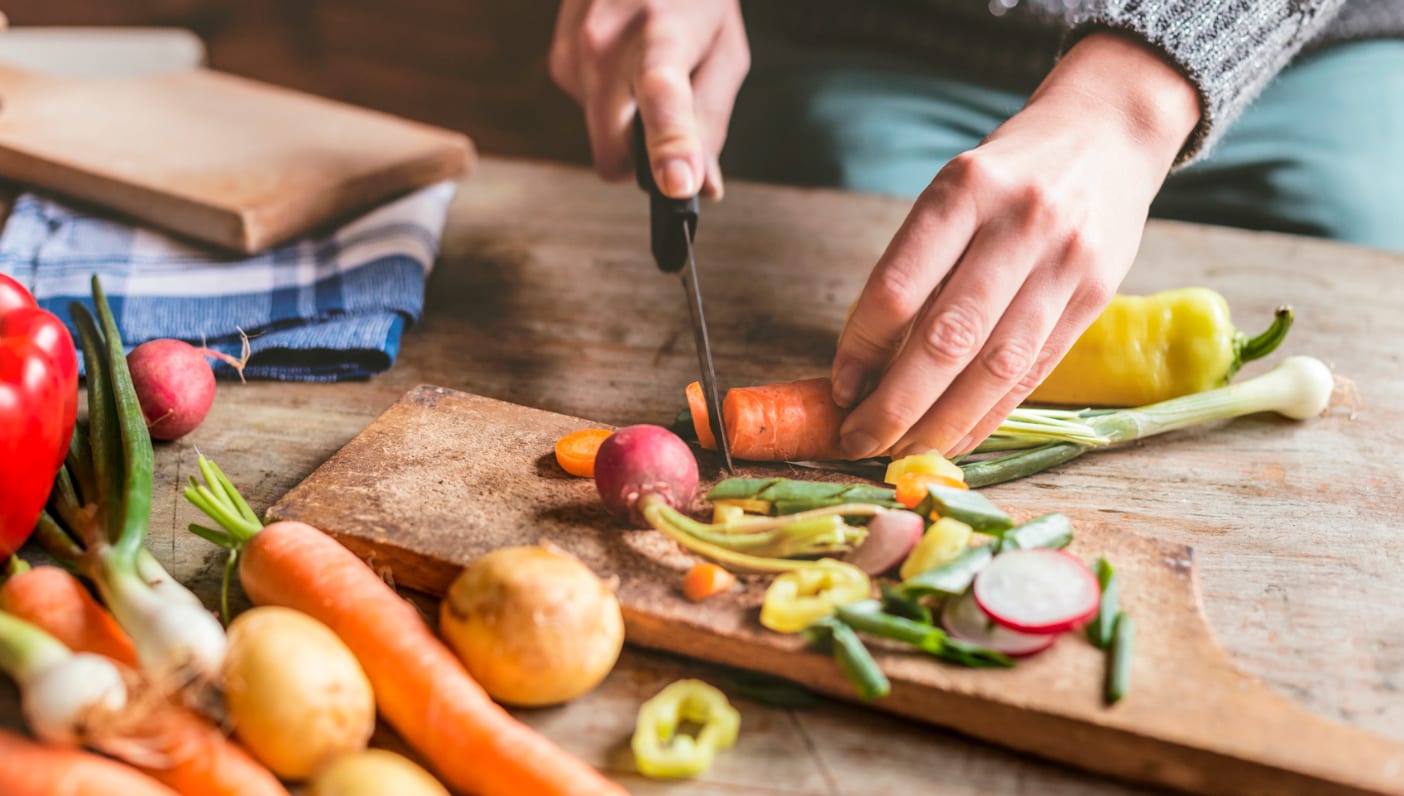 Gone are the days when veggie burgers were boring. We live in a world where you can get a nutritious, flavor-packed patty that's full of actual grains, veggies, and legumes—not unpronounceable ingredients and mystery meat. 
Imagine a burger with kale, quinoa, and sweet potatoes, or Asian-inspired patty with brown rice and bean sprouts. These dynamic patties serve as a phenomenal platforms of a myriad of your favorite toppings. Whether you want to stay classic, or unleash your inner green goddess, there's a (veggie) burger out there for you.
Who says a veggie burger needs lettuce and tomato? Who says it even has to be on a bun? While there's certainly a time and place for a good ole' fashion California burger, we like to imagine all the ways you can add some flair to your favorite meat-free meals.
Below some of our favorite veggie-burger inspired meals, all of which are good to the animals, and awesome for your taste buds.
The word "bibimbap" literally translates to mixed rice, which serves as a pretty great description for this recipe. And while you might get your bibimbap fix from your fave Korean restaurant on the way home from class, there's a way to save some dollars and make this delicacy in your own kitchen. Using Dr. Praeger's Bibimbap Veggie Burger, some brown rice, and a handful of fresh Asian vegetables, you can have takeout without even leaving the couch.
There are few things that so expertly represent comfort food as a well as the meatball. You don't have to be a carnivore, however, to feel that comfort: This recipe takes those beloved flavors and combines them with a Super Greens patty to satisfy both your inner godfather and your inner-juicer. This patty is packed with collard greens, quinoa, kale, chard, spinach, mustard greens, turnip greens, apples, and spices. To turn them into "green balls," mash the patties, shape them into balls, and bake them in the oven for 10–15 minutes. Serve on a hero with marinara sauce or over pasta. 
Casseroles are one of America's favorite dinners: They're filling, flavor-packed, and great for leftovers. But rather fill your casserole with carbs and dairy, we recommend one of Dr. Praeger's Mushroom Risotto Burgers, full of mushrooms, Arborio rice, peas, parsley, and truffle oil. The concoction creates a rich, Mediterranean-inspired patty, that sneaks in a handful of healthy veggies. Add it to this casserole recipe for meat-free variation on one of the world's most comforting foods.
Aromatic curry, fresh veggies, and cumin come together to deliver this exotic burger to send your taste buds on a field trip to India. With more spice and complexity than your average burger, this recipe is perfect for those nights when you're looking to entertain friends or cozy up with the family. Prepare the burger, and then swaddle it up in a pita with fresh basil, chopped mango, and tzatziki sauce.
A Mexican-themed dinner can turn any evening into a party. And while might be tempted to hit your favorite taqueria, we have to recommend this vegan black bean enchilada recipe. Start with Dr. Praeger's Black Bean Quinoa Veggie Burgers, some enchilada sauce, fresh veggies, and spices to create the filling, then add to whole wheat or corn tortillas and bake. Top with a homemade (and super simple) avocado cream, and fall into your favorite flavors. Margaritas are optional.
What veggie burger recipes do you have hidden up your sleeve?
Dr. Praeger's Sensible Foods is on a mission to provide nutritious, delicious, and convenient frozen foods. We aim to offer food that tastes so good it's easy for people to adopt better eating habits. We're an independent multi-generational family company, grounded in using simple, whole ingredients to make great-tasting products families love. We're continually working to expand our range of products to add new flavors and options that are as delicious to eat as they are easy to serve. We think bringing families together at mealtime over nutritious, delicious foods is the biggest reward of the day. We're also big believers in giving back to our local community, all while staying true to our commitment to delicious, nutritious foods made from simple ingredients.