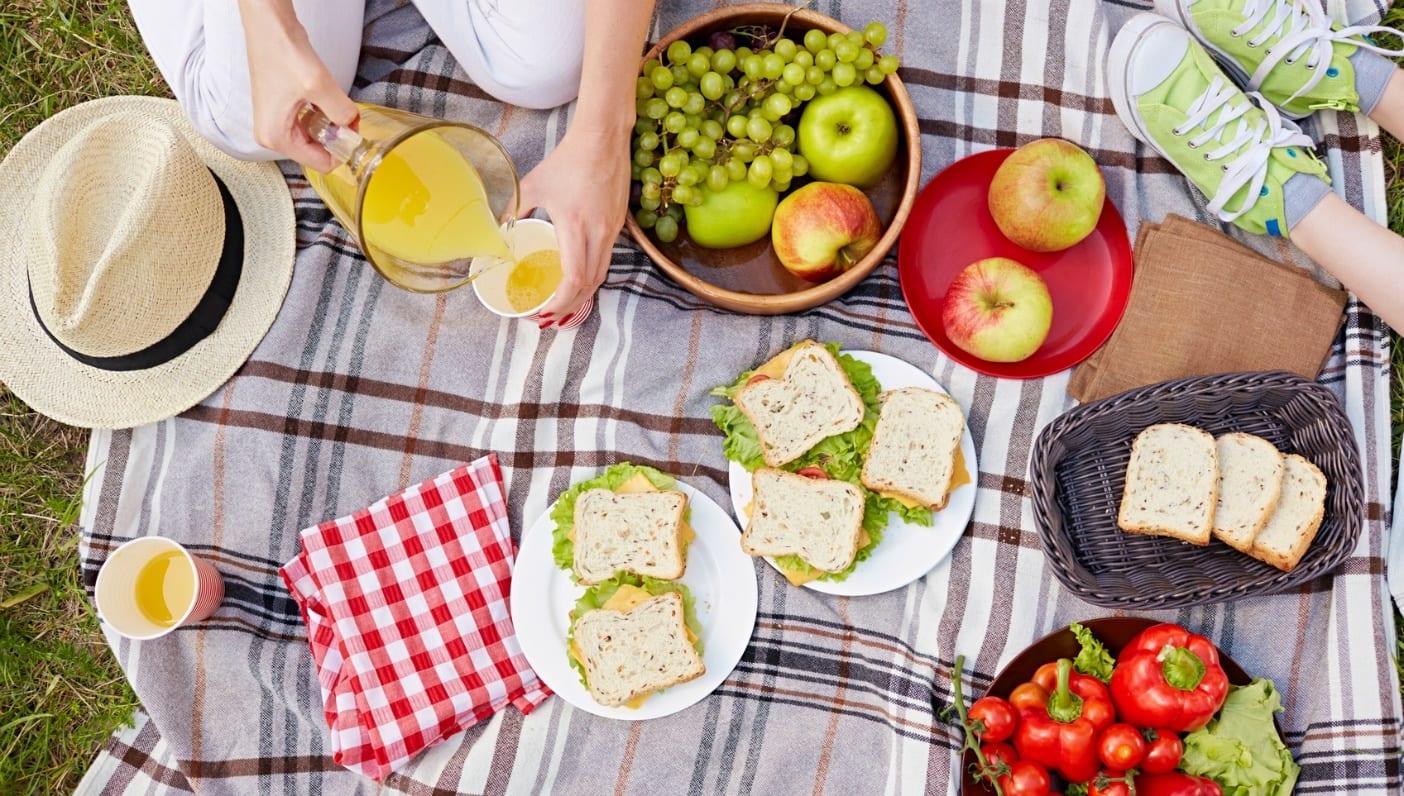 The sun was just beginning to dip into the Western horizon as the black-and-white film began to illuminate the grass. We lounged on a paisley-printed sheet, the fabric layered with plates of hummus, Baba Ganoush, bread, dijon mustard, mini cornichons, and fat, red grapes.
The delicious and dainty clink of wine echoed as we poured our drinks into mason jars. My friends and I were dining at the Hollywood Cemetery for a summer movie night, enjoying the stars (in every sense of the word). Like most picnics, it was a romantic feast for the senses, and an evening hard to forget.
Picnic purists—if there is such a thing—may argue that a picnic needs to be held on a cloth-covered table or in a field of wildflowers, but I think no. In my picnic basket, the presence of a blanket, good friends, and a spread of finger food fits the bill… And I'm likely in good company. Outdoor meals have been enjoyed since the Middle Ages, when they were utilized to celebrate successful hunts. Now we see them in vineyards, while camping, on the beach, in the backyard, and even in a cemetery. They all have one thing simple thing  in common: Picnics are held outdoors.
So what is it about dining outdoors that feel so romantic? There's a certain whimsy that comes with the comfort of nature, sort of like being in your favorite fairy tale. And with no walls to shield you from the elements, you likely feel an increased sense of freedom. You can run your hands through the grass, allow the breeze to warm your face, or inhale the smell of cool moss. Picnics, in short, delight the senses in ways other meals just don't. 
Throwing the Perfect Picnic
Transform your picnic into a "fine dining" experience with just a few simple elements. Here are some of our favorite ideas.
Bring a large mason jar or vase to hold wildflowers. Before you dine, explore the land and collect of your favorite bits of earth. These could be daisies, shells, cattails, posies, aging leaves, or whatever else speaks to you in the moment.

Bring along your favorite plates, napkins, and utensils from home. Not only does this protect the environment from added waste, but it also makes the experience feel more like a treat.

Spread everything out on a nice blanket or sheet. Make sure you have something large enough for everyone to sit and eat comfortably.

If you're dining at night, consider candles. Just be cautious of fire safety!

Enhance the experience with an electric or battery-power set of speakers. Better yet if you have a friend who can play the guitar.
Building the Meal
Picnic cuisine has a reputation for sticking to classics such as salads and bologna sandwiches. We recommend taking it a step further.
Go for finger food and stop by the local market for smoked meats, gourmet cheese, cornichons, olives, and wine. Bring condiments to make it even nicer—nothing goes better with cured meats and sharp cheese than fancy flavored mustard! Easy-to-prep and instantly classy.

If you're near the water, imagine a picnic of your favorite seaside fare. Lobster rolls, watermelon salad, corn relish, homemade potato chips, and salted chocolate chip cookies are lovely.

Stay simplistic. If planning a huge menu sounds stressful, you don't need to sacrifice work for sophistication. A fruit salad with mint is instantly elegant, or you can ask your friends to each bring their favorite dish based off a certain theme.
Don't forget dessert and a cocktail! It's the little touches that transform a picnic from average to extraordinary. A pitcher of tea (spiked or not) along with a tray of various cookies is a simple and delicious way to cater to everyone's vices.
The fun doesn't stop at the end of the day. Picnic foods don't need to be prepared in the same way that "proper sit-down" meals do, so you can keep your picnic fixin's in the pantry or fridge for easy access. Just don't be surprised if you bump into your partner on the way down for a midnight snack.
With its simplicity and sense of community, a picnic is a timeless method of gathering friends and celebrating food. Grab the basket and meet us in the great outdoors.
In partnership with Maille
La Maison Maille is heir to an enduring legacy left by Antoine-Claude Maille and his sublime mustards and vinegars. Today specialists at La Maison Maille continually explore, select and combine the finest ingredients, creating tastes and textures that result from centuries of expertise. La Maison Maille cherishes the resource which makes excellence possible. The land, the people, the know-how: everything that contributes to making the creative products La Maison Maille has been producing for over 265 years is safeguarded and passed on to future generations.