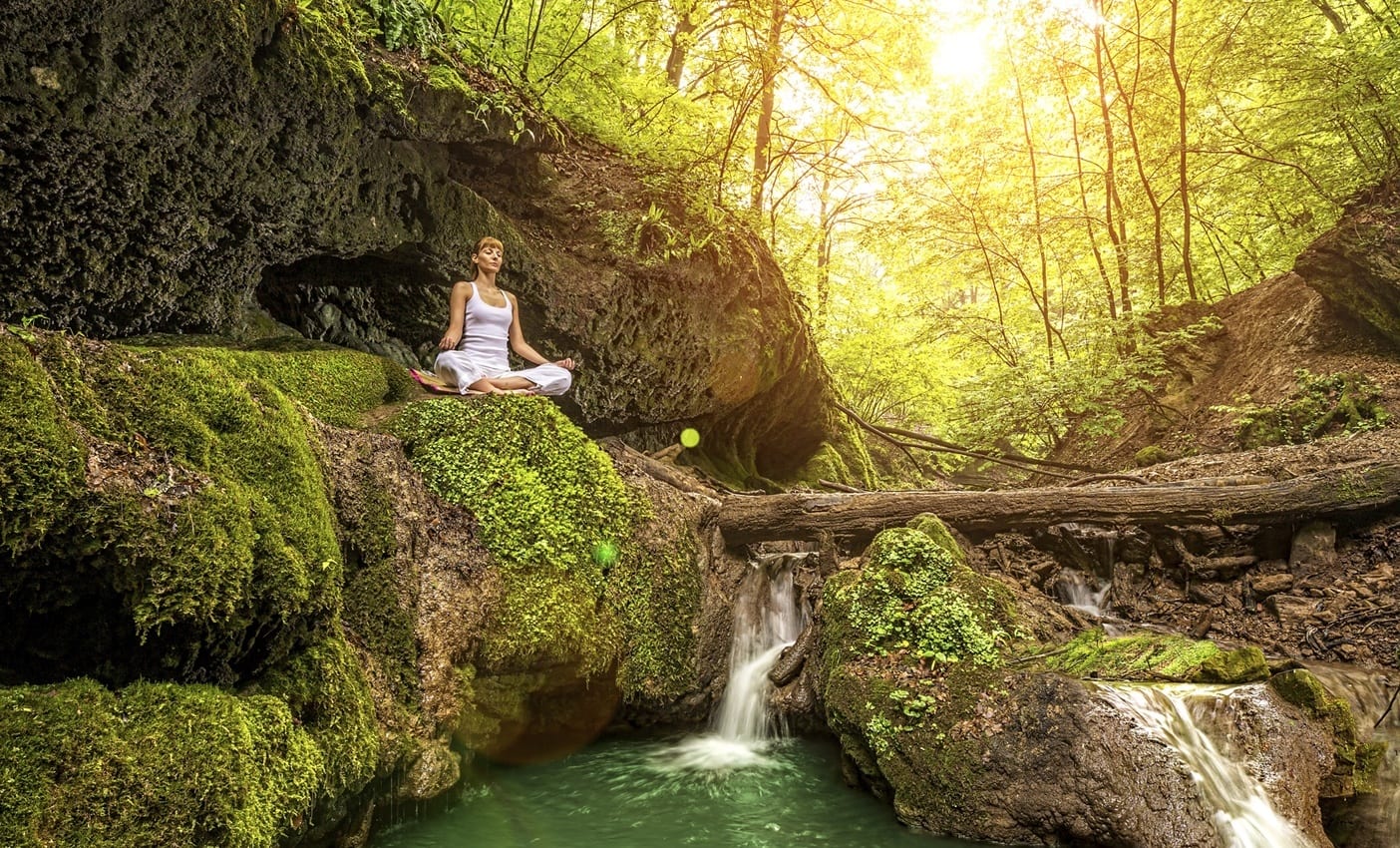 There are few things better than an outdoor yoga session.
Not only do you receive the rejuvenating benefits of yoga, but you also get to experience the feeling of the fresh air wafting between your fingertips, or the smell of fresh pine as you stand up to salute the sun.
After all, we can't really argue with the many benefits of spending time in nature. And if you're planning on exploring some national parks this summer, why not add an outdoor yoga practice to your adventure? Practice Tree Pose among the redwoods. Transform into a Warrior as you gaze out onto the Pacific coastline.
Regardless of your pose preference, we've assembled the best parks to get you started.
---
Acadia National Park, Maine
Nestled atop the Atlantic Coastline is Acadia National Park, a recreation center known for its tumultuous rock beaches and granite peaks. Practicing in Acadia inspires a sense of idyllic isolation, allowing for you to develop a deep connection to Mother Nature. Breathe in the salty air, gaze over stunning sunrises, and relish in the never-ending sky as you reflect in this natural beauty.
Capitol Reef National Park, Utah
Enter a surreal solitude made up of cliffs, canyons, bridges, and domes, and head to Capitol Reef National Park. Capitol is in the Waterpocket Fold, where layers of vivid sedimentary rocks create beautiful patterns among the cliffs. The park is consistently flooded with color, from various shades of orange, to blue skies and cotton candy sunsets. Practice with your eyes open at this gem.
Big Bend National Park, Texas
Discover a desert oasis located in Far West Texas. With its breathtaking vistas and wild desert plains, Big Bend is fantasy land for nature-thirsty yogis. A solitary red mountain range paints the horizon, with clusters of cacti and sporadic flowers bursting from the cracks. We recommend practicing during one of the sublime sunsets or on a clear night when the black canvas is sprinkled with stars.
Bryce Canyon National Park, Utah
Orange and red cliffs paint the horizon of Bryce Canyon, creating beautiful sunsets that seem to light the earth on fire. These epic colors make for beautiful morning and sunset yoga practices, though we can also see that night sky being perfect for some moonlight Yin. Follow the park's main road past the expansive Bryce Amphitheater, which overlooks many of the park's most famous vistas.
Glacier National Park, Montana
Enter a rolling landscape of glacier-carved peaks and rugged valleys in Glacier National Park. This natural wonderland is a mountain-lover's paradise. In addition to the green canyons and steep mountains, you'll find expansive bodies of water, including the famous and photogenic Saint Mary Lake. With breathtaking vistas around every corner, it's not hard to find a place to soften into your favorite poses.
Grand Teton National Park, Wyoming
Grand Teton might be known for Jackson Hole, but there are dozens more attractions that make this a superb spot for some outdoor yoga. The mountains of this majestic park come straight from a storybook, complete with sprawling wildlife and flower-filled campgrounds. When it comes to finding the perfect spot, we recommend the Lizard Creek campground for peace and quiet, and Signal Mountain for epic views.
Great Smoky Mountains National Park, Tennessee
World renowned for its diversity of plant and animal life and horizons of rosy mountains, the Great Smoky Mountains are a staple of the American landscape. It's one of the most iconic spots of Appalachia, offering everything from fields of wildflowers to historic coves. Bonus points: since it's on the East Coast, you'll get the benefit of seasons. Plan a visit in the fall and catch the leaves changing, or have a midsummer night's Vinyasa flow among the fireflies.
Olympic National Park, Washington
Craving a practice along the shoreline? Olympic National Park is the place to go. It's thriving with diversity, with vistas offering dramatic views of the ocean alongside the lush foliage of the Pacific Northwest rainforest. Whether you're camping deep in the forest or in one of the park's many cozy cabins, you'll have your pick of yogi hideaways.
Theodore Roosevelt National Park, North Dakota
Welcome to the Badlands, a combination of plateaus and plains woven together to create a hauntingly beautiful park. Theodore Roosevelt is a classic park, blooming with wild animals and views that make the world feel infinite. Breathe in the open space and keep an eye out for horses, bison, and prairie dogs. There are a handful of tranquil campgrounds, all of which welcome the open air and inspire calming practice.
Yosemite National Park, California
This classic park is a worthy addition to every yogi's bucket list. Located within California's epic Sierra Nevada mountains, Yosemite is celebrated for its awe-inspiring sequoias, granite cliffs, and tumbling waterfalls. It's a great park for the hiking-loving yogi, offering lots of secret spaces for a mid-hike flow. Practice near one of the park's epic falls and you might get lucky; there are occasional rainbows reflecting in the afternoon light.
Sections of this piece originally appeared on our partner site, YOGANONYMOUS.
—
Amanda Kohr is a 25-year-old writer and photographer with a penchant for yoga, food, and travel.  She prefers to bathe in the moonlight rather than the sun, and enjoys living in a state of the three C's: cozy, creative, and curious. When she's not writing, you can find her driving her VW Bug, looking for the next roadside attraction or family diner. She also roams the internet at amandakohr.com.
Save