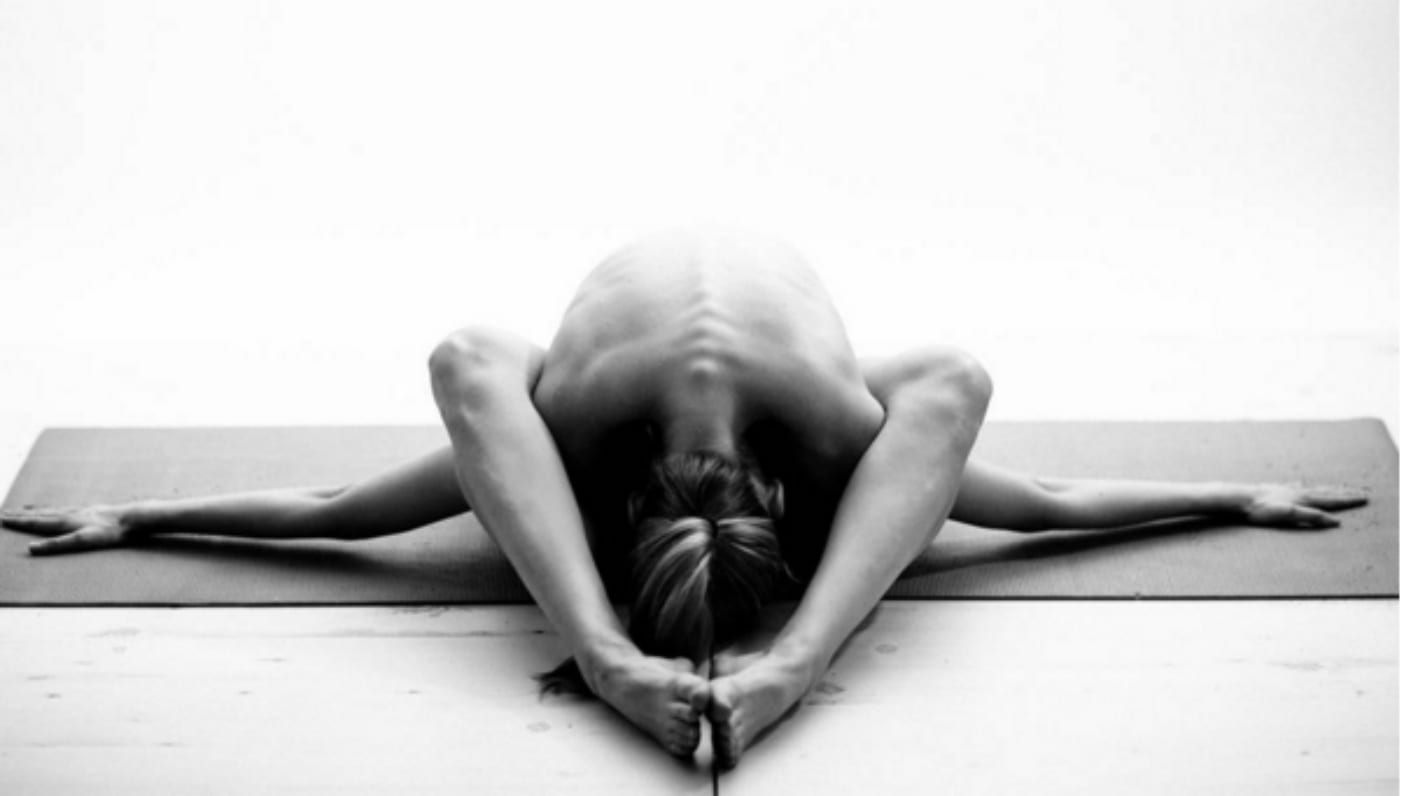 The idea of naked yoga doesn't exactly appeal to everyone. Public yoga classes in the buff have gained slow momentum over recent years—never quite going mainstream, though not without staying power. But you needn't let it all hang out in a room filled with strangers to receive the same blissful benefits. Within the confines (and privacy) of your own home, a naked practice is both primal and liberating—a bold step toward greater, loving acceptance of your body.
On Instagram this month, an anonymous yogi known only as Nude Yoga Girl has shed some light on practicing naked, and the impact that has on body positivity. In just a few weeks, she's quickly gained a massive following of over 40,000 admirers (Update: she now has over 400K and counting!). Her black-and-white portraits feature a clean and simple aesthetic, using just enough contrast and shadow to cover the areas typically censored as inappropriate.
It would seem she's found a loophole within Instagram's #FreeTheNipple guidelines through strategic placement of limbs and lighting.
Nude Yoga Girl is only 25-years-old, and is a photographer and model. While on the surface she might not appear like a poster child for the body positive movement, her captions will attest that yoga helped her to overcome the brutality of her own negative self-talk. She started the account to document her practice as part art project, part inspiration, to spread her message of self-love and self-acceptance by baring it all.
NY Mag's the Cut has more:
I've been working in an industry that is purely based on looks since I was 15. Yoga has taught me that the most important thing is how I feel, not how I look from the outside.  My biggest issue in the past was that I saw faults in my body all the time, and that made it impossible for me to love myself fully. The way you look doesn't matter — anybody can see faults and have that feeling of not liking themselves.
With my account I want to inspire people to realize that everybody is very beautiful and capable of [doing] amazing things with their bodies. Yoga helped me accept my body exactly the way it is. Nowadays people can easily get a very false idea of ideal beauty and what nudity truly means because it's shown mostly in a sexual and unrealistic way.
While a few commenters have left sexual remarks on her photographs, the majority of Nude Yoga Girl's followers rule in favor of her bravery; in celebration of her empowering messages and tasteful, stunning imagery. Her anonymity is remarkable, with so many other Instagram accounts that showcase brand awareness and personal identity to increase their popularity. Chances are that if you were to pass by Nude Yoga Girl in the street (albeit fully clothed), you probably wouldn't recognize her.
As she told the Cut, "The account is anonymous, but I still want to be close with my followers, and I try to do it with my captions."
Though she claims that the account has nothing to do with advocating naked yoga classes, we cannot help but wonder if perhaps they're still worth giving a try.
In Manhattan, Bold and Naked Yoga offers co-ed classes, and first-hand accounts have been chronicled by the likes of Refinery 29 and DETAILS. In Australia, you can expose yourself at Naked Yoga Sydney, which offers classes to men only—gay, bi, or straight.
But can practicing yoga in nothing but our birthday suits with a bunch of naked, sweaty students really help us foster a better sense of self-acceptance? A writer from ELITE DAILY seems to think so:
No one was made to feel small for being big. No one was without cellulite, stretch marks or scars. No one flaw on one person was better or worse than a flaw on person next to him or her. With our insecurities on display, we were the rawest, realest versions of ourselves, in a leveled playing field of imperfect nakedness. So, so naked.

And despite putting myself in a situation susceptible to silent judgment, I've never felt more confident about the body I have than in those moments.
Doing yoga naked forced me to look at the things I despise most about myself and find ways to embrace them. And for that reason, I've not only come to love naked yoga, I've come to love the parts of me I loathed.

If anything, naked yoga forces us to really step inside our own bodies, because we're probably too modest to observe what other students are doing, like we might in regular public classes. But if the idea still seems too far fetched, then there's nothing wrong with stripping down to your bare necessities in a Downward Dog or a few Sun Salutations in your own home—just be sure to draw the curtains.
At its essence, yoga is a communion with body, mind, and soul. And in its earliest stages, yoga was sometimes performed in the nude—though it was only men who practiced at that time. As written in the ancient Hindu text, the Bhagavata Purana, "A person in the renounced order of life may try to avoid even a dress to cover himself. If he wears anything at all, it should be only a loincloth." On some level, this could be translated to the purest form of naked yoga—also known as nagna yoga in Sanskrit—in total humility.
Of course an ideal like this won't resonate with a modern society that has westernized yoga and most certainly, has not renounced life. It is a reminder however, that the bare bones of the practice was designed to strip down our layers to reveal our core, authentic being—helping us to be the best version of ourselves.

Does Nude Yoga Girl's practice inspire you to bare your asana?

All photos courtesy of Nude Yoga Girl 
—
Andrea Rice is the Practice and Community Editor for Wanderlust Media. She is also a writer and yoga teacher. Her work has also appeared in The New York Times, Yoga Journal, mindbodygreen, and a variety of online magazines. Her teaching style is a blend of her love for music and intuitive movement, with emphasis on core strength. You can find her regular classes at shambhala yoga & dance center in Brooklyn, and often as a guest teacher for Deep House Yoga. Connect with Andrea on Instagram and Twitter.