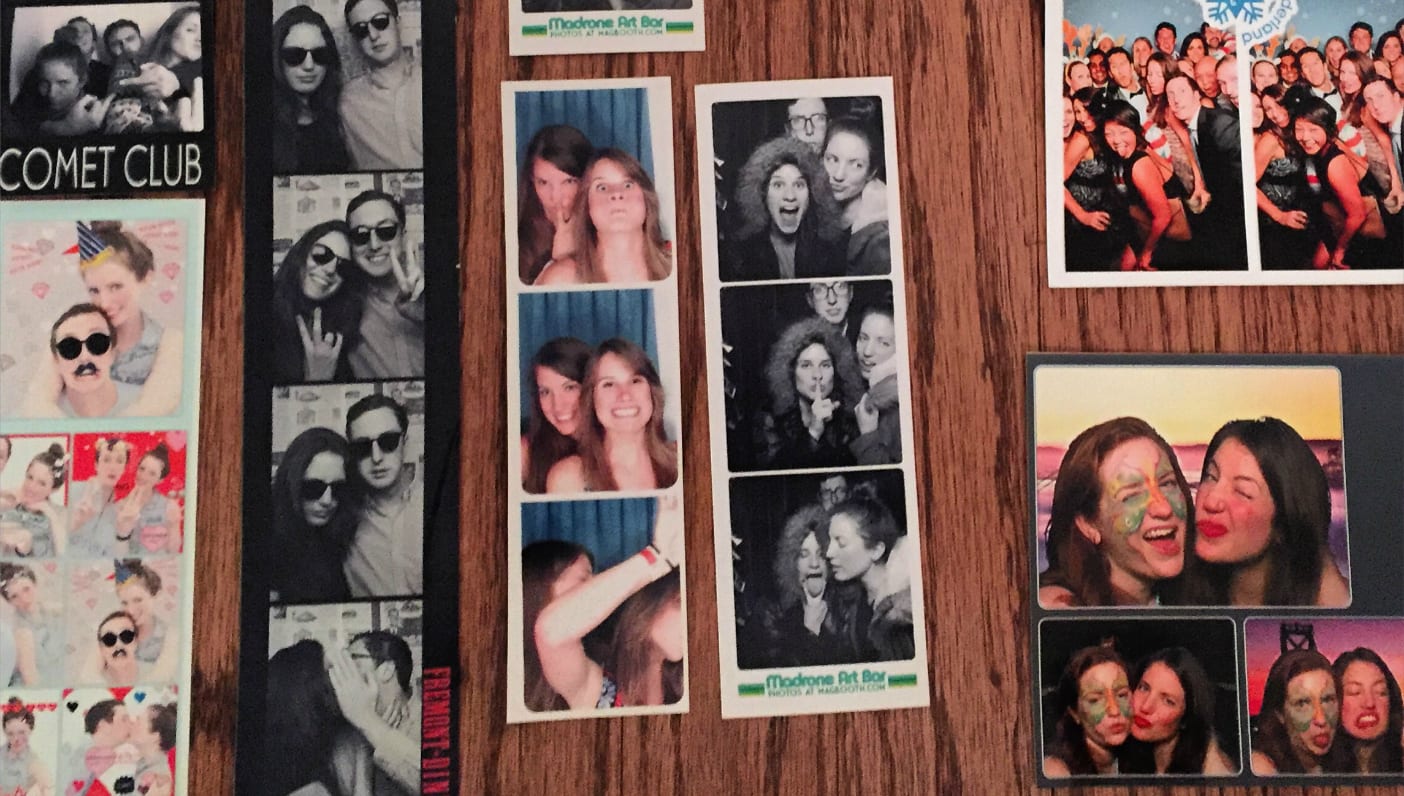 Photo courtesy of the author
This piece is part of a month-long Wanderlust and YOGANONYMOUS series about the power of journaling.
---
Journaling has always provided a medium for me to reflect on my life, travels, relationships, and hopes for the future. Reading old entries, I bring myself back to those moments—the journals help me recall memories that I could've otherwise forgotten. About the time I started college, however, the frequency of my journal entries started to dwindle. The desire to fill pages came more from pressure than pleasure. I instead started focusing on photography, to capture moments in real time, but rarely printed the photos or took time to look back on them.
My interest in photography didn't start when I stopped journaling. From a young age, anytime my family would see a photo booth we would stop to take a photo. These were usually a four-picture strip of goofy poses, crammed into awkward positions, but bursting with big smiles. When I moved to San Francisco, I found that several bars had photo booths, which when fueled by late night fun greatly contributed to my collection of these strips. These photo booth photographs became a physical representation of would-be journal entries.
Photo booth photos have a distinct quality. For $5 you get 15 seconds to take four frames in a small space, usually with unforgiving lighting. In the age of ubiquitous photo editing tools (even on our cell phones!), these strips catch you off guard, offering a more uninhibited expression than a regular posed photo. Conversely, when planned beforehand, these strips can tell a story. I have left thank you notes through photo strips holding signs up through each photos, and wished people happy birthday. People have proposed to their lovers, asked friends to be in their wedding party, and created invitations through photo strips.
When I moved into a new apartment, I created a wall for all of these photo booth strips. To this day I vow to take a photo at every booth I see, and get excited to see what each new booth has to offer. Some booths have more frames, duplicate prints, random backgrounds, or—as was the case in Japan—a custom soundtrack for the photo session.
If photo booths fell off our radar with the advent of digital photography, they're definitely having a resurgence. You'll see photo booths popping up more often these days at bars, weddings, holiday parties—even in people's homes. Here are some ideas to get started making your own photo booth journal:
A year in photos: An easy way to start photo booth journaling is to start by taking one photo a month for an entire year. Hang them up with close pins in your room for a decorative wall hanging and at the end of the year you can reflect on the experiences from each month.
Photo booth bar crawl: Gather a group of friends and map out a few bars that have photo booths. Task everyone with getting a strip at one of the bars and compare at the end. Create a competition around the craziest strip or photo with the most people.
Event photography: Hire a photobooth for your next event and save a strip of every photo taken for your scrapbook. Your guests will leave with a copy and you will have a copy so everyone remembers the good times.
Happy snapping!
—
Cameron Cler is traveler at heart, obsessed with seeing the world and discovering ways to contribute to positive global change. As a registered yoga teacher, she balances her constant travel and work in the startup world by channeling her inner yogi and welcoming peace in chaotic moments. Her passion is cultivating creativity and inspiration while sharing travel stories, yoga classes, wellness tips, and smiles with her friends, family, and students.