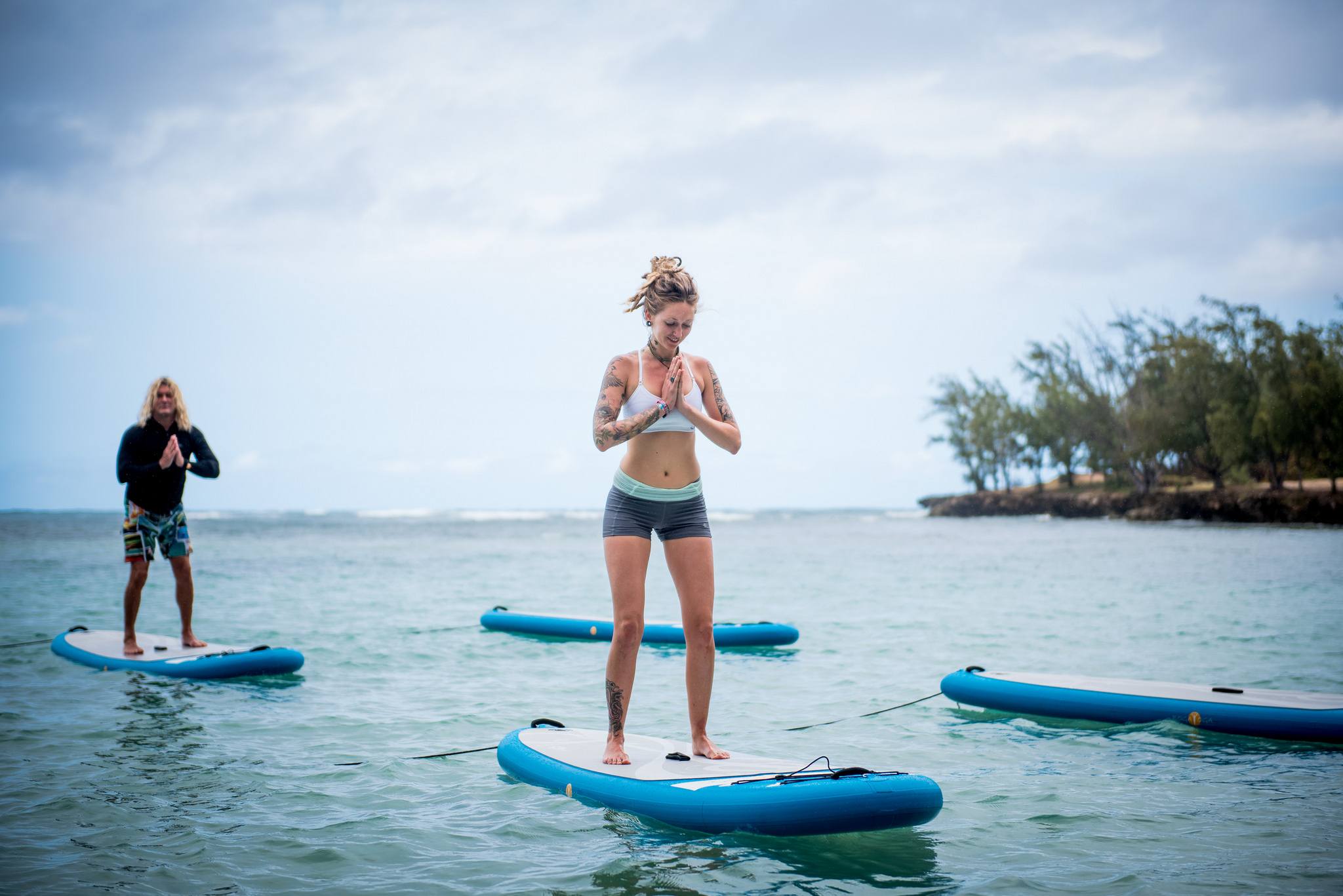 Photo by Kate Harris
Try your hand at SUP for no extra charge at a Wanderlust Festival this year. Tickets on sale this month!
---
Board. Breath. Yoga. Stand up paddle-boarding, or SUP, and yoga have much in common. Both practices are invigorating, strengthening, and demand balance, focus, and a searching for inner peace. It's no surprise that SUP yoga, or yoga on a standup paddleboard, has gained some real traction. 
Whether it's a desire to take a session to the next level, zone out and get back to the basics of breathing, or a fun way to combine a love of water and love of yoga, many yogis are hearing the call of the paddleboard. If it's your first time, here are six essential tips to get you started.
1. Breathe and connect…With sunscreen.
Nothing ruins a great session like a gnarly sunburn. At least 15 minutes before class, liberally apply sunscreen to all areas of skin that will be exposed. Make sure it's water-resistant (you can expect to get wet!) and reef-safe to protect the ocean's sensitive ecosystems.
2. Have a snack and drink plenty of water beforehand to fight nausea.
Boards will be anchored in calm waters, but an empty stomach and dehydration can exacerbate motion sickness. Prepare your body to perform its best and have a small, nourishing snack beforehand. Nuts, granola, or fresh fruit are all excellent choices. If you're prone to nausea, consider bringing a couple all-natural ginger candies to help you through.
3. Wear appropriate clothes.
Water-resistant yoga tights are definitely a thing, but that type of investment isn't necessary for a beginner. Most non-cotton yoga gear will be somewhat water resistant. Leah Vernon, founder and director of floating yoga studio, Yoga Kai, recommends wearing clothing you will be comfortable in for all poses. A bikini can feel awkward when it comes time to get into a Happy Baby pose. It's best to wear whatever gear you need to feel most focused on your practice.
Poses that turn the face to the sky could be getting a lot of sun exposure beating down, so a hat or polarized sunglasses are helpful to have on hand, in addition to swim shirts, UPF clothing, and of course, your reef-safe sunscreen.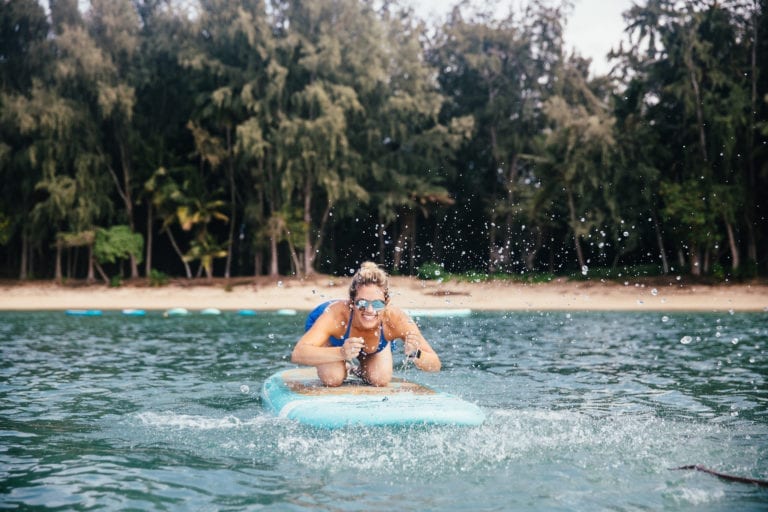 4. Allow space for modifications while learning to connect with the board.
Some poses will lend themselves more naturally to SUP yoga than others. Child's pose and Sun A sequences, for example, are a good starting point, says Bree Poort, a yoga instructor at Turtle Bay. Then Sun B, Crescent Lunge, or Warrior, may be modified with the back knee bent for more stability and to better connect with the paddleboard. Many poses may use a wider stance to help warm up the core and keep it strong. The important thing is to relax, breathe, and do your best.
"People expect to be worse than they are," Poort says. "Then, they have a sense of the water. People get really excited because they get a sense of how strong they are."
A common pose that celebrates that strength and connection is Wheel pose, which is especially visually stunning on a paddleboard. Poort also finds that in every class, someone wants to try a headstand. She goes with it, and says she finds the more intense poses give paddleboard yogis—even beginners—greater satisfaction. And since the water is there a safety net, it's a perfect time to attempt some new poses. 
5. Disconnect: leave your phone on shore.
As you get into your first pose on a SUP, there should literally be a body of water between you and your phone. Leave it that way. Lots of inexpensive waterproof phone cases have flooded the electronic market, and sure, definitely have a friend snap a few shots of you looking awesome on your board. But leave that phone on shore to best focus on your session. You can snap a pic once you're done, and basking in that post-yoga glow. 
6. Don't hold your breath.
First timers can be hyper-aware of the SUP board. Instead of focusing on breathing through the pose, it feels more natural to cling to the board. That leads to holding the breath, maybe in preparation for plunging into the deep. Instead, focus on breath more than control, and expect core muscles to be in overdrive.
As the body relaxes and adjusts to the movements of the water, core muscles will kick in help retain that sense of balance. And falling in the water? That's not the worst thing in the world!
"The whole point of it is connecting breath with body," says Vernon. Just breathe, just relax. Be vulnerable enough to just fall in."  
—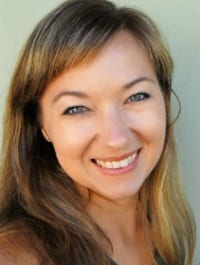 Mari Krueger is a freelance writer and photographer based in Kailua, HI. The perfect day includes family, stand up paddle boarding, and being outside at sunset. She loves hopping on a plane to meet her favorite sailor in port. Follow her at Mari's Passport Diaries and Instagram.