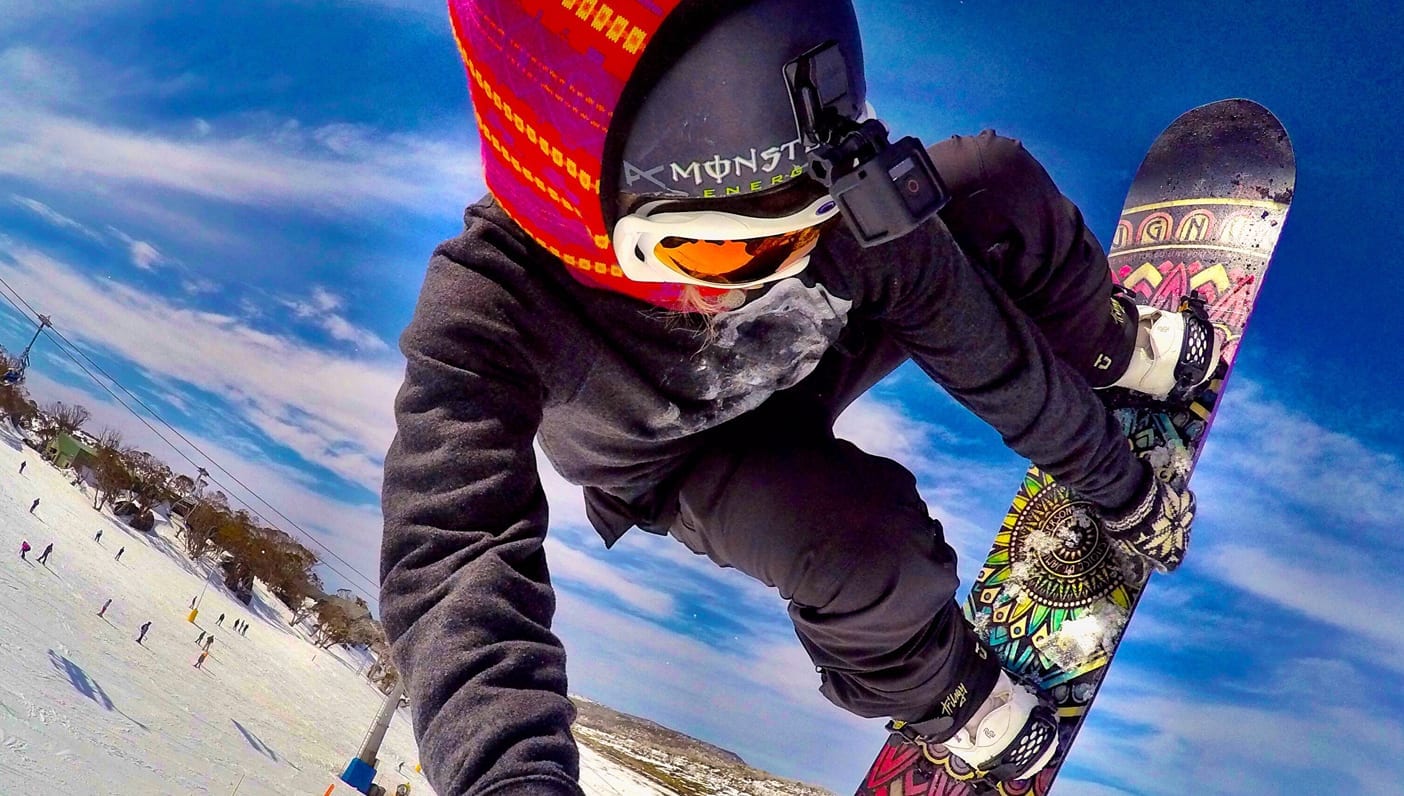 This is one part of a ten-part Q&A series featuring women who have found success on their own terms in the mindful age. For more stories like this, click here. 
Jamie Anderson is a snowboarder and Olympic Gold medalist, but ask about success and she'll say, "Snowboarding is not who I am, it's something I am passionate about." Like so many mindful trailblazers, Jamie emphasizes the passion she puts into a goal, rather than the outcome she takes away. If you think it's just a fancy way of saying "A" for effort, it's not. Rather, Jamie draws deeply upon diverse aspects of her life to mold her champion spirit.
---
How do you define success?
It is so much more than awards and titles. It's what you can give back to the world around you—with light and energy you are able to shine. Don't get me wrong, I'm beyond thankful for the "success" through my athletic career, but I've been fortunate to be successful more because of my attitude and way of seeing things.
How did you define success five years ago? Is it still evolving?
I think even at a younger age I knew there's more to success than money and fame. Or even winning events. Sending love and energy and maybe material items to those in need is very powerful. [So is] doing things for a higher purpose. The more you give the more you receive. What you put out to the world is exactly what comes back to you.
For me it's about helping the younger kids who aren't able to afford snowboard gear or season passes. Through the love and support from my sponsors I've been able to help lots of kids get into sports and build passion from a young age.
What does a "fulfilled" life look like to you?
Having a happy and healthy relationship and a home filled with love and joy. Doing what you love and supporting your friends and family to be happy and centered. Planting trees, giving back to nature, and exploring. 
What are you most proud of?
I'm proud of the human "being" I am. I'm proud of the love and light I feel I'm able to give to the world around me.
What do you consider your #ActuallySheCan moment?
When I set goals, for personal growth or snowboarding or whatever it may be I feel like, "Yeah I freaking can do it! I can do anything I actually believe in!"
What were the challenges you faced and how did you surmount them?
Fear is a big challenge for me: Getting hurt, and not accomplishing goals I set. But at the end of the day I trust and know that all is in perfect order. I can set goals and learn to let go, and let the universe flow. When I'm in fear of something and can overcome, that feels so good. Sometimes I don't overcome it, and that's okay too! 
What was the most difficult moment for you?
The Olympics was a real test for myself. The pressure I felt and the energy of that level of an event is just insane. It was really hard to manage, especially after falling my first of two runs in the final and being the "favorite" to win.
I know the power of the energy around me and it was at the start point where I sent a little prayer out to the universe to dedicate this run and moment in time for everyone in my life who has believed in me and supported me from the beginning.
When I landed the bottom jump (where I fell the first run) my heart just about exploded with joy! It just felt so good and I knew I persevered through some of the most extreme fear and challenge I'd ever felt. When I won the gold I just dropped to my knees in gratitude.
What are words of inspiration for someone else also facing a challenging moment in their life?
Ask—believe—receive. Trust. You are perfect, whole and complete exactly as you are. Give yourself as much love and grace as possible. You are the creator of your reality. Start living in your power and do not let fear overcome you! You are beautiful.
Written for ActuallySheCan by Julie Balter

ActuallySheCan is for women who are strong, smart and driven. A movement for those who aren't afraid to toss out what they don't want to make room for what they do. Because we believe focusing on the positive things in your life means less drama, more karma.
Join the #ActuallySheCan movement. To register, click here »
Actavis Pharma, Inc., an Allergan affiliate
© 2016 Allergan. All rights reserved
Allergan® and its design are trademarks of Allergan, Inc.
ActuallySheCan(SM) and #ActuallySheCan(SM) are service marks of Actavis, Inc., an Allergan affiliate.