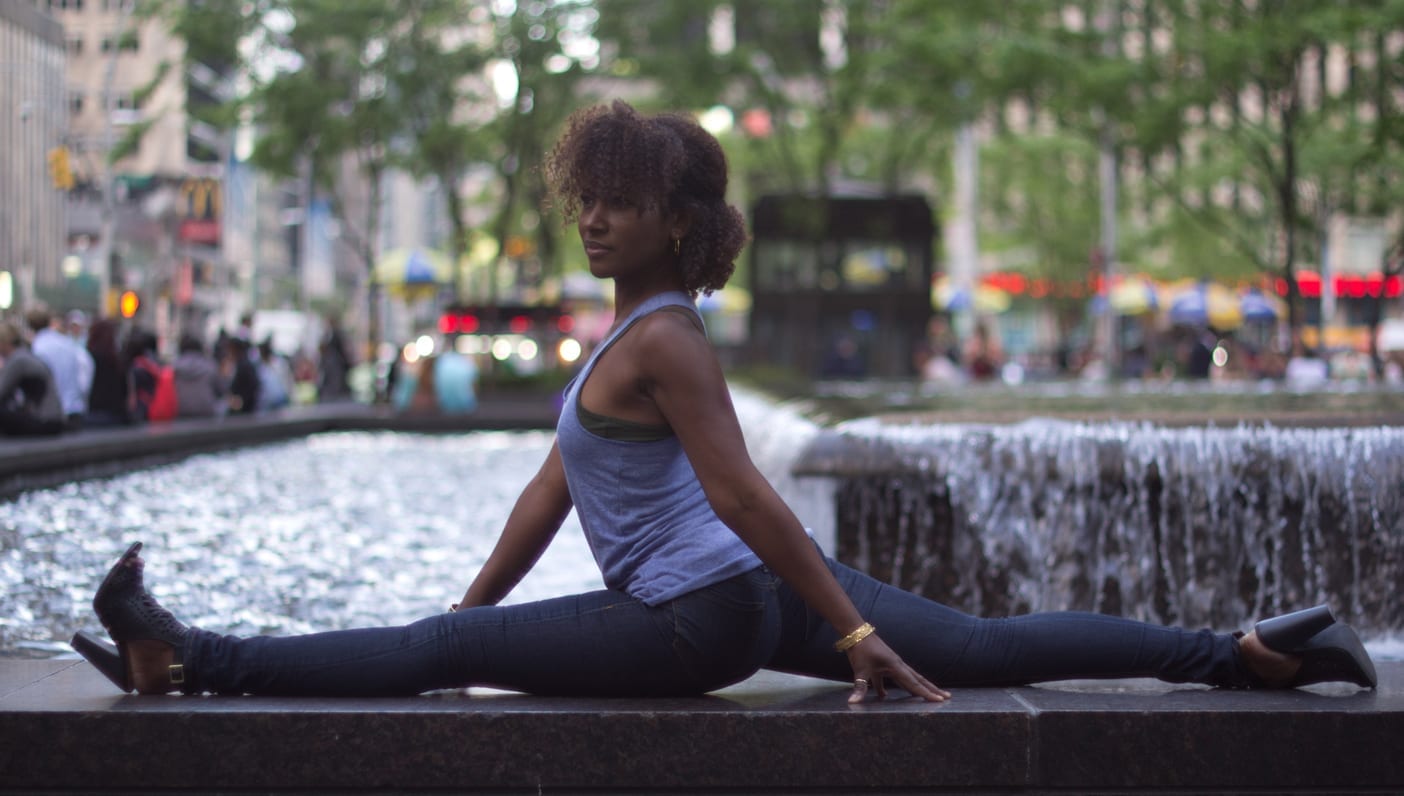 This is one part of a ten-part Q&A series featuring women who have found success on their own terms in the mindful age. For more stories like this, click here. 
Faith Hunter has learned all about success by sitting still and staying real. The former nine-to-fiver has drawn deeply upon her yoga and meditation practice to overcome adversities and transform into the dynamic creator of Spiritually Fly. She's also the owner of Embrace Yoga DC and a yoga instructor for the White House Easter Egg Roll. Like so many female leaders breaking through in the mindful age, her professional and personal paradigms are centered on inner strength, service, and spiritual practice.
---
How do you define success?
Being happy and joyful in every aspect of life, being able to enjoy a sense of freedom, and allowing myself to follow my passion in a way that's authentic and true to my heart and soul. It's when we know in our core and in our heart that, "I'm doing what I was put on this earth to do." And it's when I'm being truthful with myself, before anyone else!"
How did you come to this definition?
I honestly believe that everything I've experienced in my lifetime has had an impact on where I am today. My parents had their personal struggles, raising three kids, and my father worked abroad a lot. My brothers were both diagnosed with HIV at a young age, and my older brother died from the disease. I've experienced marriage, divorce, and then finally discovered yoga.
I looked back at my own personal evolution and found that regardless of the struggle, pain, and suffering that may have occurred in my life I have the practice of yoga and meditation. I have my own inner strength to carry me through hard times and in moments of celebration.
How did you define success five years ago? How is it still evolving?
Five years ago, it was a mishmash of things, but 15 years ago, before I became a yoga teacher, it was more about material things. I wasn't a materialistic person, but like almost everyone, I just wanted enough money to have a house, a family, etc.
Today, my definition is constantly evolving and changing. Things can shift at any moment and I need to be open to that transformation of my own mind, state, and thoughts.
What does a "fulfilled" life look like to you?
A fulfilled life is a happy life. It's filled with the love and presence of family, friends, and my dogs. It's the freedom to travel and the ability to share what's in my heart in whatever way. As a yoga teacher, I'm able to offer amazing tools for people to transform their lives. The essence of my life is giving. It's pure seva, giving up of yourself and your heart.
What are you most proud of?
My capacity to continue to love in the face of heartbreak, death, suffering, and whatever challenges I've faced in my life. I always come back to the moment where I say: "No matter what, I'm going to take a chance, I'm going to love, I'm going to be open to receive. And I'm not going to block the blessing!"
What do you consider your #ActuallySheCan moment?
I can overcome any challenge, struggle, or difficulty! I have the ability to be open, to love, to give, to empower. By overcoming, I can live a life that feels good, right, and genuine, to my heart.
What were the greatest challenges you faced and how did you surmount them?
When I have insecurities or feel disconnection, I find that moving my physical body breaks through it, whether it's asana practice or turning up the music in my apartment. Once I get going, it opens up the doorway to release tension and anxiety. I can find my breath, and when I find my breath I can be still and listen.
The other thing that people don't talk about is that in the process of vigorous movement, or even in the stillness is that the tears will show up and it's learning to be okay with that.
What are words of inspiration for someone else also facing a challenging moment in their life?
Know that there is always a brighter side. You have the ability to overcome the challenge you're in at the moment. Give yourself time to feel the sensations, the anger, the anxiety. You can tap into your own personal strength to move forward. You are your own personal light.
Photo courtesy of Faith Hunter. Written for ActuallySheCan by Julie Balter.

ActuallySheCan is for women who are strong, smart and driven. A movement for those who aren't afraid to toss out what they don't want to make room for what they do. Because we believe focusing on the positive things in your life means less drama, more karma.
Join the #ActuallySheCan movement. To register, click here »
Actavis Pharma, Inc., an Allergan affiliate
© 2016 Allergan. All rights reserved
Allergan® and its design are trademarks of Allergan, Inc.
ActuallySheCan(SM) and #ActuallySheCan(SM) are service marks of Actavis, Inc., an Allergan affiliate.