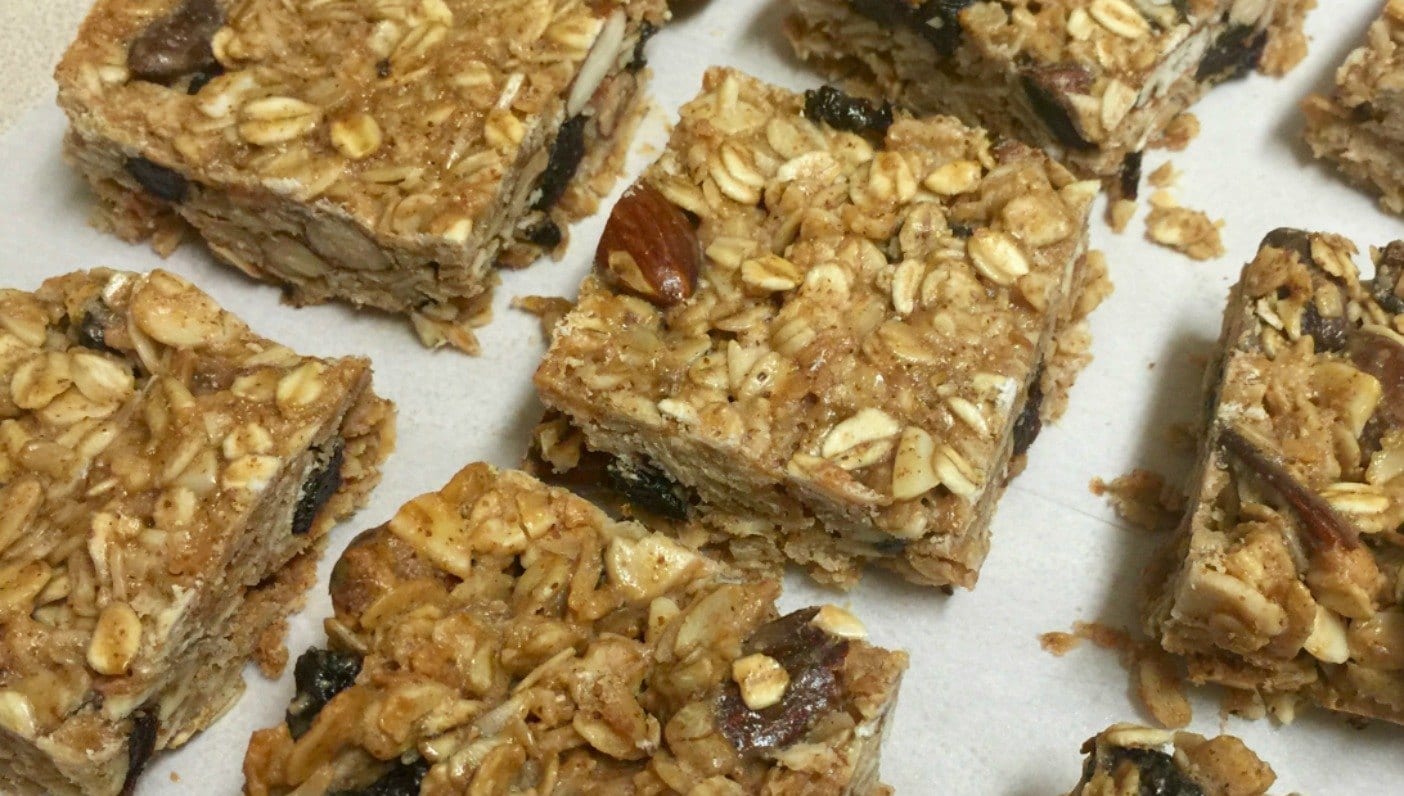 Photo courtesy of Helen Williams
This post originally appeared on Green Girl Eats.
---
I'm always looking for ways to keep packaged foods out of my kitchen. It's not always easy because things like toaster pastries exist and, sometimes, a girl just needs to go there. But food that comes in a box—even if it is a frosted cherry-pomegranate toaster pastry—is never going to be as good (or as good for you) as food that, well, doesn't.
Case in point: granola bars. Sure, a lot of them taste good, and there are even a lot of varieties out there that follow all the rules I'm down with and don't have a lot of ingredients that my brain can't comprehend. But even still, a lot of them often have extra binders or oils or added flavors that aren't exactly natural.
So after I've read a bunch of nutritional information, so much that my eyes are ready to fall out and the kid stocking the cereal aisle probably thinks I'm insane (he is right), I often ask myself: Is this something I can live without? Well, probably, but granola bars sure are convenient. They have their own built-in packaging, they fit easily in a purse or a backpack, and are often sturdy enough for travel (an added bonus). They also tend to have a good balance of nutrients and fit in well between meals as a go-to snack. So sure, we could probably all live without them, but why would we want to?
Instead, let's make them better. Raisins and peanuts, you say? Girl, please. Pass the dried cherries (no sugars or sulfites added, please!), let's toast some almonds, and make the best granola bar you've ever had.*
*I'm actually 0 percent hating on raisins and peanuts. The good thing about granola bars is they're so easily adaptable. Don't have something? Don't like something? We accept substitutions! The only thing you probably shouldn't mess with is the oats, unless you have a different grain in mind, or the nut butter/bee-free honey ratio. Otherwise, go nuts! Literally.
---
Vegan Cherry-Almond Granola Bars
INGREDIENTS
1¾ cup rolled oats
½ cup sliced almonds
½ cup unsweetened shredded coconut
¼ cup whole almonds, roasted
¼ cup dried cherries, diced
½ cup creamy almond butter
½ cup Bee Free Honee® (if you aren't worried about keeping it vegan, regular honey works too!)
1 tsp vanilla extract
½ tsp cinnamon
½ tsp salt
DIRECTIONS
Preheat your oven to 350 degrees. On a large baking sheet, spread out your oats into an even, single layer. Toast for about 10 minutes, tossing slightly and rotating halfway through. After 10 minutes, add your sliced almonds and coconut and toast for 3–5 additional minutes.
While you're waiting, add your honee and almond butter to a small bowl. Microwave for about 30 seconds so they are slightly warmed. Whisk together until evenly combined. Add your vanilla extract and whisk once more.
When the oat-coconut-almond combo comes out of the oven, immediately transfer to a large bowl (if you don't, the ingredients will continue to toast and can possibly burn, specifically the coconut). Add your cinnamon and salt to the bowl and toss together. Fold in your whole almonds and cherry pieces. Pour the wet ingredients into the bowl and fold together (a rubber spatula works best here) until everything is evenly coated.
Line a square pan (9″x 9″ or 8″x 8″ will work) with parchment paper. Lightly spray the parchment with some nonstick coconut oil spray. Add the mixture to the pan and press down until evenly spread to all corners of the pan. It works best if you slightly dampen your fingers and work quickly to the edges.
Transfer the pan back to the oven and bake for 10–15 minutes or until slightly browned at the edges. You don't want to wait until the bars are very browned or hardened as that will result in a really crunchy granola bar once they cool. You know, the non-tooth-friendly kind.
So, what do you think? Did you keep the recipe as is or did you swap something out? Cashews for almonds? Dried apricots for the cherries? There's an endless number of combination possibilities if you're not the almond butter type. And even if you are, try something new next time!
—
Helen Williams is a Colorado transplant who is passionate about cooking, writing, and combining the two on her vegetarian and vegan food blog, Green Girl Eats. She strives, every day, to be less sorry. When she's not in the kitchen, you can find her reading, loving the community at Holstee, or trying to pet your dog.