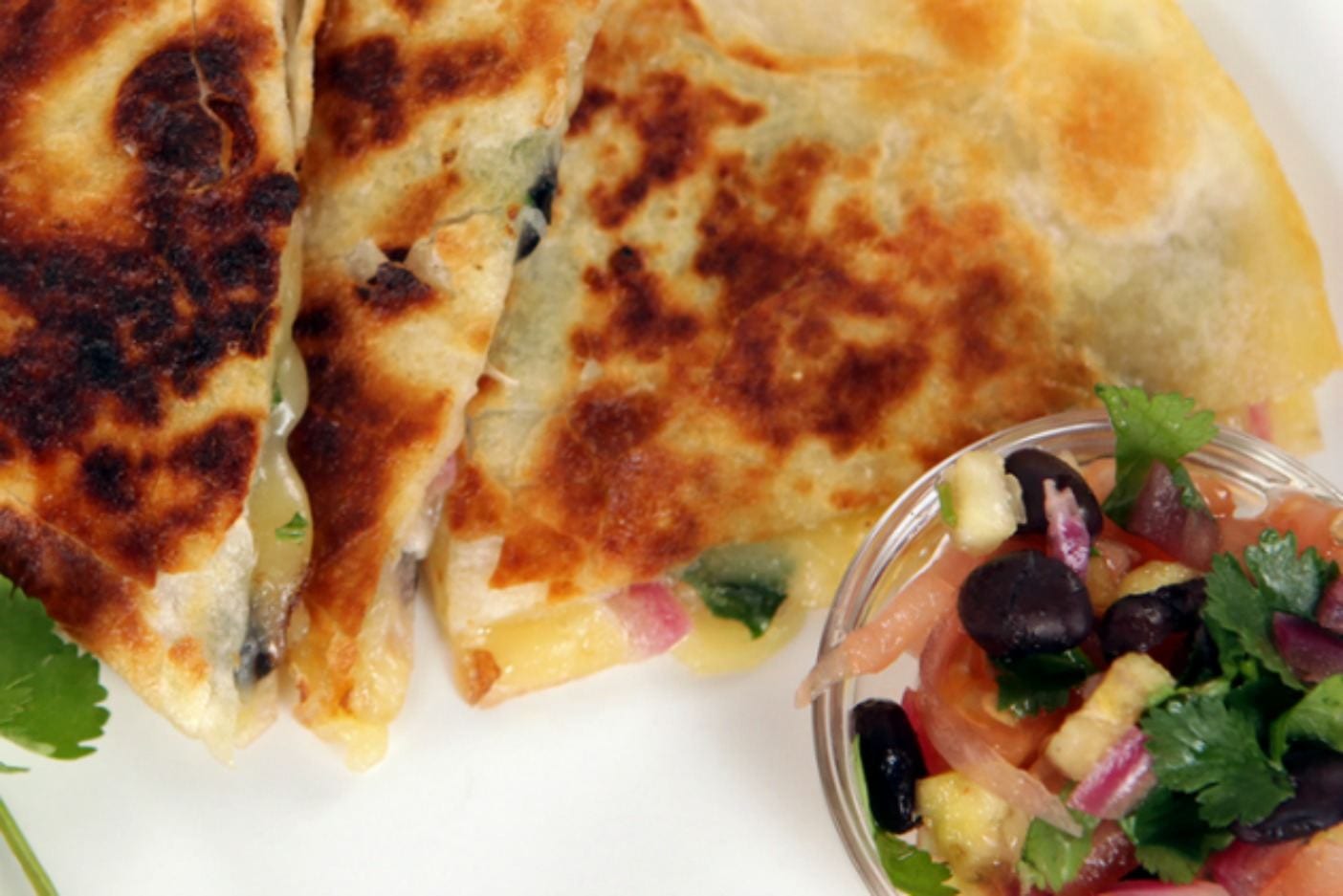 Food should be celebrated. And what better way to celebrate than with a little mindful indulgence? This season of our Play With Your Food video series, we're bringing you six ooey-gooey, crazy good recipes that will have your mouth watering. Up this week: this Tropical Paradise Quesadilla, a unique twist on the classic recipe combining pepper jack cheese, black beans, and pineapple to create a playground of bright and healthy flavors. Combine with Baked Queso for a mindful, Mexican feast, or sub dairy-free cheese for a vegan option.

Recipe: Tropical Paradise Quesadilla
INGREDIENTS
1 small organic red onion, thinly sliced
2 cups organic red wine vinegar
1/3 cups water
1/2 cup organic honey
1 tsp salt
2 bay leaves
1 tbsp organic olive oil
2 organic flour tortillas
1/2 cup organic pepper jack cheese
2 tbsp organic black beans
2 tbsp chopped pineapple
DIRECTIONS
Add red wine vinegar, water, honey, salt and bay leaves to a pot and bring to a bowl. Once the brine is boiling, add the onions, stir, and turn the heat off. Remove and let sit for at least 15 minutes.
Add olive oil to a cast iron pan and turn the heat to medium. Add one tortilla and top with half of the cheese, black beans, 2 tbsp of the pickled red onions from step one, and the remaining cheese.
Add the top tortilla and cook until the bottom layer of cheese has started to melt and the bottom tortilla is crisp and golden. Carefully flip the quesadilla and repeat until the other side is crispy and all the cheese has melted. Remove from heat and enjoy immediately.
—
MacKenzie is an ex-Brooklynite currently living in Florida with a masters degree from Columbia University. She is the creator of GrilledCheeseSocial.com and functions as the executive chef at Black Dolphin Inn, the sandwich expert for about.com, and as a social media marketing manager for multiple foodie companies. She works in many aspects of the food industry including food styling + photography, social media content creation, recipe development + writing, catering, branding and media consultation.