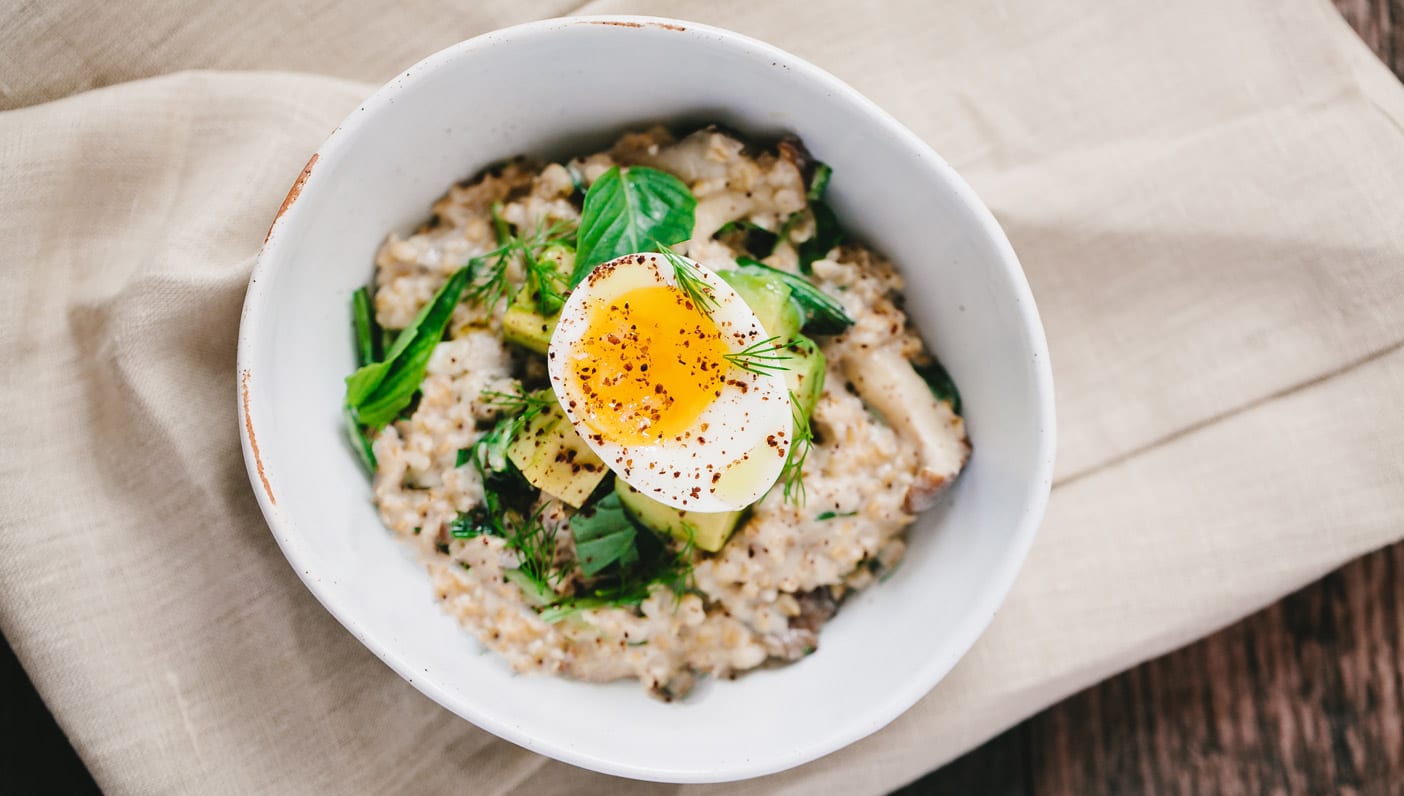 This recipe is part of a new series, From the Wanderlust Kitchen, celebrating real, good food. Receive a digital cookbook of this season's recipes by signing up here.
•••
When you wake up in the morning, sometimes you crave sweet, sometimes your crave savory. When the latter craving strikes, look no further than this recipe from Wanderlust Hollywood for a porridge of soured steel-cut oats with mushrooms, shallot, avocado, and egg.
Cultured Porridge of Steel-Cut Oats
Are you trying this recipe at home? Let us know with #WanderlustKitchen.
INGREDIENTS
1 cup steel cut oats, soured with 1/4 cup yogurt overnight
2 cups mushroom stock
1 tbsp extra virgin olive oil
1 tbsp brunoise shallot
1 Trumpet royale mushroom, cut in 8 wedges
1/2 clove garlic, sliced
1 tsp white balsamic vinegar, to deglaze
1/4 cup sheep's milk yogurt
1 tbsp grassfed butter
2 tbsp Parmigiano Reggiano, grated on micro plane
1 cup Dandelion greens, cut into 1″ pieces
1/2 avocado, diced and dressed with extra virgin olive oil and vinegar
1/2 egg, cooked 7 minutes
Salt and pepper
Fresh herbs to garnish (basil, dill)
Lemon zest
DIRECTIONS
Sweat out shallots, add mushrooms and sauté 3 minutes, add garlic and deglaze with vinegar.
Add oats, stock and cook until absorbed, about 15 minutes. Set aside.
For the pick up, add a little more stock, fold in cheese, butter, and finally yogurt. Add greens until wilted, about 2 minutes. Serve in a bowl with avocado, egg, herbs, and lemon zest.
Makes 1 serving
Photo by Melissa Ryan
•••
Hungry for more from the Wanderlust Kitchen?
Sign up for seasonal recipes, digital cookbooks, and inspiring interviews.