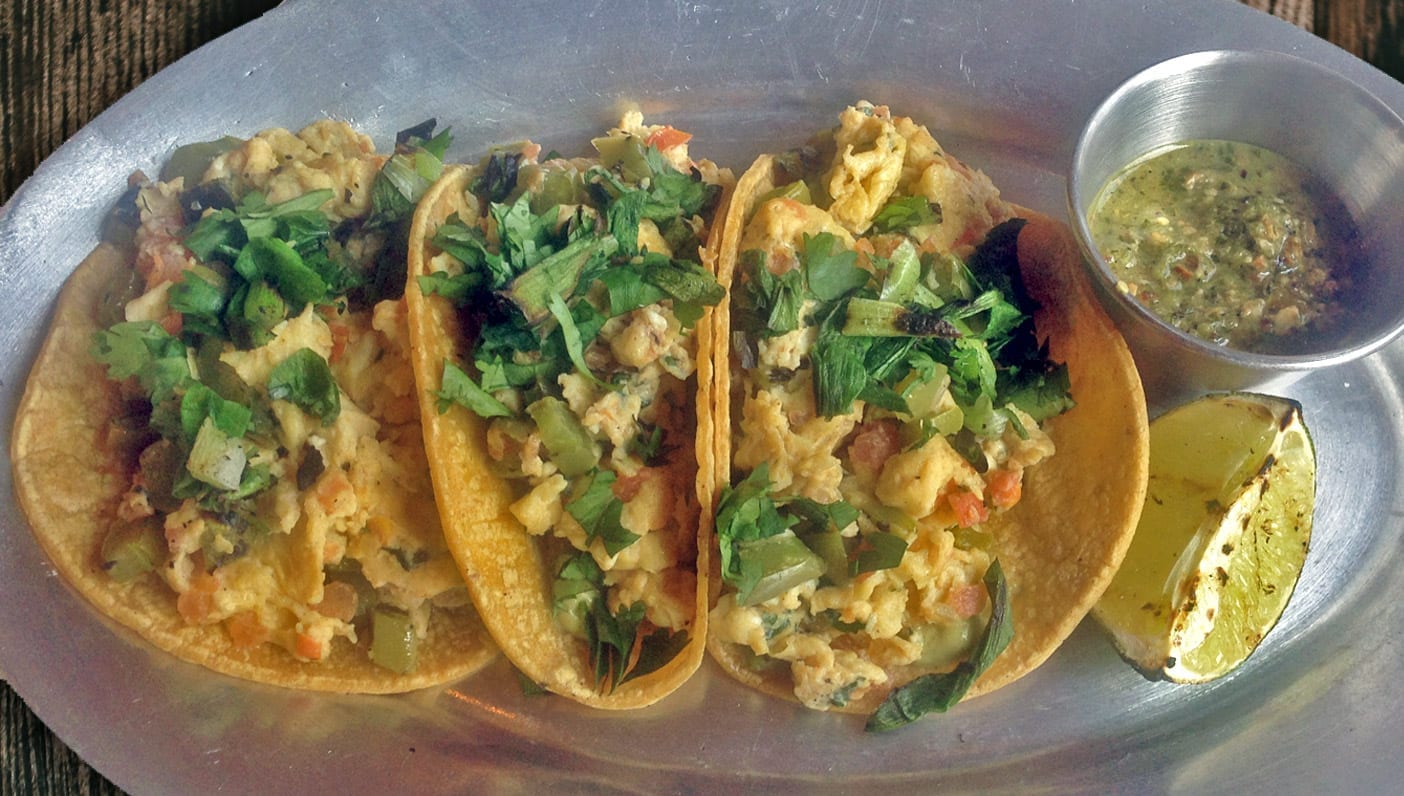 This recipe is part of a new series, From the Wanderlust Kitchen, celebrating real, good food. Receive a digital cookbook of this season's recipes by signing up here.
•••
Tacos for breakfast? Yes, always.
"When I eat these breakfast tacos, I feel like I'm dipping my toes in the warm water of the Pacific Ocean on the coastline of Oaxaca," says Wanderlust Hollywood executive chef Seamus Mullen. "They are a super-charged breakfast, a great way to start the day."
Breakfast Tacos with Charred Tomatillo Salsa
Are you trying this recipe at home? Let us know with #WanderlustKitchen.
INGREDIENTS
2 tortilla, warmed up
2 eggs
1/2 oz tomatillo salsa
1/4 avocado, sliced
2 sprigs cilantro
For the charred tomatillo salsa:
6 tomatillos, charred on the grill
1 Serrano chile, seeded
Juice of 2 limes
1 cup cilantro
1/2 cup toasted pepitas
1/4 cup extra virgin olive oil
DIRECTIONS
To make the tomatillo salsa, char the tomatillos until blackened, then process with rest of ingredients in a blender until smooth but still a little chunky. Set aside. 
Warm the tortillas up, layer two on top of each other to make a double tortilla taco.
In a small pan, scramble the eggs with salt, pepper, and a little olive oil.
Place the eggs in the tortilla, top with salsa, cilantro, and sliced avocado.
Makes 1 serving
Photo by Courtney Smith
•••
Hungry for more from the Wanderlust Kitchen?
Sign up for seasonal recipes, digital cookbooks, and inspiring interviews.