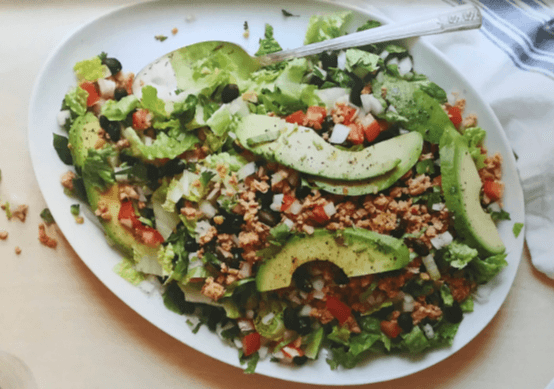 My plant-based take on one of my favorite bright, light, and delicious summer salads. Get ready to enjoy this fiesta for your taste buds after your Wellest Challenge classes!
Ingredients
1/4 cup pre-cooked canned chickpeas, drained and rinsed
1/2 cup walnuts
2 tablespoons extra-virgin olive oil
1 teaspoon flaxseed meal
1/2 teaspoon ground cumin
1/2 teaspoon ground coriander
1/2 teaspoon paprika
1/2 teaspoon chili powder
1/2 teaspoon garlic powder
1/2 teaspoon onion powder
Salt and fresh ground black pepper to taste
1/2 tomato, chopped
1/2 white onion, diced
1/4 cup chopped cilantro
1 jalapeno, chopped and divided
4 romaine lettuce leaves, chopped
1/2 cup pre-cooked canned black beans, drained and rinsed
1 avocado, sliced
To make salad:
In a food processor or VitaMix combine the chickpeas, walnuts, olive oil, flaxseed meal, cumin, coriander, paprika, chili powder, garlic powder, and onion powder. Season with salt and pepper, and pulse until the mixture has the consistency of chopped "meat". Set aside.
In a bowl, combine the tomatoes, onion, cilantro, and a teaspoon of jalapeno and toss together.
Place chopped romaine lettuce into bowl.
Add 2 spoonfuls of black beans, tomato mixture, a spoonful of the chopped "meat" and sliced avocado.
Chili-Lime Ranch Dressing
1/3 cup vegan unsweetened plain yogurt (add a squeeze of lemon to taste)
Juice from 1/4 lime
Pinch of onion powder
Pinch of parsley
Pinch of garlic powder
Pinch of chili powder
1/2 teaspoon plain unsweetened almond milk
In a bowl, mix together, drizzle over salad.
—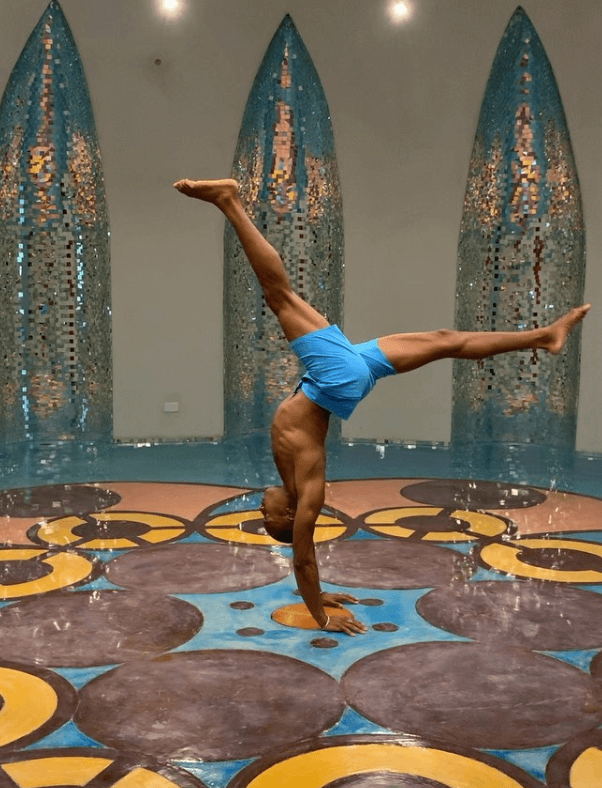 Andrew Sealy is a connection catalyst, a yoga artist, and a movement creator. His days are spent traveling to find adventure, practicing to cultivate growth, and constantly absorbing wisdom to creating new experiences that he shares with love, to friends around the world. Through the unique practice of Yoga and mindful living, Andrew embodies progressive knowledge while positively influencing and empowering his students. Andrew's teachings aim to answer the question: How can we adapt to create and evolve to sustain? Follow Andrew around the globe on Instagram and Facebook.
It's time to live your "wellest." That's what we've always done in this magical, sun-kissed oasis. Since the days of the earliest Native American settlers, we've created a destination for wellness. Besides our legendary hot springs, there are more than 1,000 miles of breathtaking trails for epic hikes, ancient waterfalls and light-filled spas surrounded by whispering palms. Whatever brings you joy, you'll find it here. Greater Palm Springs: nine resort cities, one "wellest" oasis.