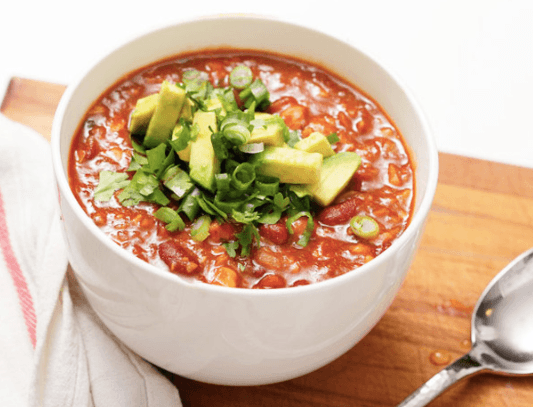 Vegan chili warms the soul. This original recipe has all the protein and veggies you'll need… And did I mention it's topped with tempeh and avocado?! To boot, this recipe is super easy to customize and personalize—don't be afraid to make this baby your own.
Avocado Crema
1/4 pound tomatillos (optional), husked and chopped
1/2 cup mashed avocado
1/4 cup fresh cilantro leaves
2 tablespoons each, lime juice and water
Salt to taste
Place all ingredients in a blender and puree until smooth. Adjust salt to taste. Refrigerate and serve!
Vegan Chilli
8 ounces tempeh
1 tablespoon olive oil
1 cup diced white onion
1/2 cup diced yellow pepper
1 cup cooked black beans
1 tablespoon nutritional yeast
2 1/2 teaspoons chili powder
11/2 teaspoons ground cumin
1/4 teaspoons each ground chipotle powder and smoked Paprika
1 bay leaf
1 tablespoon tomato paste
1 can diced roasted tomatoes
1 cup stout beer (optional – sub for vegetable stock)
1/2 cup tomato sauce
1 teaspoon salt
Freshly ground black pepper to taste
Optional veggies: carrots, celery, corn
To make chili:
Steam Tempeh for 15 minutes, let cool a bit.
In large pot, heat the oil over medium heat. Add the onion and bell pepper (feel free to throw in some diced carrot + celery + corn too for extra veggies!) Break the tempeh into crumbles in the pan.
Saute until onions become translucent.
Adjust heat to medium-low and stir in black beans, nutritional yeast, chili powder, cumin, ground chipotle powder, smoked paprika, bay leaf and tomato paste.
Cook for 5 minutes. Stir frequently. Add diced roasted tomatoes, beer, and tomato sauce.
Cover with a lid, bring to a simmer, and cook for 15 minutes stirring occasionally.
Remove the bay leaf, stir in salt and pepper. Drizzle crema over and enjoy!
PS: We won't tell anyone if you top with extra avocado 😉
—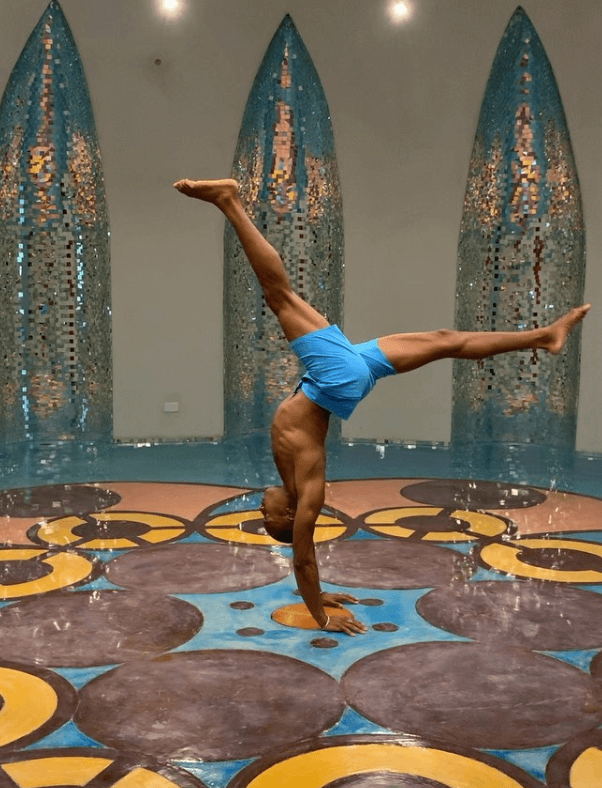 Andrew Sealy is a connection catalyst, a yoga artist, and a movement creator. His days are spent traveling to find adventure, practicing to cultivate growth, and constantly absorbing wisdom to creating new experiences that he shares with love, to friends around the world. Through the unique practice of Yoga and mindful living, Andrew embodies progressive knowledge while positively influencing and empowering his students. Andrew's teachings aim to answer the question: How can we adapt to create and evolve to sustain? Follow Andrew around the globe on Instagram and Facebook.
It's time to live your "wellest." That's what we've always done in this magical, sun-kissed oasis. Since the days of the earliest Native American settlers, we've created a destination for wellness. Besides our legendary hot springs, there are more than 1,000 miles of breathtaking trails for epic hikes, ancient waterfalls and light-filled spas surrounded by whispering palms. Whatever brings you joy, you'll find it here. Greater Palm Springs: nine resort cities, one "wellest" oasis.