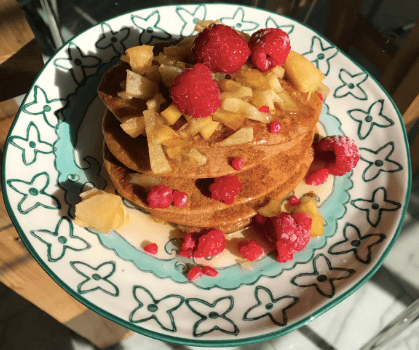 These vegan and gluten-free pancakes have been known to induce mouth watering, teary eyed, loving sensations. They have been known to convert flapjack, butter lovers into full blown Vegan believers. Try them for yourself, share them with friends and let me know what you think.
How to Make Sealy's Signature Vegan, Gluten Free, Pancakes
Recipe makes 12–16 pancakes
1 Pack of Bob's Red Mill Gluten Free Pancake Mix
1 Cup of Coconut Milk
½ Cup of warm water OR add until "Sticky fluid" consistency is reached.
Add ½ teaspoon Cinnamon, nutmeg, Vanilla and/or turmeric to taste.
Finish with your choice of maple syrup and fresh berries or vegan chocolate chips.
Heat your skillet or non-stick pan to medium-high heat. Lightly grease with coconut oil. (You'll know perfect heat when a few sprinkles of water dance and disappear;) Put all ingredients in a large bowl and whisk all ingredients until blended smoothly. Batter should be thick without lumps. Make sure the mix is completely moistened with a fluid and sticky consistency. Spread batter to a 3" round on the pan and wait until the edges are golden brown and bubbles are visible at the center of the cake. Flip with flat spatula and repeat.
—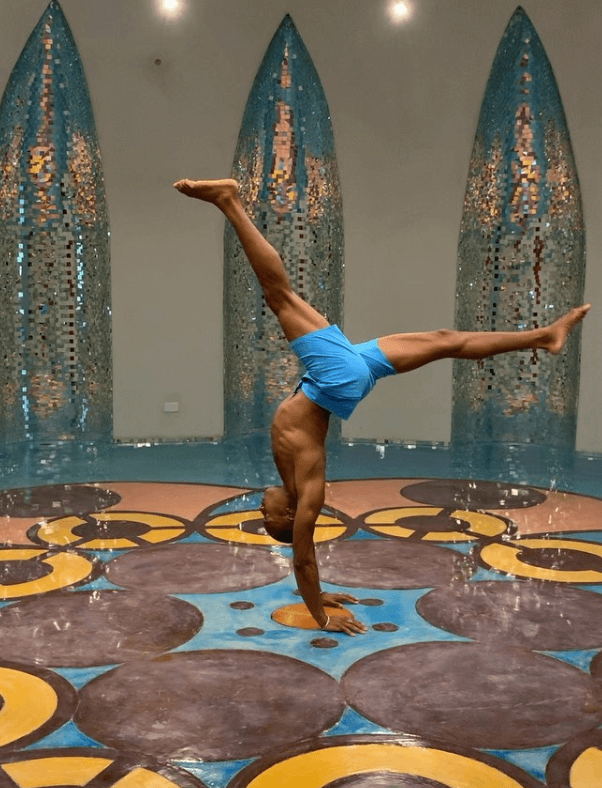 Andrew Sealy is a connection catalyst, a yoga artist, and a movement creator. His days are spent traveling to find adventure, practicing to cultivate growth, and constantly absorbing wisdom to creating new experiences that he shares with love, to friends around the world. Through the unique practice of Yoga and mindful living, Andrew embodies progressive knowledge while positively influencing and empowering his students. Andrew's teachings aim to answer the question: How can we adapt to create and evolve to sustain? Follow Andrew around the globe on Instagram and Facebook.
It's time to live your "wellest." That's what we've always done in this magical, sun-kissed oasis. Since the days of the earliest Native American settlers, we've created a destination for wellness. Besides our legendary hot springs, there are more than 1,000 miles of breathtaking trails for epic hikes, ancient waterfalls and light-filled spas surrounded by whispering palms. Whatever brings you joy, you'll find it here. Greater Palm Springs: nine resort cities, one "wellest" oasis.