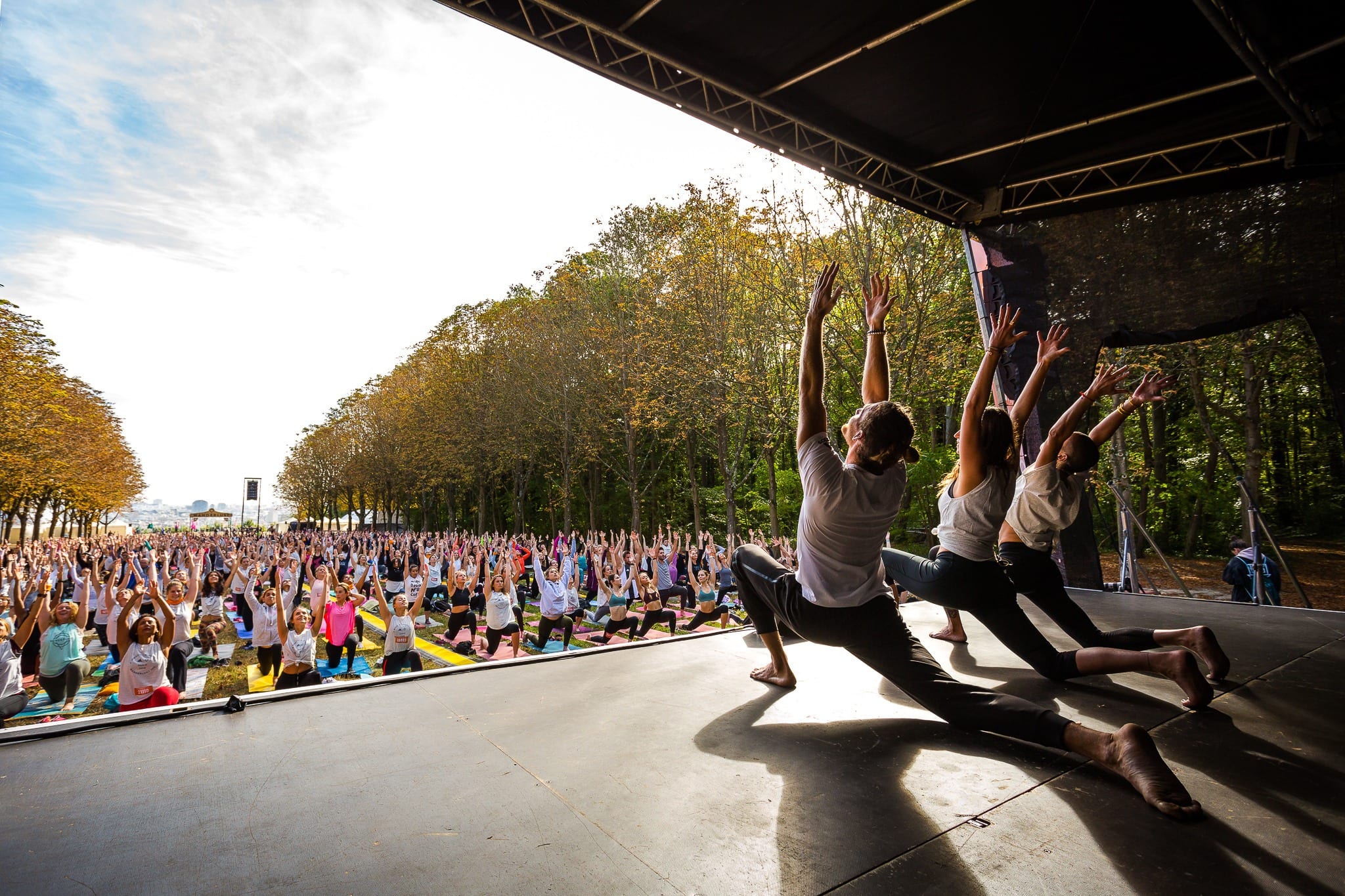 Photo by Raphael Pincas
Learn more about all Wanderlust events here. Don't forget that with Passport, you can gain entry to any and all Wanderlust events around the world for one price. Where will we see you? 
---
Yoga festivals are a magical experience. When likeminded yogis from all over the world gather to Om, sweat, and dance, it's about as high as good vibes can go. From the peaks of Squaw Valley to catching local 108s, each event I've been to has delivered a transformative opportunity to reset and refuel. I've cried, laughed, and chanted my heart out, and left feeling like a brighter, lighter human.
The best part about Wanderlust Festivals is the variety of locations, types of events, and durations you can choose from. From 4-day destination Festivals and 2-day city Festivals to day-long mindful triathlons, there's something for every yogi's flavor. Not sure which is best for you? Take this handy quiz, and let us know where we'll see you this year!
1. When it comes to PTO, you have:
A. A little saved up and are feeling ready to splurge on a big trip this year.
B. Some, but it's sparse—need to make what you have last.
C. PTO. What's that?
D. Unlimited. Bring on the vacays baby!
2. You believe adventure is best served:  
A. In far off places.
B. In small doses.
C. In my backyard.
D. As often as possible.
3. Your yoga style is: 
A.Mixed with some meditation and dance parties
B. Go all in. Power, yin, hatha, I. Am. There. For. It.
C. Mixed with some more high-intensity activities, like running
D. It anywhere and everywhere, ideally in a faraway place
4. For a festival, you're craving:
A. A total restart. I want to immerse myself in good vibes for several days.
B. Something I can do close to home.
C. A well-rounded event that lets all my athletic sides shine.
D. Something far away.
5. Your yoga practice as a beverage:
A. A triple-shot golden milk latte
B. Dirty Chai
C. Iced coffee
D. Can't decide—organic cold-pressed juice and a cortado
6. For you, a festival is a chance to:
A. Rejuvenation.
B. Unplug. Disconnect with the world, and connect with yourself.
C. A chance to sweat off the stress and soak up some good vibes for a little bit
D. Feel alive. To see new parts of the world and connect with interesting people.
7.  State of your current passport:
A. Stamped from places across the pond
B. Has a few stamps from Mexico and Canada
C. Might be expired
D. Almost full
8. How do you feel about packing?
A. Brb, grabbing my packing cubes.
B. If we're talking about a day bag, I've got it handled.
C. Not a fan.
D. Love it. Always keep a bag ready to roll.
9. Which quote speaks to your soul the most:
A. "If happiness is the goal—and it should be, then adventures should be a priority." – Richard Branson
B. "Then one day, when you least expect it, the adventure finds you." – Anonymous
C. "The breeze at dawn has secrets to tell you." – Rumi
D. "I'm in love with cities I've never been to and people I've never met." – John Green.
10. If you had your druthers, you would prefer to wake up: 
A. On the side of a mountain somewhere
B. Cozy, in my own bed
C. At 5 am with a coffee and lacing up my sneakers
D. Somewhere I've never been before
11. How do you feel about travel: 
A. I'm down for it.
B. Can I Uber?
C. How about I just run there?
D. I'm TSA pre-approved and have #milesonmilesonmiles of airline points.
12. Yoga festivals with friends and family?  
A. I'd love to take along my best friend or my mom.
B. Can I sign the whole gal squad up?
C. My running group is down.
D. I love adventure buddies, but I have no qualms hopping around the world flying solo.
13. Netflix and chill. You're watching:  
A. 180 Degrees South
B. Friends
C. The Barkley Marathons
D. TV? Who has time for that?
You work hard, but you know the value of escaping away to reset and recoup. While travel is something you love, you don't get to do a ton of it, so you like to save up your vacation days and splurge on something exciting a couple of times a year. A four-day destination festival won't break the bank on your PTO and will leave your soul satiated.
Travel is wonderful, but if you're going to take a trip, it's probably with the family or somewhere overseas. You prefer your yoga close to home and in small doses. Being immersed in a yoga experience makes you excited, but you also tap out after a couple of days.
You love yoga, but you also love running, dancing and Om-ing. A local108 festival in your backyard checks the box on all your athletic sides and will be just the right microdose of good vibes to keep you going until your next kick in the pants race or workout.
You're an adventure junkie and on the go so much you barely have time to unpack and repack. You spend your money on chasing the next adventure and little will stop you from getting there. A Wanderlust Passport will give you the freedom to jet-set from Whistler to Oahu without skipping a beat. And when you're ready to decompress, you can catch a 108 or city festival in your area, as you please.