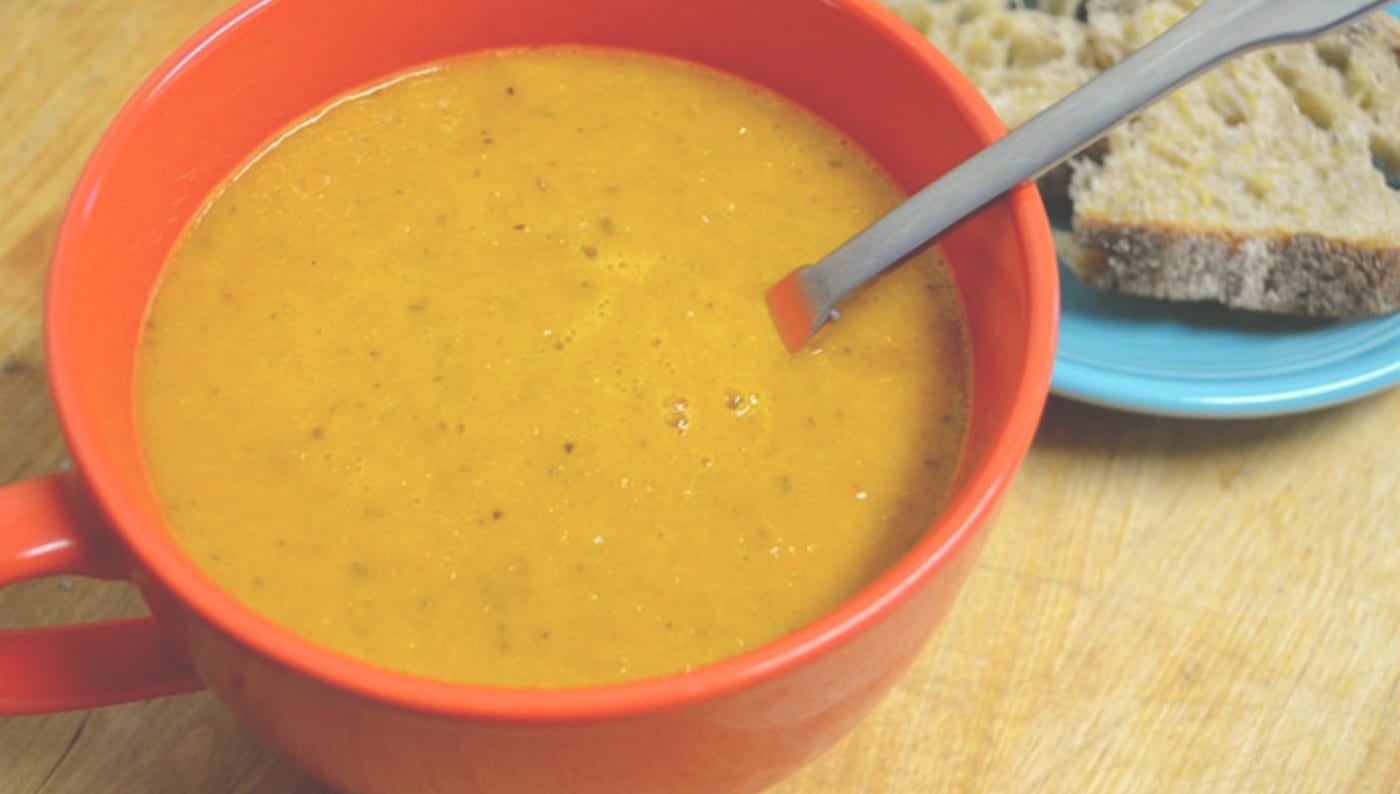 This post originally appeared on Green Girl Eats. Want more comforting recipes for fall? Check out the new Wanderlust Find Your True Fork Cookbook. 
---
What do you do with too many tomatoes? First of all, there is no such thing. But as soon as your kitchen counters are covered in tomatoes and you're wondering if you can make any more marinara sauce, turn to this simple soup recipe. I make it nearly weekly. It only has a handful of ingredients, all magically in season at the same time. Bonus: It also freezes great. Not that you'll be able to hang onto until it's snowing, but I dare you to make a big batch and try.
Vegan Roasted Tomato Soup
Ingredients
2 large shallots, chopped
2 cloves garlic, sliced
½ tsp oregano, dried or fresh
3 tbs olive oil
2 tbsp flour (I use whole wheat, but any is fine)
Salt and pepper
4 cups low-sodium vegetable stock
2 pounds heirloom tomatoes (or your favorite variety)
¼–½ cup fresh basil, chopped*
*Can't find fresh? Dried basil will work, too! Two teaspoons should do the trick.
Directions
Start by preheating your oven to 400 degrees. Slice your tomatoes in half and scoop out some of the seeds. You don't have to get all of them, since keeping them a little hearty makes the soup thicker and creamier. Place on a large baking sheet cut side up and sprinkle with salt and pepper. Drizzle one tablespoon of your olive oil over the top and roast for one hour.
When your tomatoes are nearly done, place a large stockpot over medium heat. Add the rest of your olive oil, shallots, and garlic and sauté for about two to three minutes. Add your oregano, a little more salt and pepper, and sauté for one minute more. Use some of your stock to deglaze the bottom of the pot (just a little) and then add your flour to thicken the base. At this point, you could also add a tablespoon of vegan butter for a little extra oomph, but this isn't completely necessary. It is, however, delicious, so to each their own.
Stir everything up and then add the rest of your vegetable stock. Bring to a gentle simmer and then add your roasted tomato halves. Simmer for about twenty minutes more. Halfway through this time, add your fresh basil (if you use dried, add it when you first add your tomatoes).
Allow to cool slightly before adding to your blender to purée until smooth. You can also use a handheld blender for this if you'd rather leave some of the texture.
Simple! So simple. And perfect with a little extra herbs on top, some shredded cheese, crusty bread, cheesy-crusty bread, avocado toast, or even all on its own. It's the perfect way to warm up to fall.
—
Helen Williams is a Colorado transplant who is passionate about cooking, writing, and combining the two on her vegetarian and vegan food blog, Green Girl Eats. She strives, every day, to be less sorry. When she's not in the kitchen, you can find her reading, loving the community at Holstee, or trying to pet your dog.