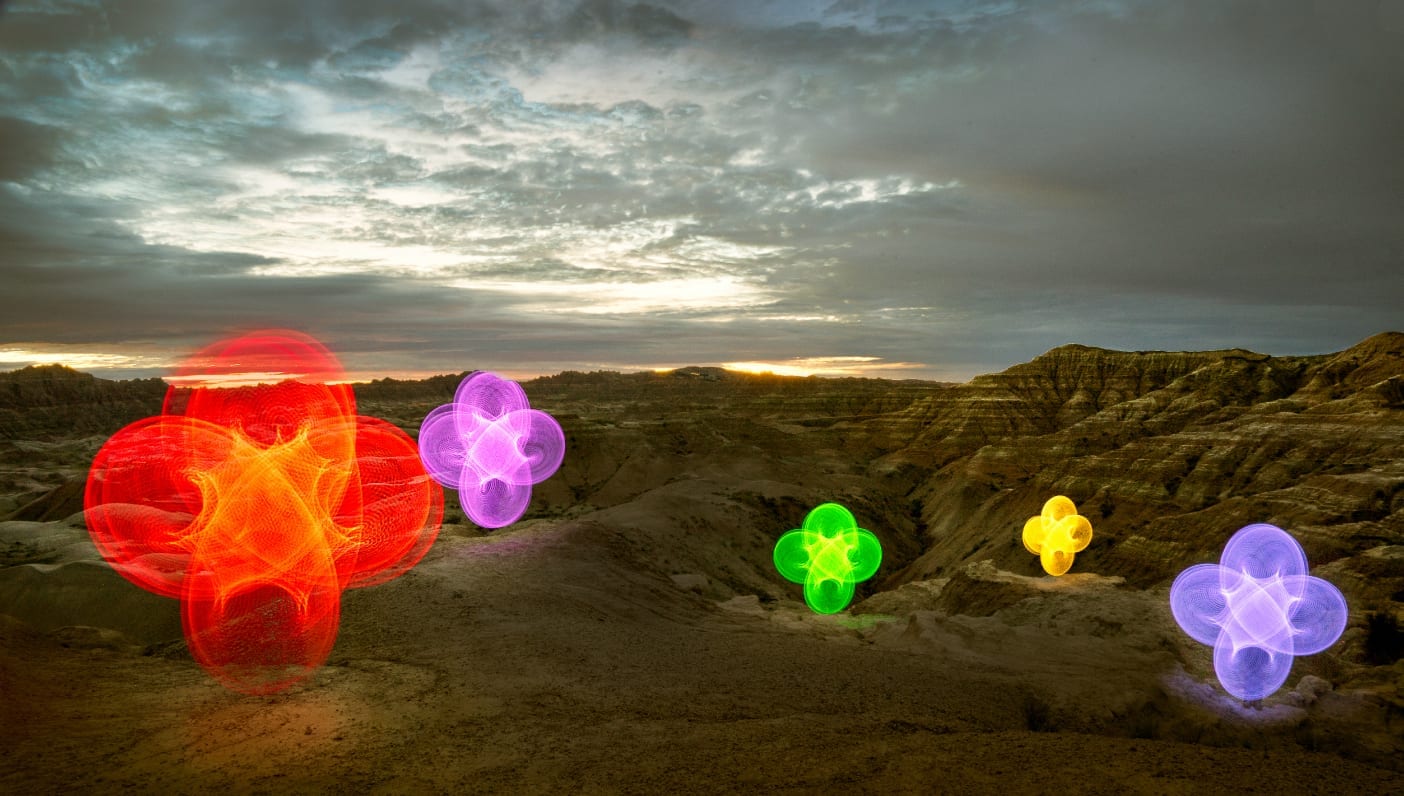 When we first came across the project photographer Grant Mallory was doing with his fiance Maria Jacob, we were floored. We had to know more. Check out their journey and the breathtaking images that came from it below. 
---
The most interesting thing to me about these images is the juxtaposition of LED lights and nature. How did you come to the idea? Had you tried doing this type of photography in urban areas?
Maria had the idea about three weeks before we left on the road trip. It was something we had been doing for a while, just experimenting with LED and fire hoop photography, and we realized we worked well as a team creatively. The one thing that was always missing from our shots was a mind-blowing background and a smart hoop with the capabilities we needed it for. Maria ordered a Moodhoops Future Hoop Pro because it came with a remote and the colors/patterns could be tailored to the needs of the photo series. It was an investment, but for some reason we felt like it'd be worth it in the end. We liked being able to match the color scheme to the background, which only emphasized the natural beauty of whatever setting we found ourselves shooting in. Our ultimate goal for the photo series was to put a unique, creative spin (literally) on our national parks as we visited each of them.
How long have you been photographing?
My interest in photography started three years ago with an intro to black-and-white film class my sophomore year in college at Bowling Green State University. Since then, I started to spend more time with my camera in hand and spent more money on better gear. Although I have shot a few weddings and portraits, I find that my best work comes from when I travel and really strive to look and capture my surrounding in a new way.
How long has Maria been hula-hooping?
Maria has been hooping since 2010. She's had a long journey with hoop dance and had previously been the president of the Hoopdance Club at the University of Cincinnati, had worked with the Cincinnati Circus Company, shared her love of hooping with kids at an orphanage in Cusco, Peru, and even got to take her fire wicks and a collapsible hoop to Full Moon Party in Thailand to fulfill a bucket list dream of fire hooping on the beach there.
Where was your favorite location that you shot/danced?
It's really hard to choose just one, because it was such a special experience getting to go to all of them! We were really excited at our shoot in the Badlands because we finally made it to our first national park after months of planning the road trip, and it was just such a surreal landscape to be alone together in. We also really enjoyed Olympic National Park because of its diversity—we took two really incredible, yet vastly different photos in that location. The Hoh Rainforest photo was Maria's favorite because she really blended in with the surroundings and ended up looking like a woodland fairy.
What was the most unexpected moment with someone you met along your travels?
We tried to utilize the kindness of Couchsurfers and friends we knew to cut costs, and to meet locals while passing by. The people we stayed with were all so different, and each experience was so memorable and authentic—from an older retired couple in a small town in Wyoming, to one man who had built tiny homes on his property for Couchsurfers on the coast of Washington, to a medical marijuana dispenser in Oregon. We saw so many ways of life lived by Americans. We also stayed at an Airbnb and met other travelers who we went out with, so using these methods really is the best way to meet people while on a road trip. I'd say one of our favorite stops was Zion National Park, and while there we stayed at a free campsite not far from the park entrance, where we met two travelers who had their van parked next to our Subaru for two nights. As a meteor shower encompassed the sky, we all sat around a fire, drinking and talking. The next day they took us to a little-known swimming spot within the park. It was phenomenal, and we wouldn't have ever found it if it hadn't been for our new friends.
Have you had any really outlandish responses from passerby while working on this project?
Not really any outlandish responses, the typical "wow that's a great idea," or "that's really fun," but no one could have imagined it gaining so much traction. Honestly, we're not ones to toot our own horns so many people we encountered never realized we had a secret mission while on the road.
What have been your biggest triumphs? Challenges?
In terms of this trip? Our biggest triumph of the photo series was being able to stay motivated because we didn't know the end goal. We had some obstacles along the way that we easily could have just turned around when faced with them; we literally were just doing it for creativity's sake and hoped people would enjoy it once we put the photo series together. The biggest challenge of this project was probably for us to find the right location to put in the background—we didn't want to settle for something less than spectacular so we spent a lot of time scouting out spots before the sun went down, and then waited for the right lighting to shoot with; we had to be very patient.
How do you hope that this project may inspire other artists or travelers?
We're happy to hear it has inspired other hoopers to want to take pictures like ours, and if we can motivate people to travel to the bucket list destinations they've always wanted to see, that makes us feel good. When you inspire someone to travel, you change their life and give them the opportunity to make memories they will never forget. It's nice to be able to advocate to people to get outside and explore.
Rumor has it that you're going abroad next year. Will you continue the project then? What would be your ideal location to shoot this?
Yes, Maria plans to teach in Taiwan around February and I will be going too and working online. We'd love to continue to take pictures like the ones we already did, and Asia is a spectacular place to do so. It would be a dream to get to take pictures at the Bagan Temples in Myanmar or for us to return to Angkor Wat in Cambodia with this LED hoop in tow. Really any Wonder of the World would make an incredible backdrop for our project!
—
Grant Mallory is a professional freelance photographer who specializes in product and wedding photography. He holds a BFA from Bowling Green State University and his full portfolio can be found here.