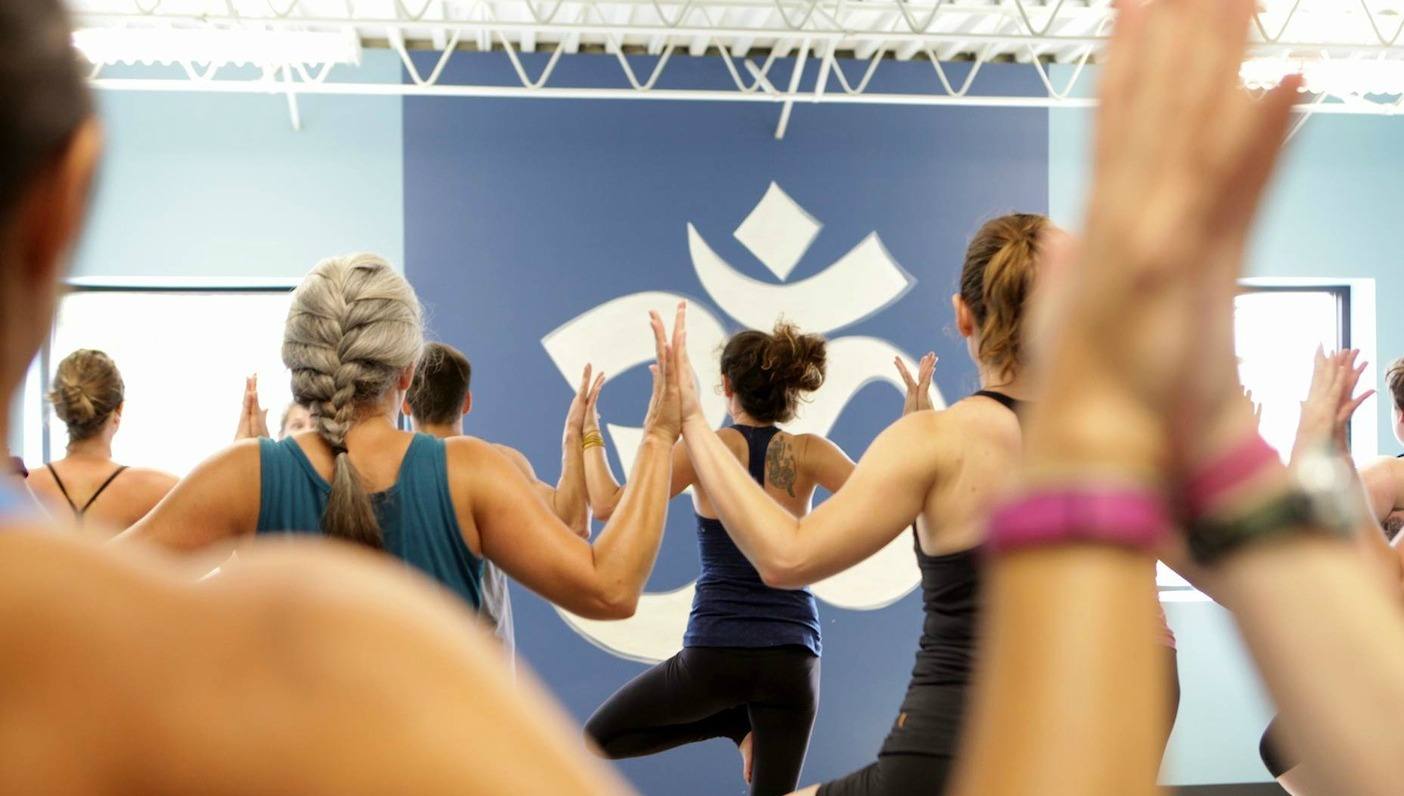 Photo by April Smith
"Move a muscle, change a feeling."
That's what Rebecca Dyer Burnett says in regard to her recovery. "We get into our heads, and get all funky," she says, "and the next thing we know we're at the bottom of a Ben & Jerry's ice cream container. It doesn't have to be like that. It can change."
Controlling the ever-racing thoughts in our mind, managing our emotions—and our reactions—is no easy feat. For Rebecca, a recovering alcoholic now sober for seven years, the road to recovery—and peace of mind—was paved with hard work, and yoga mats.
With its ability to help us connect with ourselves on a powerfully deep level, it's no wonder that yoga has an ability to help aid in recovery. People often turn to their practice as a means to strengthen both body and mind. Whether a seasoned yogi, or stepping onto the mat for the first time, the benefits are undoubtedly worth the efforts.
A Shift In Behavior
Catharine Woodyard, PhD, examined the ways in which yoga practice could impact, and improve, quality of life. In her research for the International Journal Of Yoga she reviewed several studies surrounding yoga and its "therapeutic effects." In the realm of addiction, Woodyard found that "yoga and meditation practices exert positive influence on addictive behaviors. Through the practice of yoga, addicts shift from self-inflicted harm and disrespect toward their bodies to more respectful, caring, and loving behaviors."
"Addiction starts with us," Rebecca explains, "and how we feel about ourselves. If we're suffering we want something that's going to fill that void—whether it's shopping, alcohol, gambling… It can be a million different things. I chose ones that were harmful to my body."
Rebecca's relationship with alcohol started at a young age. She first started partying at just 13 years old. Through and after college it essentially turned into a lifestyle. Her addiction owned her. When she began to suffer from the effects of alcoholism—needing a drink to get her day going and incessant shaking—she turned to other substances to keep going.
"I started doing yoga when I was still drinking, back in 2005," Rebecca recalls. "I was just following along with the rest of the class, and I don't really know why I was there. I was just there." While she may not have known it then, yoga would soon become an incredibly powerful aspect of her sobriety.
After three DUIs, two happening within one year of each other, Rebecca finally said "I'm done." She was ready to fight back against her addiction.
Reaching Recovery
Rebecca went from beginning her mornings with a drink to home incarceration. "The courts were doing for me what I couldn't do for myself," she says. She began attending meetings and found support in a 12-Step program. Through the program she'd gained some much needed perspective. "Finally," she says, "I'd realized that, as much as I didn't want to be an alcoholic or an addict, I realized I was." She refused to allow herself to remain hostage to her addiction.
After her court-ordered meetings and house arrest Rebecca resumed work as a bartender at The Brown Hotel in Louisville. The environment there proved to be challenging, and Rebecca notes that this was a time where she dove deep into her yoga practice to remain strong and "together."
Yoga And The 12-Steps
The strength that came as a result of her practice led Rebecca to yoga teacher training, which she completed at 502 Power Yoga in March 2015. Rebecca reflects on the gifts yoga has given her. The greatest? "My mind. It's always racing and thinking," she says, "[yoga] calms it all down. If I can build my practice stronger on the mat, my day seems to go stronger. I wanted to share that with other people. It's been amazing."
During her yoga teacher training one of the studio owners introduced Rebecca to Nikki Meyers via e-mail. Nikki Myers is the founder of a program called Yoga of 12-Step Recovery, or Y12SR. Y12SR works harmoniously alongside the 12-Step program, aligning the values of yoga with the integral elements of the 12-step program. Rebecca didn't miss a beat. As soon as she learned of the program, and connected with Nikki, she boarded a flight headed straight for training. She became certified to teach Y12SR, and now teaches classes for the program at 502 Power Yoga.
Of her Y12SR certification Rebecca says, wholeheartedly, "It's just been one of the most powerful things I've ever done in my entire life. I'm so grateful. It just brings everything together."
A Space For Everyone
The goal of the Yoga For Recovery class that Rebecca teaches is to reach anyone looking for, wanting, or needing, help. "We are not replacing a 12 step program, or being a sponsor, or any of those things," Rebecca says, "but we are trying to bridge the gap to get people to them."
She aims to create an open space that welcomes people from all walks of life, and all yoga skill levels. Whether you're unsure of whether or not you need the program, are in recovery, or have a friend or family member who is suffering, you will be welcomed with open arms.
Each class is an hour and 30 minutes long and opens with a prayer, followed by group sharing. "The sharing is just so incredible," Rebecca notes, "there's been some really awesome, powerful shares." The breath work that follows depends on what the group has discussed during sharing. "If it was something really intense, then we'll do longer breath work," she says. Breathwork could be in the form of breathing exercises, or meditation, and as Rebecca notes, it varies class to class.
"We're creating a community that didn't exist," Rebecca says. Her class offers a safe space for open, honest, discussions, support, growth, and of course, yoga practice. "There's a lot telephone number swapping," she adds,"I really promote that because that's how we get better—by helping one another."
Rebecca's Yoga For Recovery class is held every Sunday from 2:00-3:30 p.m. at 502 Power Yoga in Louisville, Kentucky. This is a donation based class. To view other Y12SR meeting locations click here. 
If you need immediate assistance please reach out here. 
—
Maggie Peikon is a New York native, writer, and sufferer of insatiable wanderlust. An avid endorphin seeker she has a constant need to be moving, seeking adventure in all she does. She is a lover of travel, daydreaming, fitness, thunderstorms, and her dog, Finley. Despite the fact that she has to take medication daily due to a thyroidectomy, Maggie still believes that laughter will always be the best medicine. Follow her musings on Instagram and Twitter.