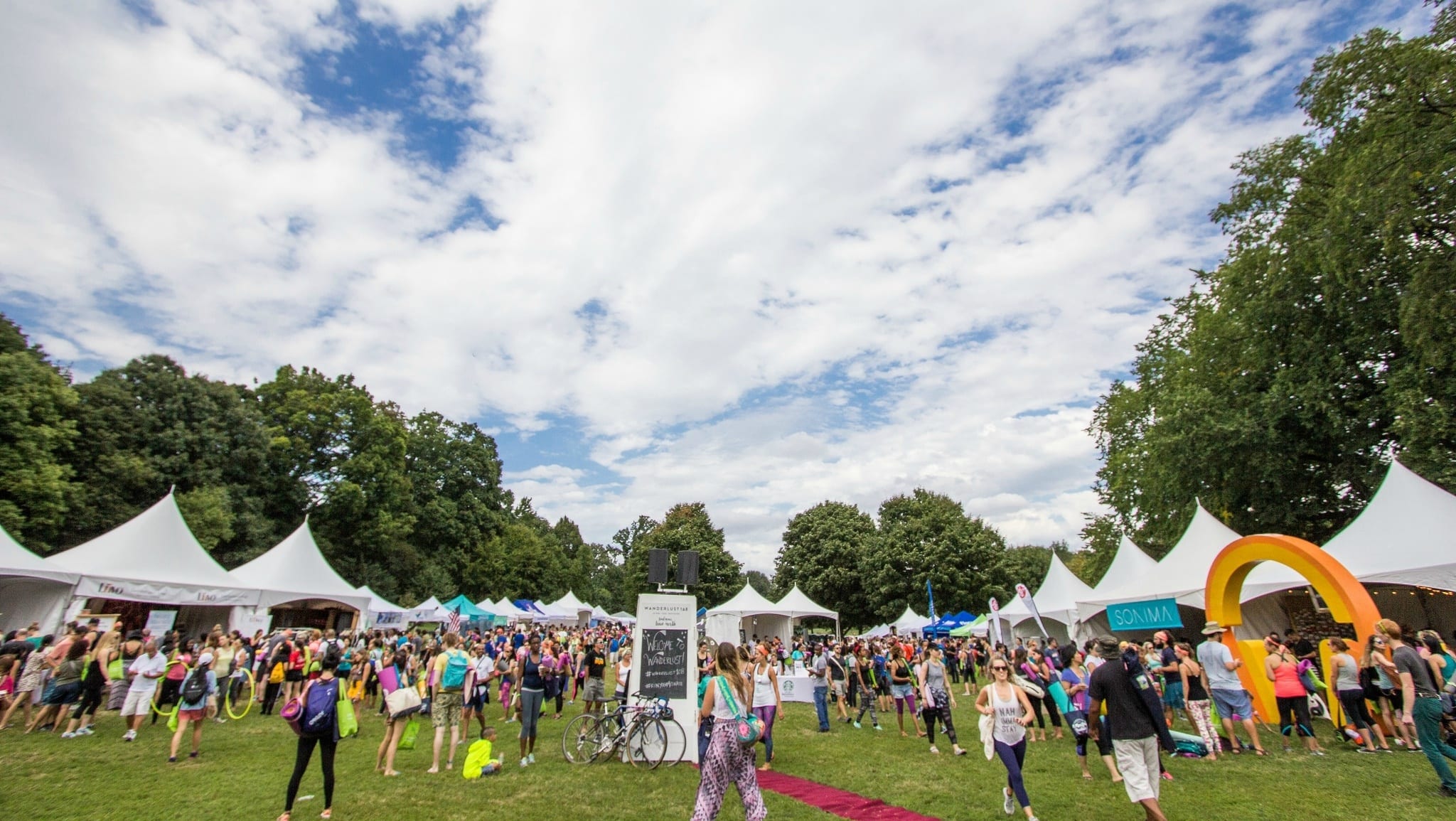 Are you as excited as we are for next week? As you're getting ready to #ComeTogether with us, check out these great vendors who will be joining us at Buffalo Bayou Park. We can't wait to see you there. Still need a ticket? It's not too late! $1.08 from every ticket will be donated to the Greater Houston Community Foundation's Harvey Relief Fund. 
---
adidas and Wanderlust share a vision of holistic, high-touch experiences that create community around sport and mindful living. Wanderlust, in partnership with adidas, brings an entirely new level of everyday engagement to the fitness and healthy-lifestyle enthusiast. Check out the adidas x Wanderlust Store on-site for great deals on our co-branded apparel line!
Ford Motor Company aims to deliver great products, a strong business and a better world. From our factories to our dealerships and into the communities in which we serve, our purpose is to Go Further so all people can move freely about the world. Ford is proud to be the Official Vehicle of Wanderlust. Event attendees can stop by the Ford display for exclusive activities, to learn more about our full line-up of vehicles and to take home some incredible giveaways.
d.stil is a line of bottles purposed-built to weave fashion and function together. Developed by Chef'n, a Seattle-based company with more than 30 years of product design experience, each highly functional bottle has curated combination of colors, materials, and finishes. With d.still, you can look good, feel good, and give back with every sip (to Water.org).
Vibrant food is what keeps us nourished, satiated, and alive. Sadly, our world has slowly transitioned to a time where the people are hard-pressed for the time to properly prepare vibrant foods, and the food and drink we consume daily on the go is making us sick. Our food system has failed us, and we believe it's time for us to shift the paradigm of 'fast food' everywhere. At Picnik, we offer the practical, convenient setting of a restaurant and coffee shop with a focus on better ingredients that make you feel and perform your best. Our menu items and the bottled coffees we sell are convenient and made with the highest quality ingredients. We accommodate a wide spectrum of food allergies, sensitivities, and dietary requirements, so that everyone is included.
Founded by Mason Arnold in an effort to bring healthy food to his gluten-free family, Veggie Noodle Co. isn't just a fun start-up business. It's the next step in Mason's journey to innovate with sustainability. Mason also founded Greenling, an award-winning local and organic food delivery service all over Texas. From his chemical engineering background to the organic practices legislation he's helped pass, Mason has been a Veggie Nerd for a long time. For Mason, it's all about inspiring others to get their nutrients in and to be creative with a healthy pasta alternative. And he knows the value in keeping it simple. Simple but twisted.®
Since our founding in 1979, we have had over 145,000 injured, orphaned, or ill wild animals pass through the hands of our caring volunteers. Species we frequently accept are squirrels, opossums, rabbits, raccoons, birds of prey, waterfowl, migratory birds, turtles, and snakes.  With fixed accommodations for wildlife, we must also regulate the number of non-native, invasive species we receive for care, giving priority placement to our native species. We are not able to care for the large amounts of these species we receive each year without tremendous impact to the care of our native species.
The basis of everything we make here at Clementine & Co. is great design. The materials have to stand the tests of time, sweat, water, kids, yoga practice, backpacking, in short, LIFE. Our pieces are physical medicine, modern-day talismans and a connection with the earth that nurtures and supports us. We honor that connection by sourcing recycled metals, ethical stones, and employing practices which limit or eliminate our environmental impact. We honor and value the work of human hands; after all, the hand of the maker can never be replicated and it is the handmade nature of our jewelry that truly sets it apart from all others. Every piece of jewelry we sell is made in-house in our Austin, TX studio by a highly-skilled and well-paid maven of the metal arts.
At the helm of our essential oil activation, Stinky Yogi was founded in 2012 by Yoga Teacher Stacey Orr, a west coast native now based in Ithaca, NY. She is currently on an epic road trip in her Stinky Subaru with her pug Gibson, teaching and vending with Wanderlust Festival at cities nationwide through the end of 2017. Stinky's mission is simple and genuine: to help people feel elevated through the magic of essential oils. We are a small, woman/yogi owned and operated company. Our products are made by hand in small batches by our team of yogis in PA and NY. We love our tribe and believe deeply in the power of community, connection, and being part of the mindful movement.
Wolven Threads fabric patterns are inspired by sacred geometry found all around us in nature.The vibrant colors of our garments are inspired by the colors of Indian art, celebration and the roots of yoga. We believe that mother nature is our home and that we should do whatever we can in our power to protect her. We believe that beautiful fashion should not come at the expense of our planet. Our garments are made with OEKO-TEX certified Recycled P.E.T fabric (RPET), a fabric made from recycled plastic water bottles. This certification ensures that our material is free of harmful and toxic chemicals.
Our vision is an environmental community recognized as a vital part of the fabric of our society. We connect concerned citizens and community leaders with over 100 diverse environmental organizations. We share, support, and enhance their efforts and environmental advocates. We do this through our programs, which include forums that enhance understanding and publications that give a balanced perspective on environmental issues.
Dirty Blondes is a clothing line that was designed for the free-spirited, fashion-forward girl that is confident in her own skin.The brand is based on the mantra of embracing a woman's individual style. The woman who wears Dirty Blondes is one who confidently, yet kindly, walks her own path and unapologetically follows her own dreams. The designs of Dirty Blondes match comfort and versatility with style through premium fabrics and trend-setting visions. Whether a night out on the town or Sunday brunch, clothing from Dirty Blondes will pair with any occasion.
Gurus are made primarily from natural rubber that is sustainably sourced from trees. Everything in our sandals and yoga products is completely eco-friendly. In addition to keeping our products sustainable, Gurus packaging also uses environmentally friendly materials.  From our natural jute bags, to the paper and cardboard used to ship our sandals, we aim limit our effect on the beautiful world around us.
Air Alliance Houston is your partner and resource as you seek the best quality of life for yourself and your family. We are a source for the best Houston air quality knowledge, we provide tools for a healthier life, and we advocate for communities' improved health and air quality. Our passion is working with the community, other organizations, health and regulatory professionals, and industry leaders to make Houston a healthier place to live and work.