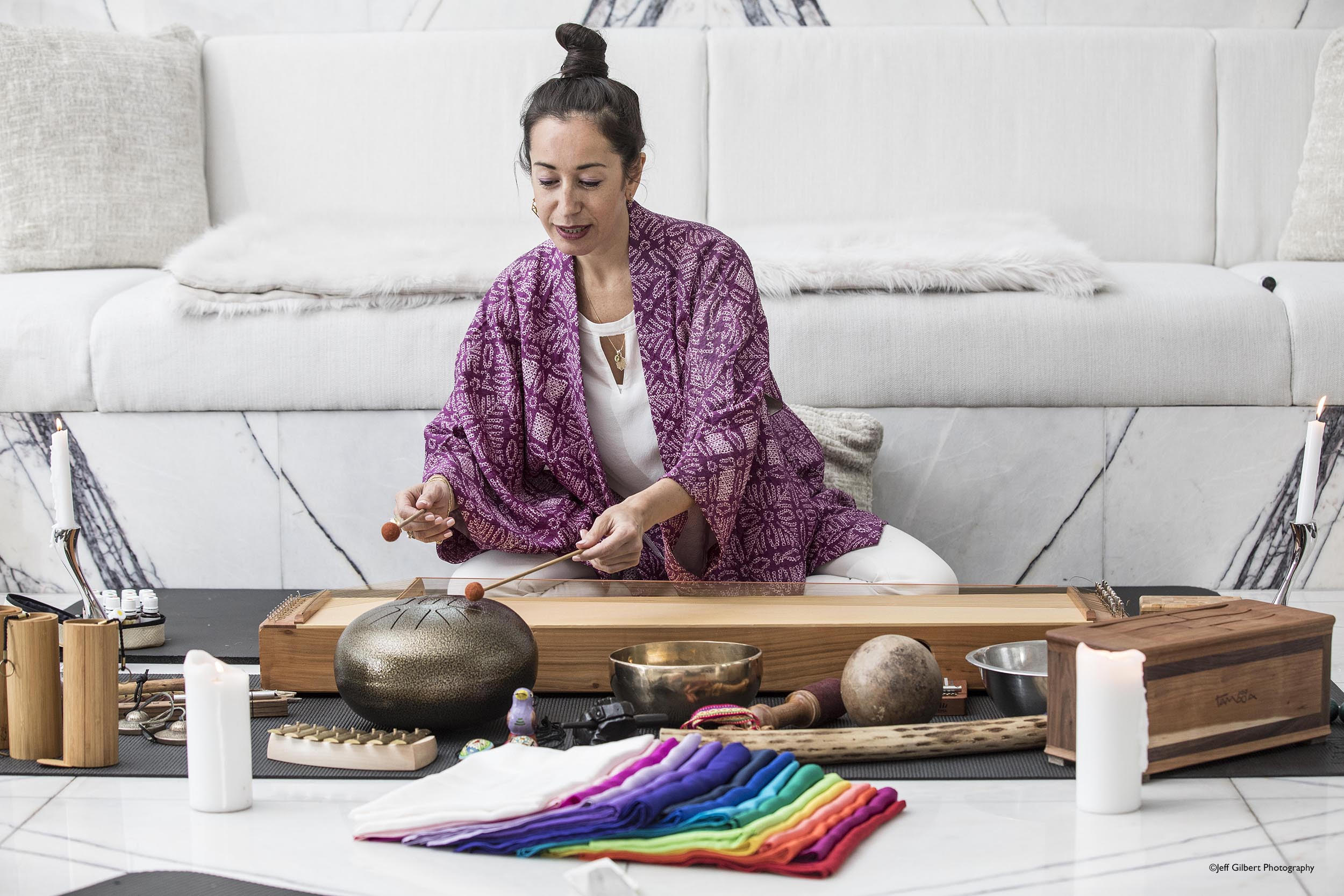 PHOTO:JEFF GILBERT 70th May 2019 Mandrake Hotel, London, UK Tracie Story sound resonance therapy.
Join Tracie Storey's Course Empower Your Energy System every Saturday at 8 AM UK on Wanderlust TV as she takes over the Wanderlust TV Live studio. You can catch up on all previous course lessons here.  
Tracie has trained as a Vibrational Sound Practitioner exploring the transformational therapeutic properties of Bio-Resonance, Sound Meditation and also teaches Qi Gong as part of her practice. Today she combines all these tools as the founder of her company Elemental Resonance – a platform for restorative vibrational sound & movement therapy. As a practitioner, her sessions are instinctively tuned to the individual client, as a teacher and workshop lead her skills stretch beyond the treatment room to include immersive group sound harmonisations and meditation sessions.
---
How did you begin practicing Qi Gong and meditation?
I started doing Sound Meditation around 2001-2002 whilst living in London. I met a wonderful teacher who introduced me to the power of subtle energy using sound as part of her meditation experience, then I started to deepen my knowledge of learning Bio-Resonance which is Vibrational Sound using Tuning Forks. I met Master Teacher Fabien Maman in 2012 and this was my first experience of Qi Gong, I had practiced Shaolin Kung Fu and Tai Chi in London before but never Qi Gong and it's been part of my life ever since. 
How has your practice evolved when you transitioned from being a student to being a teacher?
We never stop learning, I feel I will always be a student but becoming a teacher was a great moment, as I realized the beauty and importance of being able to pass this wonderful knowledge over to others. It's my vision to help facilitate people helping themselves to be healthier physically and emotionally. The practice just becomes more and more embodied year after year.
What essence are you hoping is transmitted through the practice that goes beyond just watching someone on a screen?
The essence that there is true value to cultivating a practice. "Health is our greatest wealth!" – Lao Tzu.  Being aware that we are the masters of our bodies is a key and if we look after it and all those incredible organs inside then it will look after us. Happiness begins within!
What would be the one piece of advice you could give to the Wanderlust TV streamers to deepen the connection with a teacher during their online practice?
Ask questions, be curious, send me a message so we can connect in real-time. We may not be able to see one another face to face but we can still connect. Hopefully one day we will be able to practice together in the same place.
Morning or evening practice – is one more beneficial than the other?
Morning practice is great for Qi Gong – as it sets you up for the day and wakes up the body after sleep state. Sunrise Qi Gong is even better. Sometimes I do Star Qi Gong practice at night but this is super rare.
Is there a person, past or present, who has influenced you to study and ultimately teach breathwork?
Master Fabien Maman showed me the true essence of Qi Gong and I feel super lucky to have studied with him for several years and be in the lineage of his Masters –  Master Pang Ming and Sensei Nakazono who studied under Ueshiba – the founder of Aikido. The lineage is strong with roots in both China and Japan.