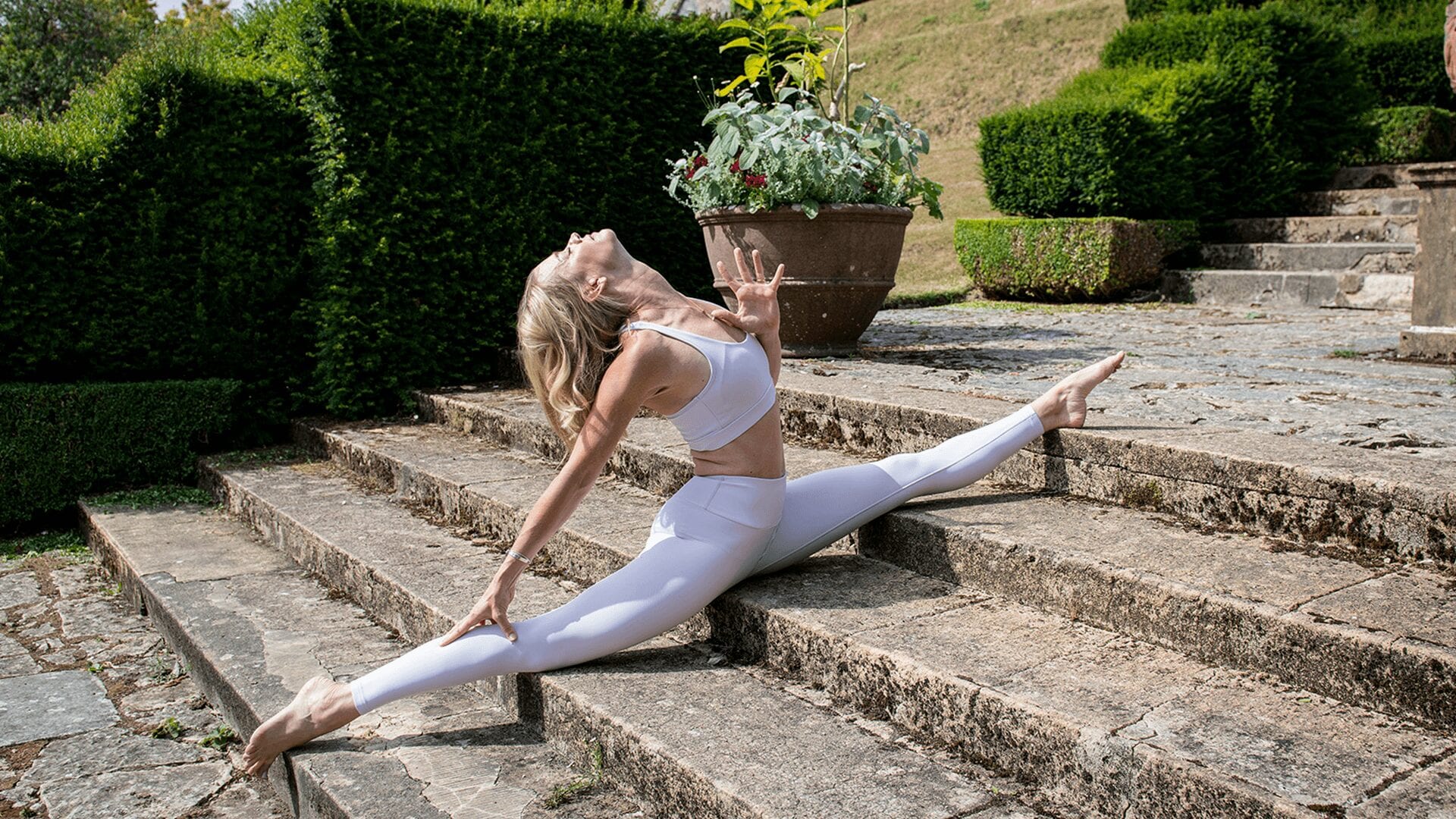 Flow with Julie every Tuesday at 1.30 PM ET / 10:30a PT on Wanderlust TV as she takes over the LIVE studio to host her signature Whole Self Yoga Classes.
Julie Montagu is the brains behind the membership wellness site truly-julie.com and author of three international best-selling books: Superfoods, Eat Real Food and Superfoods, Superfast. Her fourth book Recharge: A Year of Self-Care to Focus on You was published in January 2018 and is already flying off the shelves.
Julie is the founder of Whole Self Yoga which provides 200-hour teacher training courses for students who wish to become yoga instructors as well as short courses and retreats. Julie regularly appears in press articles and on TV discussing the benefits of yoga and healthy living. She's the official BBC Royal correspondent for Prince Harry and Meghan.
---
When was the first time you tried the practice?
I had always dipped in and out of you after my first child was born.  But it wasn't until after my 4th child, that I realised I need more of this!  I took a year off of work after my 4th which was the first time I hadn't worked since I was 16 and immersed myself into a daily yoga practice.
What changes have you noticed in yourself since you began a steady practice?
Hands down, I'm a better mother and wife because of my yoga practice.
What is the intention you carry as you share these sessions online?
Each class I teach online focuses on a different intention.  For Example, FEEL – what would you like to feel now.  HOME – where do you feel safe and secure.  BALANCE – how can you achieve more balance in your every day.
What essence are you hoping is transmitted through the practice that goes beyond just watching someone on a screen?
My hope is that you can feel my energy through the screen because I have a lot of it! So that you leave feeling compelled to keep your intention that you set, alive in your body, heart, mind and spirit.
As you're a teacher and a teacher trainer, you're also a student. How does your personal learning journey continues as you step on the mat learning as opposed to teaching?
I couldn't be a teacher or run a successful teacher training program without my own daily practice and continuing to learn from other teachers.  It is through my own practice and learning from others that I can continually pass these teachings on to others – and not just yogis either – to my family and friends too.
What would be the one piece of advice you could give to the Wanderlust TV streamers to deepen the connection with a teacher and themselves during the online practice?
Ask yourself, can you FEEL the teachers energy through the screen?  Does your teacher make you feel safe, secure ?  Do you walk away feeling re-balanced and compelled to honour your intention?