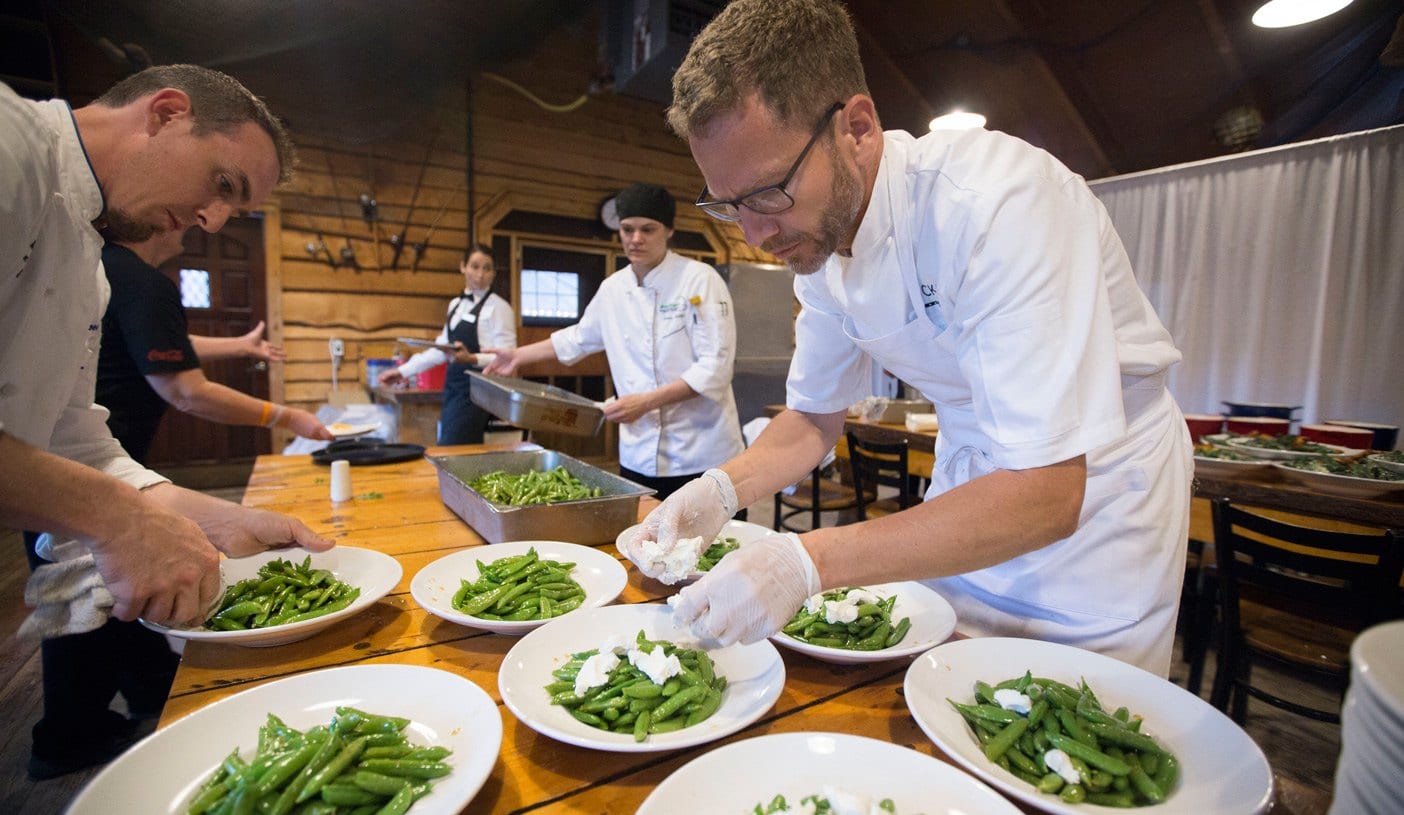 Photo by Zoë Dehmer
Taste Chef Kevin's delicious creations at a Wanderlust Festival this year! Learn More | Get Tickets. In the Los Angeles area? You can also catch Kevin during the Find Your True Fork dinner series on Thursday, July 27. For more information, click here. 
---
Meet Kevin Callaghan, the Executive Chef and mastermind behind the Farm-to-Fork dinners at Wanderlust Festivals.
In addition to his esteemed role as Wanderlust's Executive Chef, Kevin is one of the nation's leading advocates of sustainable food and locals farms. His 10 years of experience in the restaurant industry, passion for seasonal cooking, and connection to traditional Southern cuisine has led him to numerous culinary successes. In 2016, Kevin was named by Lululemon as one of their American artists and taste-makers, and was just recently chosen as one of the company's official ambassadors as part of their community outreach program. This year he'll be opening his second restaurant, a sister to his acclaimed Acme Food & Beverage Co. in Carrboro, North Carolina.
Kevin first began partnering with Wanderlust during their first festival in Snowshoe, West Virginia. It was important to find a chef who understood the power of using local ingredients along with a background in Southern cooking, and Kevin was the perfect fit. As of today, Kevin attends all the festivals to ensure consistency in all of the delicious meals served up at Wanderlust.
"We're here to craft experiences for people that are intensely personal but undeniably communal."
When I spoke to Kevin, he talked about his partnership with Wanderlust with zest and enthusiasm, describing the role as being equal parts challenging and fun. His number one responsibility? Translating the values of Wanderlust to food. Kevin ensures that the food at festivals nourishes guests on both a physical and mental level.
"Yoga has a strong set of values that people practice," Kevin says. "Extending those same values to food is at the heart of what our job is. We're here to craft experiences for people that are intensely personal but undeniably communal."
Which is, essentially, the purpose of yoga. When we come together to practice, including at a Wanderlust Festival, we gather to nourish ourselves in a communal environment. We strive to share the goodness of our practice with those around us. And while the acts of meditation and yoga are undeniably internal, much can be gained by practicing yoga in a group. Kevin believes it's important to treat food in the same way; eating is a personal activity, but can be very rewarding and nourishing when done with a community. Often times eating with a group encourages us to practice presence.

Watch our series with Chef Kevin on Wanderlust TV! 
"Think of it this way," Kevin explains. "When we go to restaurants, we have an expectation and hope, two feelings that lead to create our experience. If we were to provide that level of attention to every meal, we'd have a heightened experience."
This level of mindfulness is directly applied to Kevin's signature Farm-to-Fork dinners. When crafting the menu for these dinners, Kevin takes three things into consideration: taste, nourishment, and seasonality. That last one is paramount.
"Providing foods that are deeply seasonal bridges the connection between person and place," he says. Should you find yourself at a Farm-to-Fork dinner, you'll find that nearly everything on the plate is sourced locally. So whether you're in O'ahu, Whistler, Stratton, or Squaw Valley, you'll be eating foods that sing of the local environment.
The Farm-to-Fork dining experience is treated with just as much respect as the food. Everything is served family style, and seating is communal. Diners can expect four courses, with the first and last being interactive. This is especially important to Kevin; he wants to connect with the people eating his food, and welcome them into the experience of mealtime together.
"The important part of the meal is the person across from you," he says, the passion echoing in his voice. It's clear that Kevin sees mealtime as more than a moment to eat, but as a tool to connect to our food, farms, and fellow humans. It's an opportunity to remember that we're all intertwined. If we want to change the way our nation approaches food, this is a good first step.
"A revolution happens when real people experience change. This requires tenacity and belief," Kevin says. "A revolution happens when real people experience the change. We need to hold hands and walk across the field, together."
—
Amanda Kohr is a 24-year-old writer and photographer with a penchant for yoga, food, and travel. She prefers to bathe in the moonlight rather than the sun, and enjoys living in a state of the three C's: cozy, creative, and curious. When she's not writing, you can find her driving her VW Bug, looking for the next roadside attraction or family diner. She also roams the Internet via her blog at cozycaravan.com.