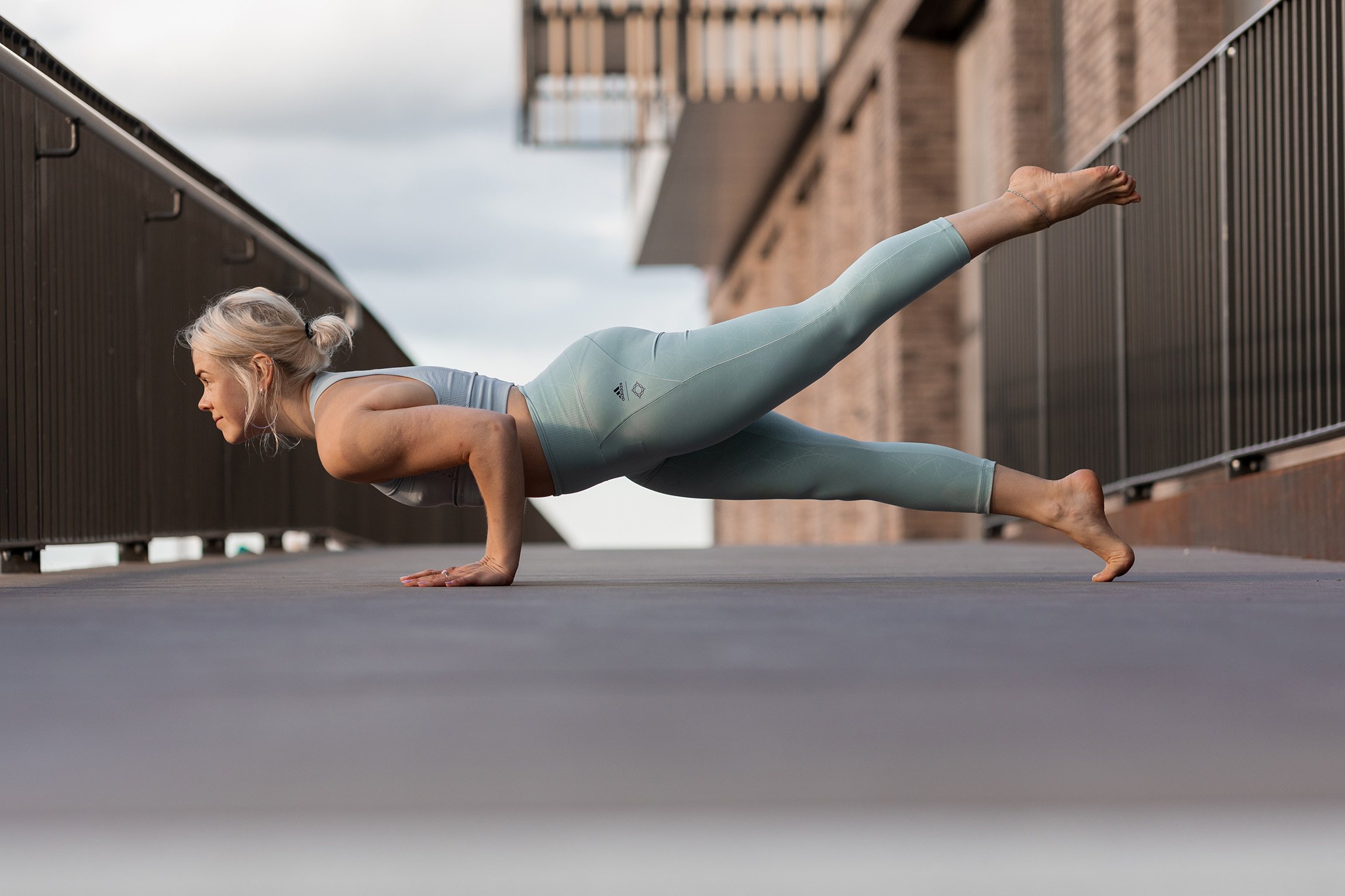 Step on the mat with Emily Harding every Monday at 12 PM EST / 9 AM PST / 5 PM GMT as she leads a joy-filled Back to Basics Joy Yoga class on Wanderlust TV Live – a comfortable space for all beginners and those who are keen to have a fun, alignment-focused practice.
Emily Harding is a London-based yoga teacher, who is passionate about helping you find your own joy and love your own body through yoga. Initially training in Ashtanga in India, and also training in Rocket, Yin & Mindfulness, and Power Yoga, Emily's classes are filled with joyful energy, body acceptance, and thoughtful, accessible sequencing to help everyone feel their very best on and off the mats. While she is very serious about her responsibility to leave every student in a better state than they joined her in, she does this with a light-hearted approach to sharing the science and ancient wisdom of yoga with her students.
---
How did Yoga enter your life? Was it love at first sight?
I stumbled upon yoga through Youtube about 7 years ago. I used to practice along with Yoga with Adriene in my living room with my mum and we loved it instantly! I was trying out gentle yoga to help ease lower back pain that I've always had. As I kept practicing and trying out different styles, I started enjoying the strength, balance and confidence it was giving me. I began yoga for the physical, and like so many others, stayed for everything else I discovered about myself as I continued to explore the practice.
You're an active advocate for making yoga comfortable rather than intimidating for complete beginners. Was there anything that pushed you to get vocal about it with your community?
The very fact that yoga (an inclusive practice for all) can in fact be intimidating, and create separation by seeming to be only for a very athletic crowd, has always concerned me. The early experiences I had of yoga, when practicing along online, was always very inclusive and accessible, but when I moved to London (already having done my 200hrs YTT in India) and started attending public classes here, I was shocked by how different it was, and how the focus seemed to be SO physical with a tendency to celebrate 'advanced' asana or extreme flexibility. This wasn't the yoga I had fallen in love with, and it didn't make me feel good about myself in the early classes I took here in the city.
Because of all of its amazing benefits and ways of helping you to release your suffering, it seemed a no-brainer to me that we should be trying to get as many people to try out yoga as possible. Yet here it was that the classes people were taking, or the visual information they were seeing online, were not making people feel welcomed and supported. 
So from the very first day I started teaching yoga, I've been vocal about the fact that you don't have to be 'flexible' to practice yoga, that you don't have to be 'good' at it, that it doesn't matter what your physical practice looks like as it's all about how it can help us to feel, and feel good. 
When people tell me they're not flexible or 'good' enough to try yoga, I let them know that if you can breathe, you can practice yoga!
Is there one feeling you always seek your students to leave with?
Joy! No matter how big or small it is, a sense of joy, gratitude, and wonder at all that we are already so lucky to have.
As you're a teacher, you're also a student. How does your personal learning journey continues as you step on the mat learning as opposed to teaching?
Even when I am on my mat as a teacher, I find I am still always learning. I learn so much from my students also and the interactions I have with them outside of class! 
When I step on my own mat, and indeed, practice my yoga off it, I am always discovering a little more about my attachments and the state of my mind. I love yoga asana, yet it is not where the majority of my learnings and growth lies. When I step onto my mat, it is a learning experience that unravels and unfolds from a place of mystery, you cannot quite know or expect what you are going to learn on a specific day, yet when teaching there is more of a direction of inquiry. 
My educational journey never feels linear, and I am always learning so much about my own body, and its subtle physical and energetic shifts and changes that happen on an everyday basis. Turning my attention inward to my bodily sensations, and state of my mind, I see my practice as an opportunity to unravel all of the thousands of micro-decisions that have been made preceding the practice, to recognize if there are any patterns that have caused pain, tension or suffering in any way, and then I am able to reflect and unravel, helping to better understand how I can manage these things in the future. My own practice involves a lot of time resting, reflecting and unraveling in savasana!
What would be the one piece of advice you could give to the Wanderlust TV streamers to deepen the connection with a teacher and themselves during the online practice?
Take the time to clear and clean your space to practice in, and then make a conscious choice to energetically commit to the whole class. Sit down before it starts and take a few deep breaths in the silence, and let yourself be present. It is all too easy to let people, phones, tech, pets and more distract us from our practice, but by being disciplined in withdrawing our senses from all of them (for the whole class), step by step, it becomes easier to reconnect to your truest self on the mat.
Where do your passions lie outside the mat?
Skiing and going on adventures in nature! I spent many winters living in the mountains in France and Japan, and my life's main passion is skiing. After spending hours touring to the top of it, to stand at the top of a mountain in total silence, just listening to the stillness, is one of the most amazing experiences in this world. It's my plan to move out of the UK and back to the mountains in the next few years to settle there.  
If you could have dinner with an influential persona, past or present, in the history of yoga, who would it be and why?
Sadhguru, an Indian Yogi, author, and speaker. His book, Inner Engineering is the one book I keep coming back to again and again and again, he explains such complex ideas about yoga philosophy in such a unique and simple way, so I'd love to be able to pick his brain over dinner!