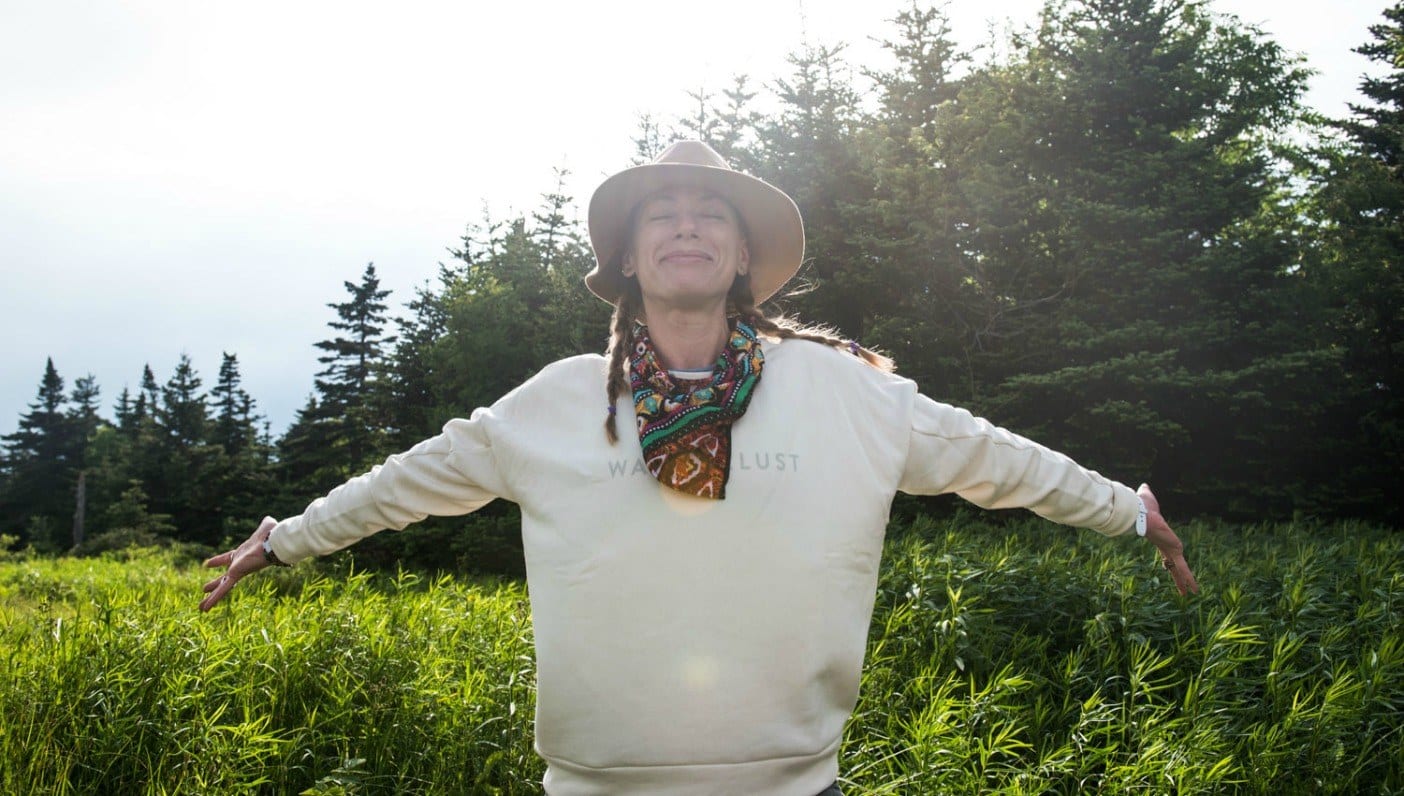 Photo by Ali Kaukas
---
The last light of the summer solstice fell beyond the horizon, and I looked to the sky to have a conversation with the stars as they appeared in succession overhead. Twilight revealed planets that loomed large in close orbit, and zodiacal constellations performed a changing of the guards. It was a universal dialogue that summoned a chill of enchantment: the same wonderment of a child who takes in the cosmos for the very first time. Without exchanging words we understood each other—the heavens and I—and then I remembered what is often so easy to forget: We are all the same. We are all made of stars.
That longest day of the year led me from the bustle of Brooklyn to the secluded Green Mountains of Vermont, where I would be teaching at my inaugural Wanderlust Festival. Like a fish out of water, I relearned how to drive a car for the first time in 10 years, and navigated the winding roads that led me to Stratton Mountain, both hands gripped firmly to the wheel until my knuckles whitened.
To my surprise and delight I made it—driving is just like riding a bicycle—and I eagerly parked the car for the weekend, anxious to be back on foot. I found my way to "The Compass," a large geodesic dome where I would check in and receive my credentials for the events ahead. I met a few friendly faces, many of whom I had only interacted with digitally prior. Mountains for miles, greeted by smiles. Vermont was a feast for the senses, ripe for making those in-person connections that many who flock to a summer festival might crave. If urban living can desensitize perspective and dull the senses, then technology only hinders perception and creates tunnel vision. I was long overdue for an epic adventure in the wild.
The weeks leading up to the event were equal parts apprehension and excitation, but upon my arrival all that remained was trust: an intrinsic knowing that this cradle of Mother Nature would nurture and support me on the journey ahead. Who would have thought I'd find my true north so quickly?
Weary from a long day of travel, I was eager to set up shop in my living quarters and kick up my feet, taking in the view from my terrace: the stoic mountain that rose behind a communal area surrounded by resort-style lodging and would soon be a hot bed of festival activity. I relished in the quiet and solitude, making the mental preparations necessary before the festivities began bright and early the next morning. My first class. Was I ready? My suitemates had not yet arrived, and though I was alone, I felt a deep connection.
I was home. It was that immediate sense of belonging that carried me through the weekend, that gave me the confidence I needed to make my classes a success.
I awoke early the next day to familiarize myself with a mountain that was simultaneously large and intimidating, versatile and accommodating. I traversed the trail I'd been assigned to lead a series of meditative and creativity inspired excursions, and though I'd never considered myself much of a hiker, I took to mountaineering with both ease and conviction. My sense of direction (or lack thereof) had often failed me, and so I had bought a compass in one of my pre-festival bouts of angst, just in case I continued to fulfill this negative prophecy. (This just in: Thirty hikers rescued on Stratton Mountain!) And though I didn't ever need it, the compass served as a testament to the fact that I could find my way regardless. Not all who Wanderlust are lost. To this day, I keep the compass on my keychain as a reminder of just that.
It was time to teach. Fittingly, the first session I taught was about utilizing observations of those pristine surroundings to cultivate grounding and presence. The body is like a mountain. I am a writer and teacher of asana by trade, and so an offering of this nature was a bit of a stretch. Nonetheless—and I still don't know for certain where it came from—I summoned the teaching and offered an experience that was as deeply enriching for my participants as it was for me. I may have tapped into what some describe as "The Source," an infinite well of energy and wisdom that is available to us whenever we call upon it.
As that first session drew to a close, I led everyone safely back down the mountain—an unexpectedly steep descent that prompted reassessment of where I'd lead the rest of my classes. That gondola ride sure seems like a good idea. But before heading down, I hung back to accompany one straggling student, a women in her mid-to-late-40s who had her eyes affixed on a single yellow flower twirling in her hands.
When I asked her if everything was alright, she immediately began to sob. We sat together for a while, and I listened. Sometimes all another person really needs is an empathetic ear. We all just want to be heard. The work we'd done together shook something deep within her—something that she'd been stuffing down and ignoring that ultimately needed to bubble up to the surface and be released.
She held onto that flower much like I did my compass. For her, the flower was a symbol of a proverbial rock in her life that kept her sturdy and grounded: her son. I wasn't expecting that what I had to share that day could so powerfully resonate with another. After talking for a while and seeing a smile return to her face, we realized it was time to head to our next class. And as it so happened, we were both planning on attending Schulyer Grant's yin yoga session—we were both in need of some sweet surrender and restoration. Together we strolled toward "The Mothership," talking as peers rather than teacher and student. The two of  us entered class—one who had finally begun to conquer her fear of failure, and the other who discovered the courage to face herself. Realize that the other person is you.
This story of transformation is at the heart of every Wanderlust Festival, a reminder that each and every one of us has our own unique story to tell. This great coming together of likeminded individuals creates a container for healing, whether or not that was even the intention. There is always more work to be done, no matter where we are on our path.
At Wanderlust, there is palpable energy—a vibration that reverberates from all the teachers, festival-goers, coordinators, planners, musicians and talented souls that make an event like this not only possible, but special and sacred.
Apart from the world-class yoga and meditation venues, all the bio-domes, body paint, flower crowns, pro-cooking lessons, live musical performances, healthy nibbles, and endless shots of Bulletproof Coffee—it's the people who are the very heartbeat of a Wanderlust Festival; the kind of crowd that gives you hope for humanity in troubling times.
Perhaps this why coincidences occur at these festivals, and why it is seemingly effortless to encounter the right person at just the right time—like two stars that collide.
Being at Wanderlust Stratton as both teacher and student meant being in direct participation with the world all around me—and with life itself. On my final night at the festival, I closed out the experience the same way I'd begun: looking up toward the heavens and thanking my lucky stars. I took a seat inside the "360 Degree Sound Bath," surrounded by wind chimes and cymbals that blew delicately with the breeze in perfect orchestration. I could sense my pupils widening in an effort to take it all in, the great dark vastness of the unknown. Eyes as wise as the skies. Ursa Major never looked so good.
For more on how you can attend a Wanderlust Festival, click here. If you're interested in expanding your teaching experience, consider a training at Wanderlust Hollywood.
—
Andrea Rice is a writer and yoga teacher in Brooklyn, NY. Her work has also appeared in The New York Times, Yoga Journal, NY Yoga + Life, SONIMA, mindbodygreen and other online publications. Connect with Andrea on Instagram, Facebook, Twitter, and her website.