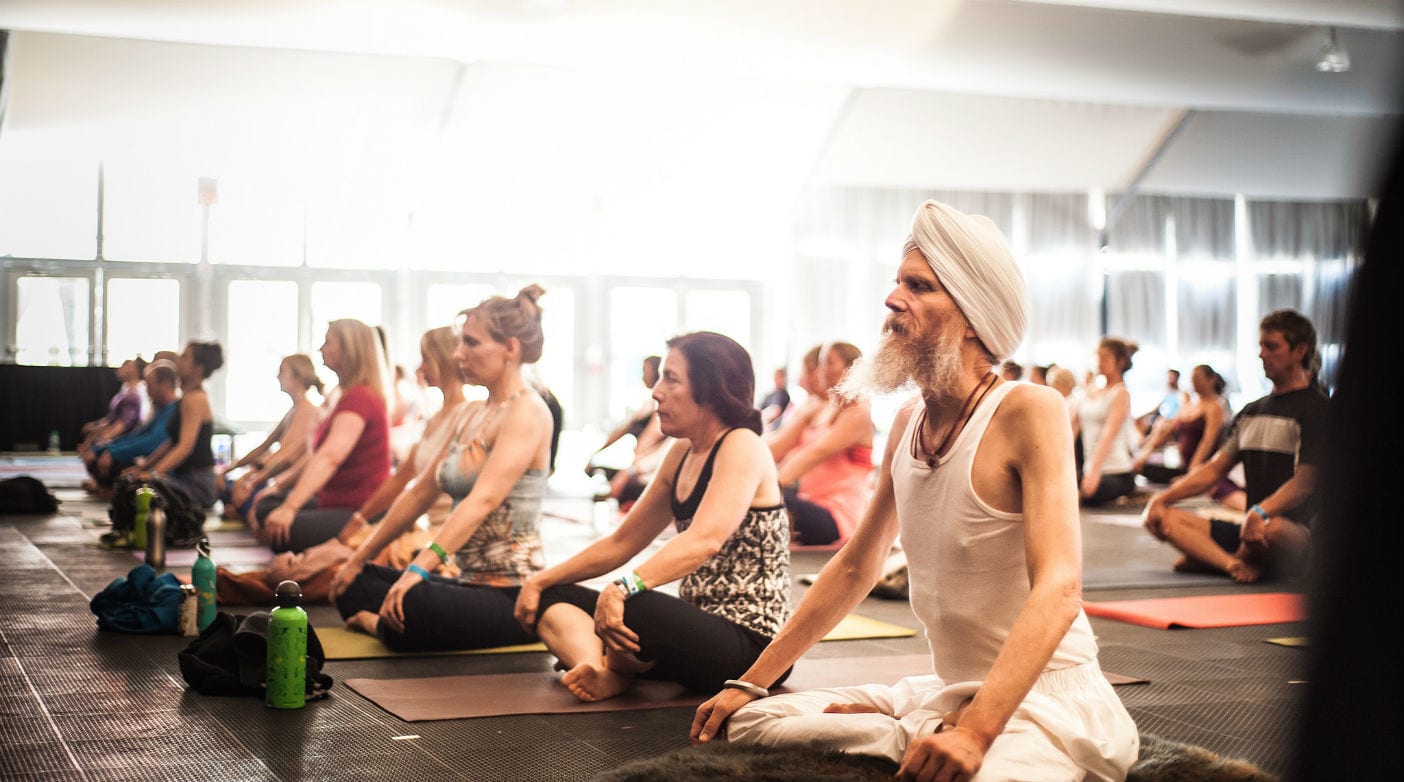 Kundalini yoga—you've seen it on the schedule, you've seen it at yoga festivals, and your co-worker can't stop raving about it. Despite Kundalini's popularity, many of us still live in oblivion when it comes to this sacred, meditation practice. We're here to dismantle those questions, hopefully creating a path for you to easily and enjoyably practice Kundalini yoga.
Kundalini is unique in that it's all about breath and internal energy. Despite its ancient roots, it's also a totally accessible form of self-care that can slide easily (and really, should) into your wellness routine.
What is the purpose of Kundalini yoga?
According to the Kundalini Research Institute, the primary objective of Kundalini is "to awaken the full potential of human awareness in each individual; that is, recognize our awareness, refine that awareness, and expand that awareness into the unlimited Self." Basically, you're on a physical and mental mission to clear away the mental clutter and dive right into the truest parts of yourself.
Kundalini is also a little more lax than other spiritual practices—there are aren't any super strict rules or pieces of dogma that claim it to be "the" way to access one's Higher Self, Kundalini is simply "a way." The word "Kundalini" is an ancient Sanskrit word that literally translated to "coiled snake." Early practitioners of Eastern Religion (this was before Hinduism and Buddhism really took off), believed that each individual possessed a divine energy at the base of the spine. To access the energy, we needed to put in the energy of "uncoiling the snake."
How does Kundalini Yoga work?
The combination of breathwork and meditation in Kundalini yoga is designed to raise complete mental and physical awareness so that you can handle the power of the rising Kundalini energy.
Because of the sensitive nature of Kundalini (doing all that internal work is powerful!),  it's best to work under the supervision of a professional, certified teacher, especially if it's your first time. Luckily, there are often several options for those looking to give it a go. More and more "classic" yoga studios are beginning to embrace this beneficial practice.
When you step into a Kundalini class, you might be surprised; it's not like Hatha or Vinyasa, where you alternate between dance-like flows. Kundalini is more about the breath, and using a variety of physical movement to help assist in the effort to achieve physical and mental ease. Many of the poses and physical postures focus on abdominal work, activity within the spine, and applying pressure to various body points. Arrive to your first class with an open mind—and of course, properly hydrated.
What are some of the benefits of Kundalini?
There's a reason Kundalini is so popular—the benefits are real, tangible, and accessible. One of the best takeaways is being able to tap into that rising energy, or in some folk's terms, your intuition. 
Think of your intuition an internal GPS. Through regular meditation, we begin to weed out our mental chatter, and create more space for our intuition to have a clear, present voice. And when we strengthen our intuition, we can rely on it as a form of guidance system.  Practicing regular meditation helps serve as a tool for when we need to make difficult decisions regarding our relationships, career, and more.
Other associated benefits include deeper feelings of peace, increased compassion and empathy, increased creativity, and a heightened spiritual connection. In general, as you begin to connect mind and body, you find it easier to combat negative feelings and fall deeper into a place of bliss and understanding.
Why do Kundalini instructors often wear white?
Yogi Bhajan, the father of Americanized Kundalini, first explained the meaning behind wearing white in 1975, stating, "We ask you to wear white so that you reflect what is outside and go within yourself." In other words, wearing all white clothing is said to expand one's "light" energy by at least one foot, and serve as a filter for negative influences.
The act of wearing white can be a meditative practice all in its own. Wearing one color requires great mindfulness when planning one's clothing. You have a very specific intention for when dressing yourself, and make that part of your day a mindful activity.
Why is sheepskin often used in Kundalini?
The use of sheepskin within a Kundalini yoga practice is a personal preference. Traditionally, many yogis have used animal skins to sit on during yoga and meditation. Yogi Bhajan recommended the sheepskin for meditation, as it created an insulation between the yogi and the magnetic pull of the earth. Respect for the animal was taken into consider—Yogi Bhajan also explained that it was best to use the skin of an animal that had recently died. The thought process was that it would help to liberate the animal's soul, and thus serve as a blessing.
It's no surprise that veganism and vegetarianism are often prominent in a yogi's lifestyle, and so the presence of sheepskin has generated much debate. Ultimately, the decision is a personal one. You can just as easily practice Kundalini on your mat.
What does Sat Nam mean?
The most popular mantra associated with Kundalini is (hands down) Sat Nam. In simple terms, Sat means truth and Nam means name, vaguely translated to Truth is My Name. Essentially, it's a way for one to acknowledge that our personal essence is The Essence. When we say "Sat Nam" in Kundalini yoga, we're greeting one another in a way that says, "I see and recognize your true nature."
What's really special about "Sat Nam" is the experience of saying it. The vibration is immensely powerful.  "Sat" emanates upward through the crown chakra, whereas "Nam" is said to be grounding, meditative vibration that inspires connection to the earth. The combination of these two vibrations creates a connection between the physical world, your personal awareness, and a divine, spiritual plane. (Or whatever that means for you!)
At the end of the day, it's hard to grasp the meaning of Sat Nam, and Kundalini in general, simply through its textbook definition—it's mantra and practice that needs to be lived, and experienced. Give it a go, and see what you can find. 
Interested in a first-hand experience? Try Kundalini meditation at Wanderlust Hollywood, or a Wanderlust Festival. 
—
Amanda Kohr is the editor at Wanderlust. You can find her exploring new highways, drinking diner coffee, and on Instagram.