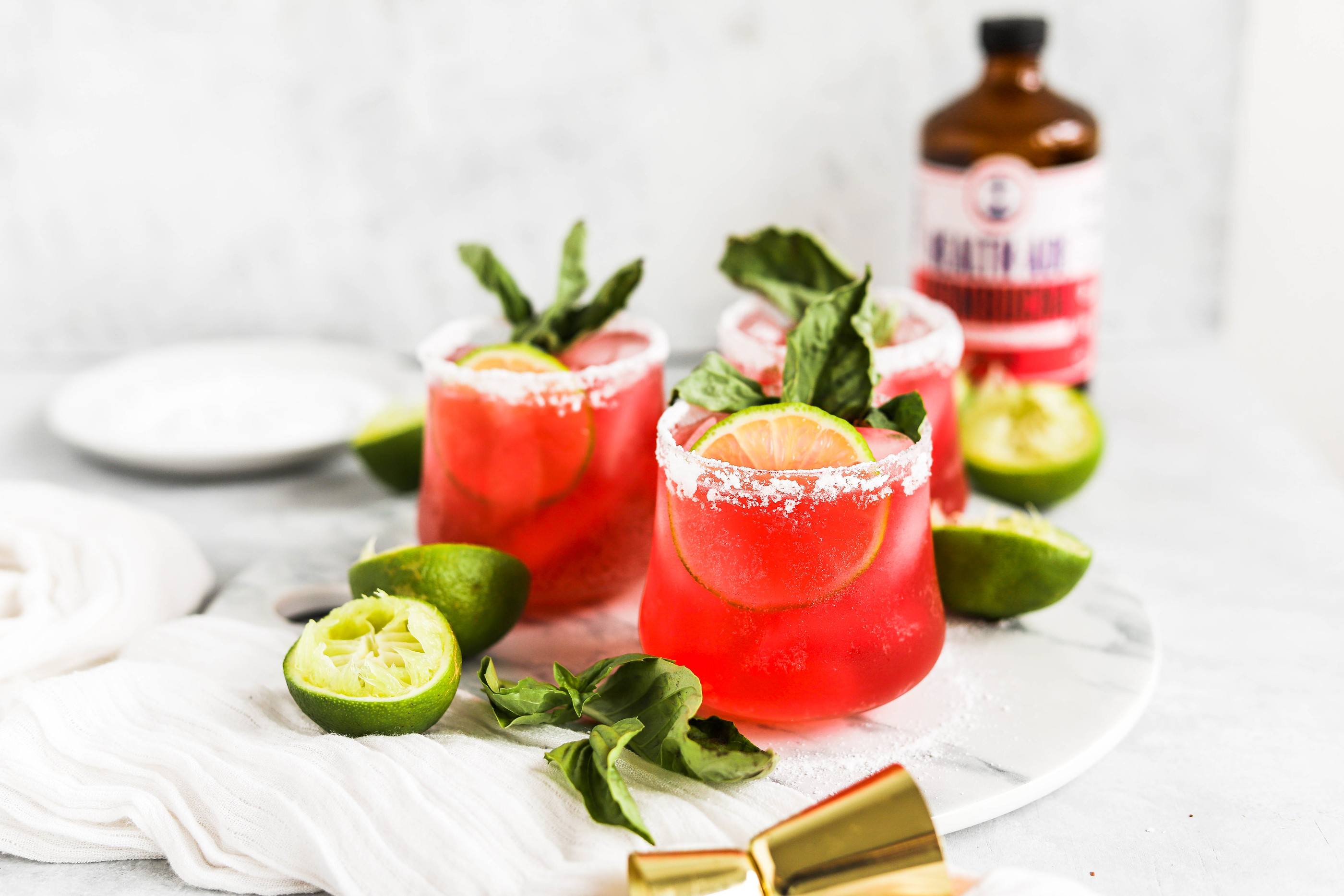 Photo by @pricklyfresh
We'll be honest: Half the fun of celebrating summer is indulging on festive food and drinks while watching fireworks paint the sky. It's one of the few days of the year we see our friends and family go all out with flag-inspired charcuterie boards, pull out the party games, and lean into celebrating our country. While past years we've waited eagerly for the array of snacks, this year we're taking it up a notch with festive kombucha-based mocktails and cocktails.
We grabbed our favorite kombucha flavors from Health-Ade, a handful of fruit and garnishes, and a little bit of booze to prepare five holiday-themed mocktails and cocktails that will have the entire summer party ready to clink glasses and take a sip.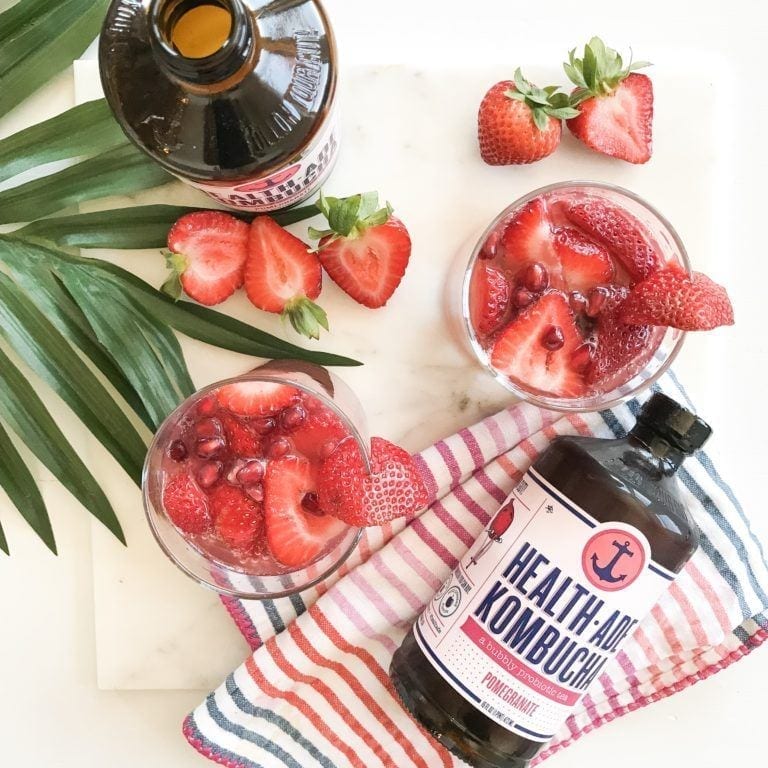 Pomegranate Strawberry Refresher
8oz Pomegranate Health-Ade Kombucha
Fresh Strawberries
2tbsp Lime
Optional: Make it a margarita and add 1oz of tequila
Muddle strawberries in a cocktail shaker then add fresh-squeezed lime. Use the remainder of the lime to line the rim of the margarita glass then coat with sugar. Add ice and optional shot of tequila to the shaker and shake well. Pour mixture into margarita glass then top with kombucha. Option to add ice or lime on the rim for garnish.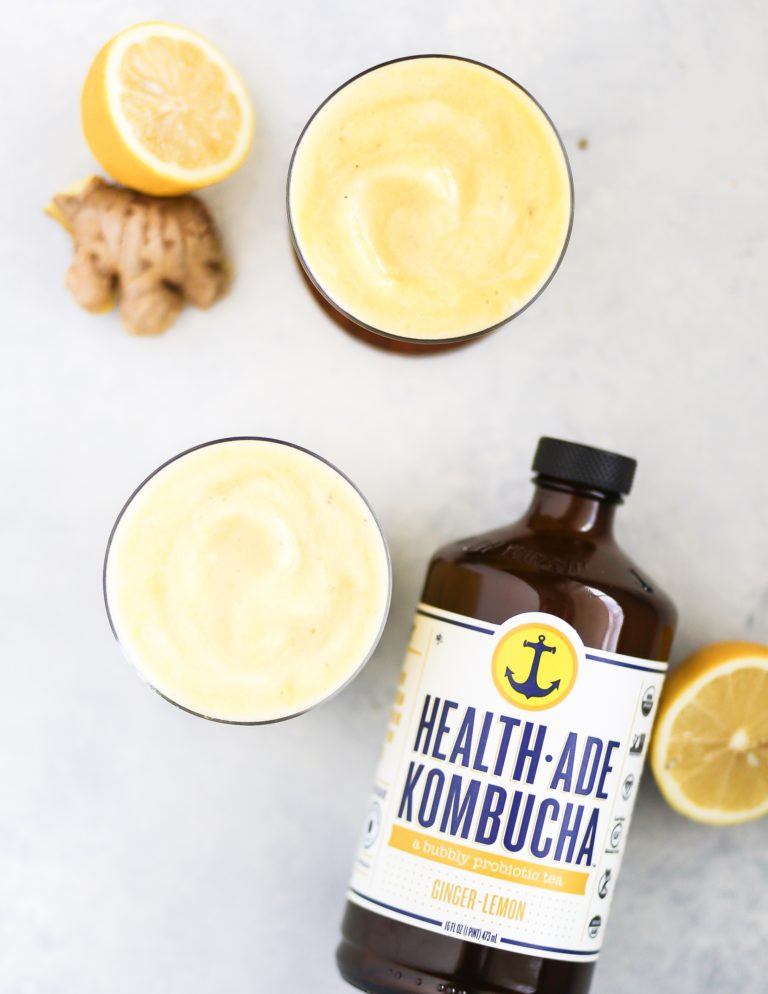 Ginger Lemon Gin Elixir
6oz Ginger-Lemon Health-Ade Kombucha
1tbsp Fresh Ginger
Fresh Blueberries
Fresh Raspberries
Fresh Pear
One Lemon
Optional: Make it a martini and add 1oz of gin
Chop fresh ginger until well-minced and add to a cocktail shaker. Squeeze entire lemon into cocktail shaker and add a handful of ice. Shake well. Pour into a martini glass and top with kombucha. For a flag-inspired garnish, chop thin slices of pear, blueberries, and raspberries and combine on a cocktail spear to top.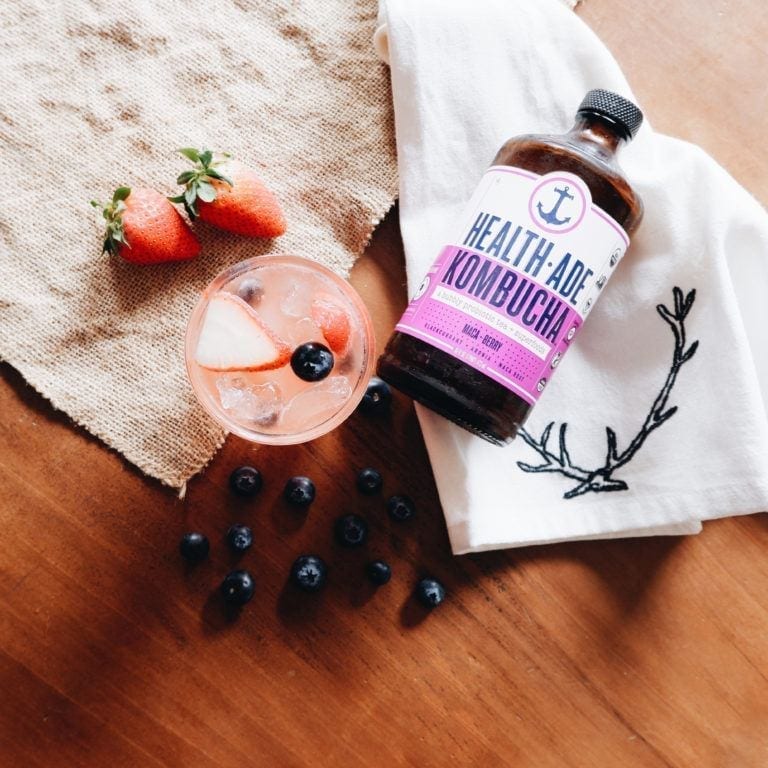 Red, White, and Boozy
3oz Maca Berry Health-Ade Kombucha
2oz Blue Curacao
2oz Coconut water
1oz Vodka
Combine coconut water and vodka in a cocktail shaker and shake well. Grab a handful of ice in a tumbler glass. You will layer the liquids based on heaviness with Blue Curacao at the bottom. After pouring Blue Curacao into the glass, take a spoon and flip it over. Slowly pour the mixture in the shaker over the back side of a spoon—do not pour it directly into the glass because it will mix with the blue layer. Take the kombucha and slowly pour over the spoon until the layers are stacked.
Strawberry Mint Mojito
8oz Original Health-Ade Kombucha
Fresh Mint
Fresh Strawberries
Fresh Blueberries
Mint garnish
Muddled mint and strawberries
Optional: Make it a cocktail with 1oz of rum
Fruit Ice Cubes: 3–4 hours before serving, rinse and chop fresh strawberries and blueberries to make the fruit cubes. Place a mixture of blueberries and strawberries in an empty ice tray and fill with water. Place in freezer.
Mojito: Muddle strawberries and chopped mint in a cocktail shaker. Add optional rum and handful of ice cubes. Shake well. Pour into bottom of cocktail glass. Take fruit ice cubes out of the freezer and stack in the glass. Slowly pour kombucha over cubes and garnish with fresh mint leaves.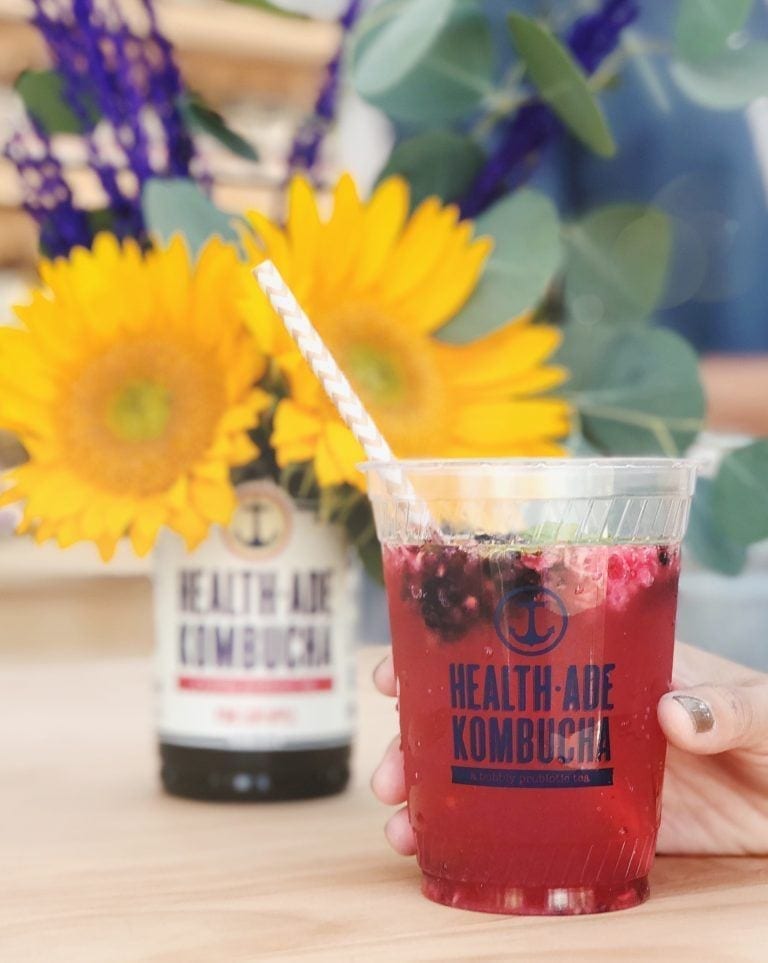 Sparkling Wine Spritzer
6oz Pink Lady Apple Health-Ade Kombucha
Fresh Blueberries
Fresh Strawberries
Fresh Pineapple
Optional: Make it sangria and add 4oz of rosé
Chop fresh fruit into cubes and place in glass or large pitcher for big groups. Add handful of ice and optional rosé. Pour kombucha over and enjoy!
Ava Johanna Pendl is a wellness writer and teacher based out of Southern California. Check out her website,  Instagram, and podcast.
Health-Ade Kombucha is the best tasting and highest quality kombucha you can buy. Always brewed the old-fashioned way, Health-Ade is handcrafted and fermented in small batches, flavored with cold-pressed juice from organic produce. This artisanal process results in a delicious, smooth, bubbly, and naturally low sugar kombucha that makes you feel good. The brand ethos, Follow Your Gut!, is an ode to the Driven Dreamers out there making their mark on the world.