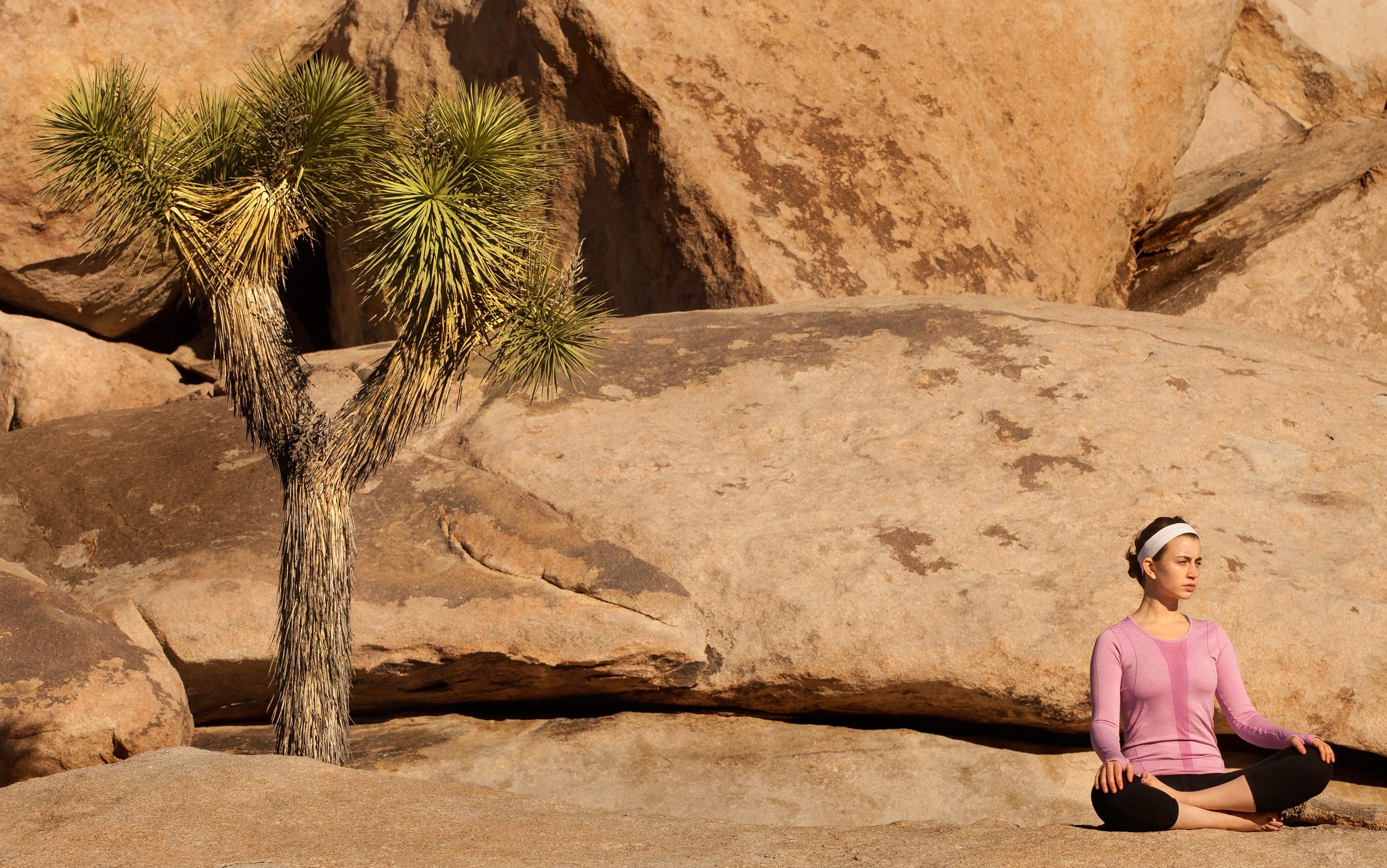 Looking for an excuse to explore the beauty of the desert? Check out Wellspring, Wanderlust's premiere wellness expo located in Downtown Palm Springs, October 26–28. 
---
Something transformational happens when you step into the desert. Nature takes over—but not the sort of nature one's imagination may typically concoct. The desert is not flooded with trees or wild waters. No, the nature of the desert is vast, ethereal, and practically psychedelic. Look closely and you'll see that life is thriving. Look closer and you'll find the opportunity to heal.
Perhaps there is no better example of this prosperity than the Greater Palm Springs area, a collection of eclectic towns and cities about two hours outside of Los Angeles. Martian red rock formations and mid-century style houses with luxurious swimming pools share the same stage. At night, the sky flickers with more light than an op board.
If there's one misconception re: the desert, it's the one-notedness. In actuality, this oasis is a playground of rejuvenating activity, and we don't just mean the mineral pools. (But we also do mean the mineral pools.) 
Sound Healing and the Integratron
Sound healing is more than a trend—it's a studied, age-old method of quelling anxiety by promoting physical and mental relaxation. One of the most legendary places to practice sound healing is at the Integratron in Joshua Tree. This historic structure was designed in 1957 by ufologist and contactee George Van Tassel, who claimed the Integratron was capable of rejuvenation, anti-gravity, and time travel. Each 60-minute sound bath consists of 25 minutes of live crystal bowls, with the remaining time dedicated to recorded music used to ease the body into a state of total relaxation.
Plants (Specifically Prickly Pear)
When we think of the desert, the first thing that comes to mind isn't necessarily fauna. But the desert is completely decorated with a jungle of wildlife, with everything from the golden yellow brittlebush to the adorable barrel cactus and infamous Joshua tree. Prickly pear is especially unique, and is often consumed as part of desert cuisine. There have even been studies illustrating the plant's power to aid in the recovery of hangovers—the fact that it tastes like watermelon is an added bonus.
In addition to the sheer beauty of all this plant action, you can sample the edible wildlife (Prickly Pear included) at several of the Greater Palm Springs farmers markets. Stock up on essential produce or expand your palette with something unique to the crazy beautiful atmosphere.  
Natural Mineral Water Spas
Both hot and cold spring water have illustrated power to do wonders for your health. This magic sort of therapy, or Balneology, is the scientific study of the therapeutic benefits of naturally occurring mineral waters. This mineral water earns its name due to the process of water crossing through underground layers of rocks, dissolving, and then coming to surface. Because different regions possess different minerals, the properties of this magical water vary from location to location. Much of the water in Desert Hot Springs (and the surrounding Palm Springs area) consists of water that is low sulfur, high sulfate alkaline hot springs, with the alkalinity primarily being the result of magnesium, calcium, sodium and potassium ions.
Horseback Riding
There are few things more picturesque than riding a horse into the sunset. Horseback riding builds core strength and works the back, inner thighs, and pelvic muscles. It's encourages balance and drives focus, as you've got to keep your mind and body steady when guiding an animal. And we haven't even begun to discuss the benefits for your soul. Simply put, horseback riding encourages connection between human, animal, and nature. Unleash your inner cowgirl and ride on.
This mystical playground is full of possibility for health, growth, and expansion. Explore the desert and find yourself.
It's time to live your "wellest." That's what we've always done in this magical, sun-kissed oasis. Since the days of the earliest Native American settlers, we've created a destination for wellness. Besides our legendary hot springs, there are more than 1,000 miles of breathtaking trails for epic hikes, ancient waterfalls and light-filled spas surrounded by whispering palms. Whatever brings you joy, you'll find it here. Greater Palm Springs: nine resort cities, one "wellest" oasis.