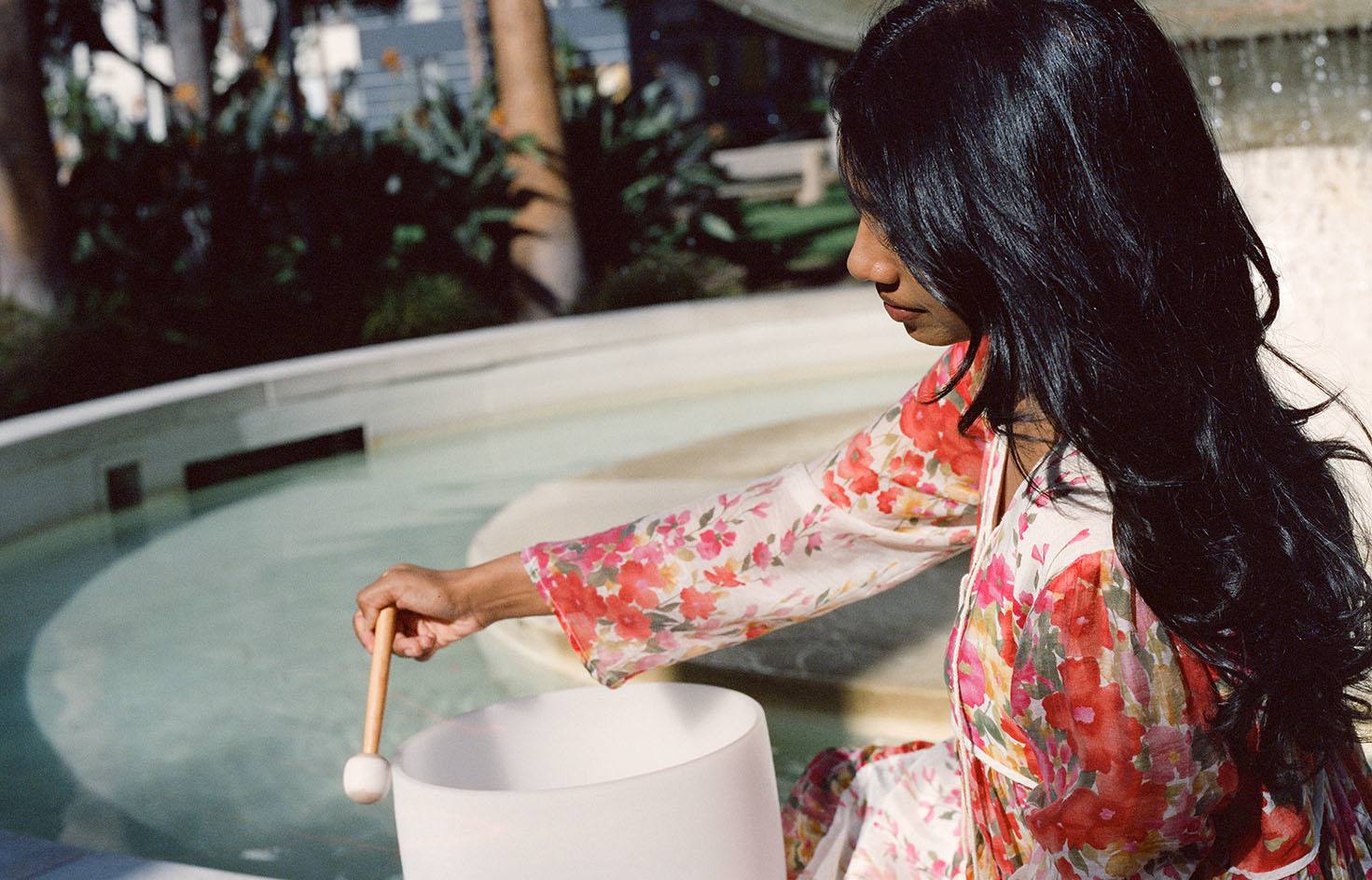 Photo by Tanya Alexis
Sound baths are all the rage in wellness right now, and for good reason. The combination of whale-like echoes, Tibetan bowls, and melodic hums is enough to send anyone into a total trance of tranquility. Often times the experience is passive, with participants cozying up on their backs for meditation while being bathed in vibrations. Sound bath sessions are reportedly good for easing chronic pain and decreasing stress and anxiety. The end results depend on the person—and the bath. Some report feeling energized and balanced, while others are ready for their afternoon siesta. 
Video from our friends at Brandless. Check out more of their educational and inspirational content here! 
With these myriad benefits, it's not a bad idea to incorporate sound bathing into your yoga classes. We spoke to Reiki master, meditation teacher, and sound guru Ambi Sitham for tips on how to add these masterful melodies in your asana. 
"Sound healing is for the mind, body, and soul," says Ambi. "It offers relaxation and deep healing of the nervous system. The power of sound is such that it can alter brainwaves from beta to alpha (relaxation), theta (meditative state) and even delta waves (sleep) and provides relaxation and healing of the nervous system."
Even a mini sound bath can be a beautiful accompaniment to a yoga class. Here are a few of Ambi's tips to getting started: 
Begin Class with a Brain Floss 
Often times we arrive to the mat with a brain full of to-do lists or overactive imagination. Sound can be used to help clear this monkey mind and prep it for a more restful yoga class. Crystal bowls in particular are a great way of "flossing the brain" as leaving yogis clear-headed. (They're also fairly simple to tote around in your yoga bag.) Even five minutes of crystal bowls can be a great way to clear out an overactive imagination. This can be especially beneficial before a fast-paced Vinyasa class, where high levels of focus are needed. 
Go All-Out for Yin
Yin classes are celebrated for their ability to calm the mind and body. They also come with little movement, as it's more of a focus on the internal than the external, making it a solid selection for an epic shower of sound. From quartz crystal bowls to a gong, to chimes—different instruments can be played for the duration of certain poses to help the yogi to connect more with the pose. You can learn more about sound healing here.
Save it for Savasana
If adding sound bathing to an entire class seems intimidating, or like it might mess with your instruction, consider implementing some sound only at the end. A sound bath Savasana provides an incredibly deep final resting experience, so much so that yogis will practically float out of the room. 
Build Your Own Bath
Get creative with how you approach sound healing. You can use one sound instrument or several together, depending on the type and level of class. Some of the essential instruments used in sound bathing include: 
Tibetan bowls & metal gongs: Tibetan bowls and gongs work with a specific note. And because they're made of metal, the sound is sharp and heavy (but still soothing, of course!). Like acupuncture, bowls run off of our meridian, lines, meaning they tap into the meridians of our organ system.  This is especially beneficial when have resistance in different areas of your body.
Chakra bowls: Similar to Tibetan bowls, chakra bowls work a specific note, but providing a softer sound than their metal counterparts. These quartz bowls are designed to work with the chakra system in that they are specifically carved to create notes and vibrations that correspond to a certain energy center of the body. These gentle sounds are great for participants who may be less familiar with sound baths, as their sounds are gentle and melodic.
Crystals and gem stones: Implementing crystals is a solid way to take your sound bath to the next level. The ancient belief is that crystals carry their own precious energy and vibrations, as the perfect geometric shapes reflect those found in nature. They can be quite intense in that they create frequencies not found in every day life, but that also means that they can shock the brain into a deeper meditation. With these bowls, you want to be sure to find an experienced practitioner.
We suggest that in all of these cases, you either work with an experienced, licensed sound healer or undergo some sort of sound training yourself. Options are limitless! As the trend of sound bathing continues to grow, so will the opportunities to learn more about it.
Ambi Sitham is a life coach, astrologer, reiki master, sound healer, meditation teacher and podcast host based in Los Angeles, CA. Check out her monthly first Friday's Soulstrology Soundbaths at Wanderlust Hollywood and Wellspring in Palm Springs October 26–28th.
—
Amanda Kohr is the editor at Wanderlust. You can find her exploring new highways, drinking diner coffee, and on Instagram.