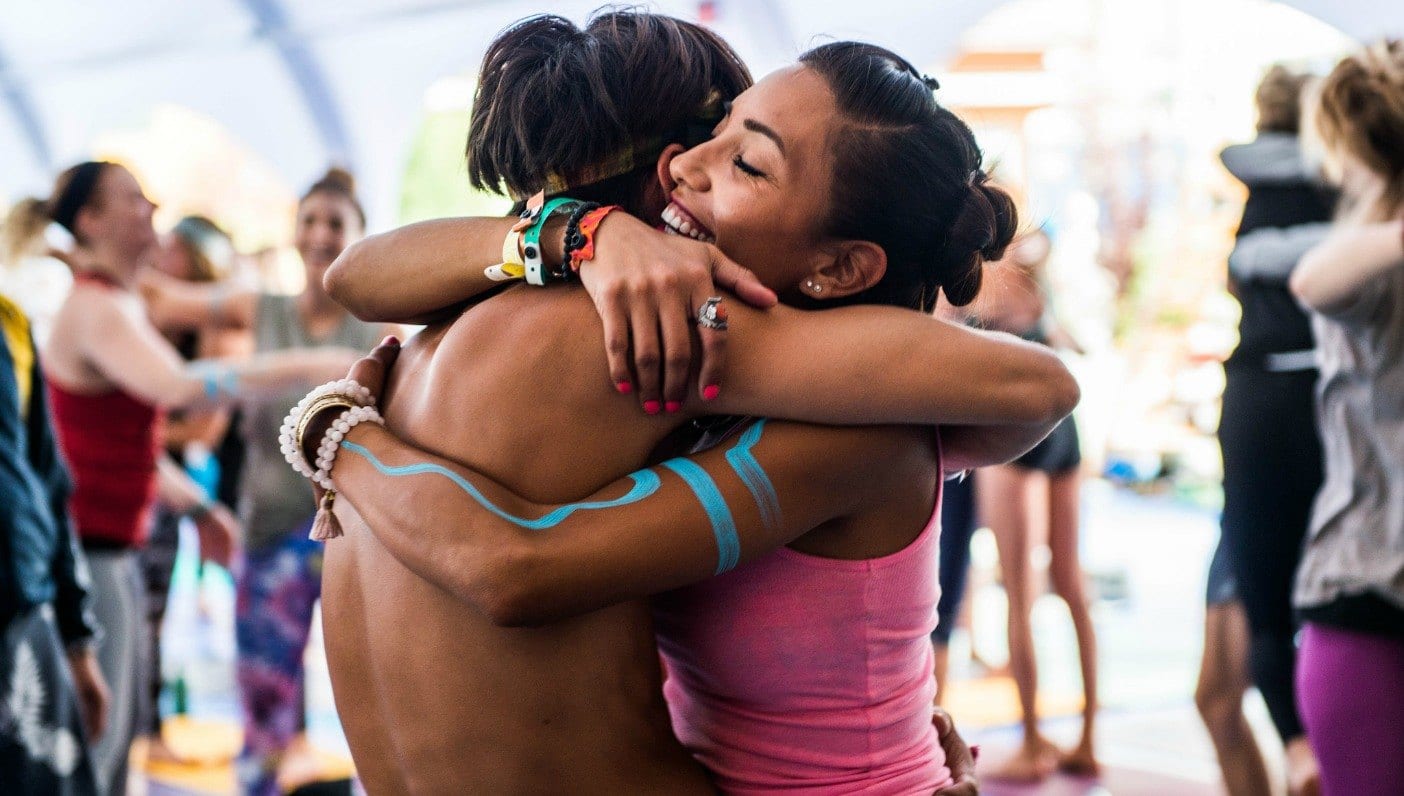 The importance of community can't be overstated—when we are surrounded by likeminded people and committed to supporting and encouraging each other, we are able to step into our fullest potential. Find your community with us at Wellspring this October. For tickets and more information, click here.
Wellness industry professional discounts and scholarships available!
---
What does "family" look like to you? Is it backyard reunions with matching graphic tees, grilled eats, and good stories? City block parties, street hockey, potluck style into the stars of night? Or is it waking up with a cup of tea before your run to the first yoga class of the day, surrounded by others with similar values and devotion to self-care?
When moving away from home, I began questioning what family could look like. What was once known to me as the nuclear family consisting of a mother, father, and child has now grown into something else entirely, adopting whole communities as my own.
As demonstrated in unconventional forms, I am learning family is not limited to a set of parents, but as a product and process of many groups. Co-parenting, community living arrangements, continuing adult education, cyber communities, alternative work environments and schedules, the uprise of yoga studios and gyms, and co-ops all generate this evolving definition of what it means, so simply, to be together, to love and be loved.
Another Modern Family
When moving to a new place, I knew I had needed to find my home away from home: A yoga studio. A place where I could call my own. For those of us who practice regularly, whether it be in a studio or through a shared online fitness community, we know that our fellow yogis can become our brothers and sisters.
Take Jamie King, owner and teacher of Flex & Flow in Portland, OR. I ask her about her personal definition of family.
"A family is defined as a group of people who have a strong and meaningful bond with one another," Jamie says.
It's a group of people who stick together, support, and love one another despite differences or challenges that may arise. In all honesty, my current definition of community doesn't differ from my definition of family.
This is especially evident in a yoga community, where folks often see each other weekly, if not daily. We come together to practice together, arguably a very spiritually and physically vulnerable activity. Jamie continues.
"My family and my community are one and the same," she says. "While my community, may not in the traditional sense, have blood relation, we share a common bond, trust, loyalty, and even intimacy, love or compassion that one might share with a family member."
Love You Like A Sister
There are more ways to find family, namely, through roommates. A home, whether housing a blood-related nuclear family or a cluster of young adults, can often create that "family-centric" energy.
On any given day, my house is full of conversation, good friends going or arriving, housemates playing cards, chatting on the porch, or making meals for each other. Everyone who passes through, or sets roots, cares for one another in undeniable admiration. When we're not in the house, we're trudging through coastal forests, attending yoga workshops, art shows or opening night at our favorite theater. Always together. If someone is heading out to the store, they'll chime "need anything?" or "wanna join?" Group texting redefines correspondence with GIFs and moral support.
Occasionally we have the moment to call a "family meeting" usually to share an accomplishment, new job, going back to school, or sometimes just to be in the same room and catch up. As one female with five male housemates in a city not our own, this is what inclusion looks like. This is my family.
We have the power to grow these relationships, to create new sisters and brothers. They can be in our home, our yoga studio, or wherever else we see fit.
These intimate friendships come in handy when the going gets rough. Jamie refers to her relationships, housemates or otherwise, as something that needs to be cared for and worked on,"to build trust, acceptance, and to communicate with each other in constructive and loving ways."
"We have to learn to accept the things we can't change," she shares. "And support and love each other even when presented with challenges."
You Are Your Own Parent
When I was growing up, my mom did it all. The grocery shopper, the comedian, party planner, chauffeur, the shoulder to cry on, the ear to listen. When I moved away from home, I quickly realized I needed to become all of those roles for myself. Eventually I figured it out, but only when I understood that I could not do it alone. She didn't. She had my dad to help and her sisters and friends to talk to when she needed guidance. Whenever I have felt overwhelmed by the weight of wearing too many hats, I call on a friend.
Parenting, in a literal sense, means acting as a mother or father. And in some cases, we need to give—or receive—an extra dose of this nourishing warmth.
As a yoga studio owner and more, Jamie comments on how she continues to make space for this warmth, while also acknowledging her constants:
"The very people I lead in class (or sweat alongside) are the very same people who I count on for a good laugh, hug, and sometimes even tears," Jamie says.
I have forged deep and meaningful bonds with both students and teachers alike and feel that I have a family of people, a community, who I can count on for support, love, compassion, acceptance, and laughter.
It seems that family goes well beyond the classic mom-dad-brother-sister, and instead consists of dynamic relationships that you create with others. There is comfort in this homemade family, whether connecting with housemates, a partner, fellow yogis, or your inner self. The overlapping characteristic is that family is consistent and loving. How we develop these relationships is purely up to us.
—
Karen 
Cygnarowicz is a writer and visual artist living in Portland, Oregon. She received her MFA in Writing from Vermont College of Fine Arts and founded Wild Light Design, an art business and journal. Follow her Instagram, @thiswildlight.