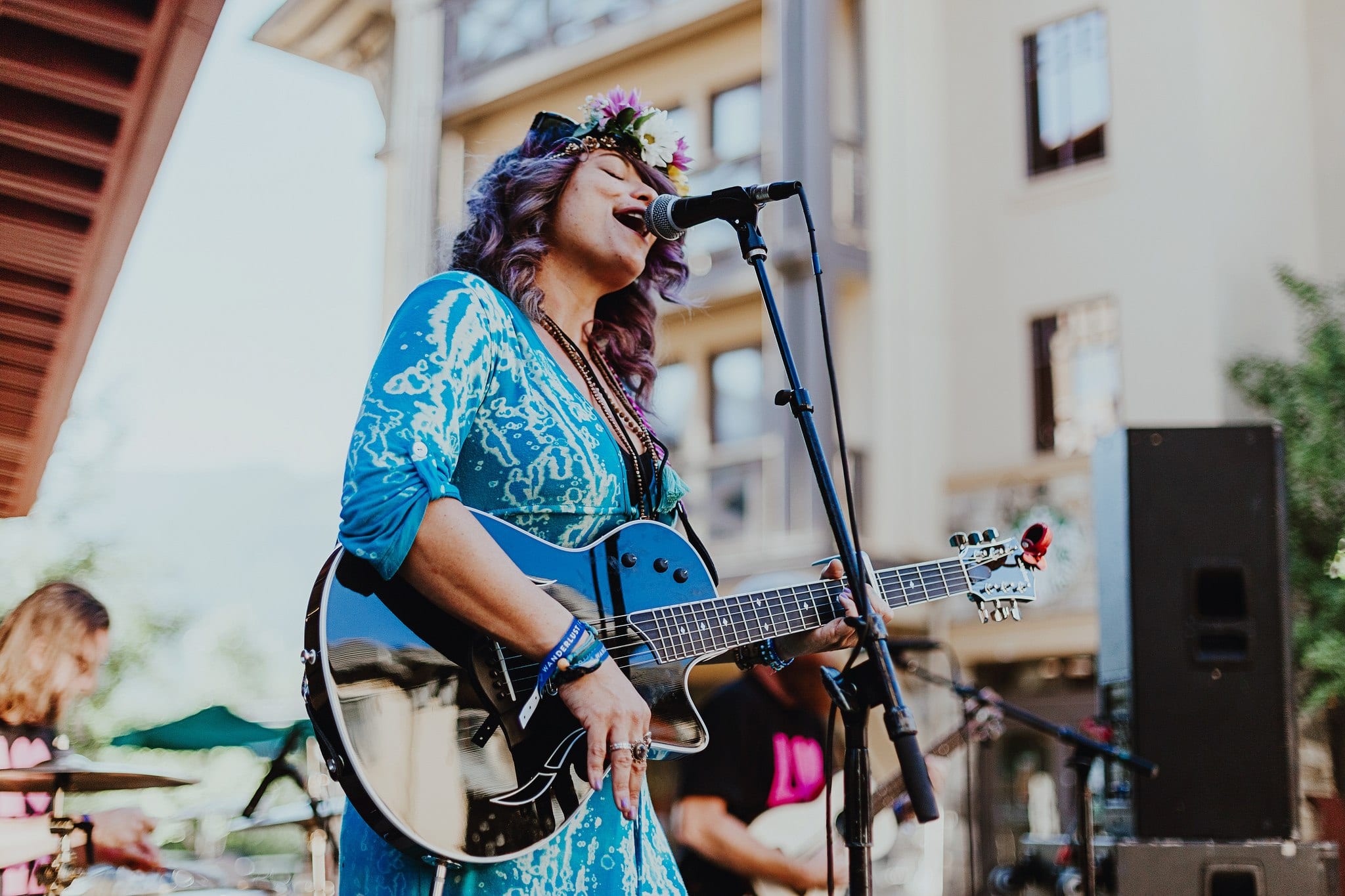 Beebs performing at Squaw Valley, 2017. Photo by Melissa Gayle
Want more from Beebs? Learn from her in person at Wanderlust San Francisco, one of our inaugural 2-day Festivals. It's like the Wanderlust 108 you know and love—all grown up. Experience the teachers, classes, community, and magic of a traditional Festival, right in your backyard. For tickets and more information, click here. 
---
The upbeat, kazoo-carrying songstress Beebs is at her home in Florida when l call. There's a note of excitement and warmth in her voice, and I'm not surprised. I've heard from acquaintances that she is a ray of human sunshine—now I understand why.
"Giiirl, do I have stories to tell you," Beebs says. The artist has been playing and touring with her band Beebs and her Money Makers for seven years, and just released her first solo record, Eyeshine. The new album veers away from the dance-party vibes of the Money Makers, known for their "high-energy performances and unapologetically ridiculous media content," and moves toward more personal and intimate songwriting.
"I wanted to do something that wasn't genre-specific," she says, explaining that this gave her more freedom to express her personal truth. In the last year, Beebs has experimented with different frequencies of music, creating experiences that led her to an entirely new understanding of the energetic healing power of sound. She often writes the music first, pieces it together, and then trusts her voice to find the lyrics in the studio, using her poetry as a form of guidance.
"Once I open up and tap into the energy of where I'm at, the words just seem to flow effortlessly and with more intention," Beebs says.
Music and songwriting has always been an integral part of Beebs' life. She grew up absorbed in the arts, practicing theatre and dance while playing the piano and violin. But when she was 18, tragedy struck. Beebs was involved in a car accident that left her with cognitive memory loss. Focused on her physical recovery and the re-learning of basic skills, she temporarily let learning music fall to the wayside. 
Yet Beebs' passion for the art blossomed in new and unexpected ways. She took up an interest in music business, and began running merch tables and managing bands. When she formed Beebs and Her Money Makers, she was already fluent in tour managing and the music industry. That's when she decided to use her skills to fuel her dreams.
Self-Care in a Creative Community
Beebs is a hard worker who leads with her heart. This couldn't be more apparent when looking at her artistic accomplishments—the scope of her creative endeavors is astounding.
Her secret, she says, is balance and self-care, and "to not take yourself too seriously." Days at home consist of meditating, stretching, writing, crafting, skateboarding, physical activity and gardening. Much of this was fueled from necessity—after her accident, Beebs suffered from fibromyalgia and neurological difficulties, which led her to make positive lifestyle changes.
"I had to be honest with myself," she says, and this meant making self-care a priority. "I didn't want to take the medication I was prescribed so I sought out holistic healing treatments instead."
She began meditating, making dietary changes, and doing flotation tank therapy. Not only did her symptoms subside, but these practices allowed her to find quiet, which she says she craved desperately.
"In the current times, there are so many stresses and distractions," says Beebs. "Silence and stillness become less and less. I believe the vibrations and content you choose to absorb or listen to play a huge role in our day to day." By centering and grounding, Beebs found that she could tap into her inner creative spirit and voice, as well as reach out and collaborate with others.
"Community is so important to me," she says. She grew up in a beach town and Florida, and after touring for many years, decided that she would return to Florida to create a home base and build the aforementioned community she so craved.  "Being on the road can be so crazy. It's easy to feel like you're alone in a room full of people. It was important for me to have a place to go and feel grounded."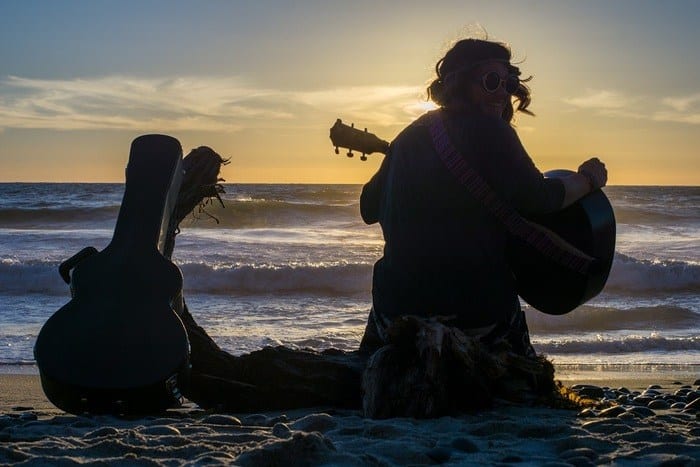 Beebs is also a firm believer in the power of kindness and collaboration in your immediate surroundings.
"We're constantly bombarded with distractions, most of which have nothing to do with our daily life. It can get so overwhelming," she says. "Kindness starts with the way you interact with people on a daily basis."
Though she still travels often for shows and festivals, Beebs collaborates frequently with friends and local artists. She started a community garden in her backyard and invited her friends and neighbors to participate. She also partakes in planning events from art shows to showcasing local kid's bands. Beautiful things arise from the collaborative effort, and everyone is invited to participate and create.
And that's not all—Beebs is taking her community-driven efforts on the road. In a few months, she will embark on what she calls an "Eco-Tour," where she and her band will stay in each destination for a few days to conduct workshops and community-building events.
"Success isn't about playing the most shows in the most cities I possibly can," says Beebs. "It's about helping people to educate themselves and their community to realize that they have the power within them to thrive and create."  
And, she insightfully adds, this education goes both ways.
"My interactions and education from being on the road always inspire me to push my art outside the box and explore new facets of creating," says Beebs. "Every person has the option to be a walking, living, breathing work of art everyday. There are no rules to it."
I can't help but touch on how accurately her external reflects the internal. Beebs's personal look combines colorful, unique pieces, many of which are made by herself and friends and collaborators, including her friends at Lucy Love. She grew up going to thrift stores and searching for unique, one of a kind pieces.
"I've noticed that the more bright and colorful you are everyday, the more you smile, which spreads to other people smiling because you're exuding light and happiness,"she says. Beebs also started her own boutique when she was on tour, primarily because of her love of craft and creation. She crochets, paints, and makes jewelry.
"It's empowering to come up with a new design or idea and create it instantly!" she says. "As humans, we are builders and creators. I feel that if you define yourself as one thing for too long you are missing out on all of the other awesome things that you are or can create."
Her mantra? "Stand out and shine on."
—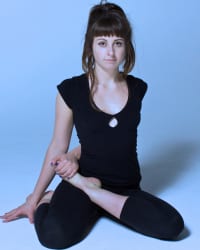 Jillian Billard is a poet, yoga teacher, cellist and avid wanderer. A native New Yorker, she is often caught daydreaming of sprawling green fields and mountains. She trained and received her ashtanga yoga teacher's certification in Goa, India and works at Laughing Lotus Yoga Center in Brooklyn. You can often find her with her head buried in a book, doused in lavender. Follow her on her (very newly developed) Instagram page for class schedules and updates at @jillboyoga.