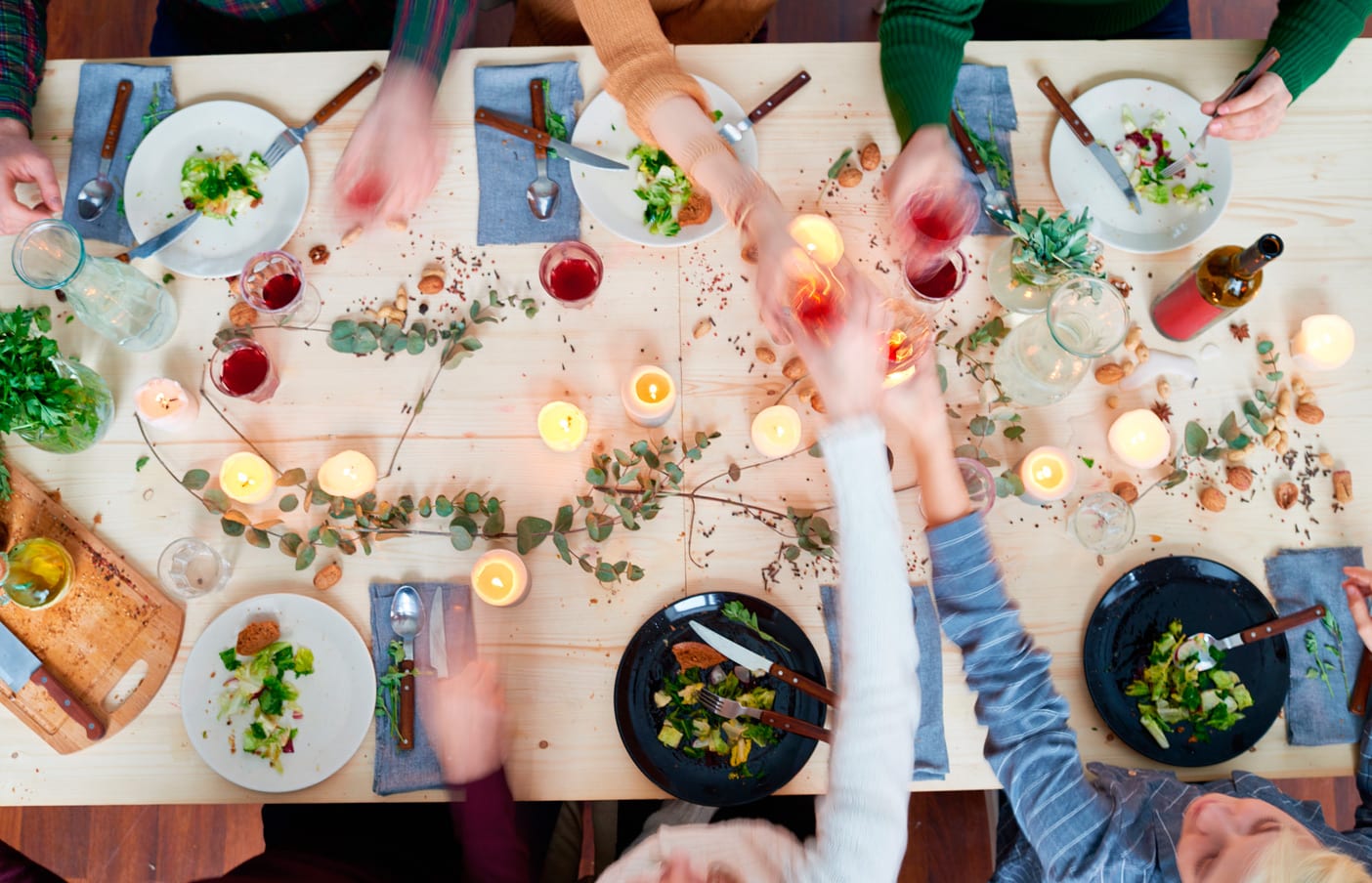 Dinner parties are a timeless way to bring loved ones together to celebrate food and good company. The activity has been around for centuries, with each culture and era finding its own ways to celebrate the magic of a
shared meal
. Dinner parties were especially popular in the Victorian era, when they provided a crucial means of establishing and maintaining social connections. It was a good excuse for a host to see old friends and foster relationships with those who wished to add to her list of acquaintances. The same can be said for dinner parties today. Has it been a few moons since you've seen your friends? Are you looking to finally hang out with that cool girl from your yoga class? Bring them all over for a night of dining in. Having multiple people over takes away some of the pressure that may occur when you're dining one-on-one, and allows new friends to better get to know one another. And while we love learning about the parties of the Victorian era, they can be a bit, erm—
stuffy.
Not that we don't relish in the idea of gabbing with your friends into the wee hours of early morning, but we think you can do it without wearing a corset. (After all, one of the best parts of a dinner party is
eating
.) Below are some of our tips for throwing a modern-day dinner party. Ditch the rules and
strict social norms
, and dive into a more unique take on this historical classic.
Have a Theme
Remember when you were younger and theme parties dominated your social sphere? It seems like every weekend there was a party for pirates or '80s hair band rockstars. This doesn't need to stop simply because you're an "adult." Pick a theme based on a region, decade, or work of fiction. Think of Greek gods and goddesses, '70s Hollywood, fairy tale favorites, or Italian romance. You can carry the theme into the party's menu, decorations, and dress code. Going for a California beach theme? Serve
avocado-topped veggie burgers
and wear sarongs while listening to the Beach Boys. Reimagine the traditional Victorian-era parties and serve fancy cakes while wearing your favorite dresses (and think more food, fewer rules.)
Plan for Everyone
When you throw a dinner party, you're feeding a lot of people. This means you're likely going to have to account for a handful of dietary restrictions. Don't let this deter you; there are dozens of
recipes out there
that cater to folks with all sorts of eating habits. Ensure that you have vegetarian, vegan, or gluten-free options. Luckily, we live in a world where healthy food tastes amazing. [caption id="attachment_60578" align="alignleft" width="700"]
Soba noodle salad with almond lime dressing[/caption]
Serve in Courses
The point of a dinner party is to
elongate
the eating experience. What fun is it to sit down, stuff your face, and say goodbye? You want to socialize and savor each moment, from that first sip of wine to that last bite of brownie. To satiate those initial hunger pangs, have snacks or appetizers out when your guests arrive. This way you'll give folks time to catch up without wondering when dinner will start. Then, when it is time to sit down, bring out a salad or second appetizer. On Christmas Eve, Italians celebrate the "Feast of the Seven Fishes," where they sit down to enjoy seven courses of seafood. Other cultures feature famous food events that are even longer. Find ways to adhere your courses to your theme. If this presents a challenge for you in the kitchen, don't be afraid to ask for help! Co-hosting is a great way to tackle a large meal. Also note that a dinner party can be as small as three or four people. Make the event work with how you operate.
Construct Dessert
When it comes to the meal's sweet end, it might be fun to work together with your friends to create something delicious. This could be an ice cream bar, dessert pizza, or decorating cupcakes and cookies. It allows your guests to get crafty with their hands, providing a nice activity in addition to the blissful hours of conversation. Bonus? It means one less thing that you have to prep in advance.
Encourage Activities
The party doesn't need to stop after the meal. Consider having an activity planned at the end of the meal, giving people time to digest before heading out for the night. If you've got the energy, a game of charades or Twister can fun. Too full to move? Board games, or
simple conversations
around the coffee table are also great ways to slowly say goodbye. Regardless of how you celebrate, a modern dinner party is a fantastic way to gather around for authentic connection. Dedicate an evening to breaking bread, and watch your relationships blossom.