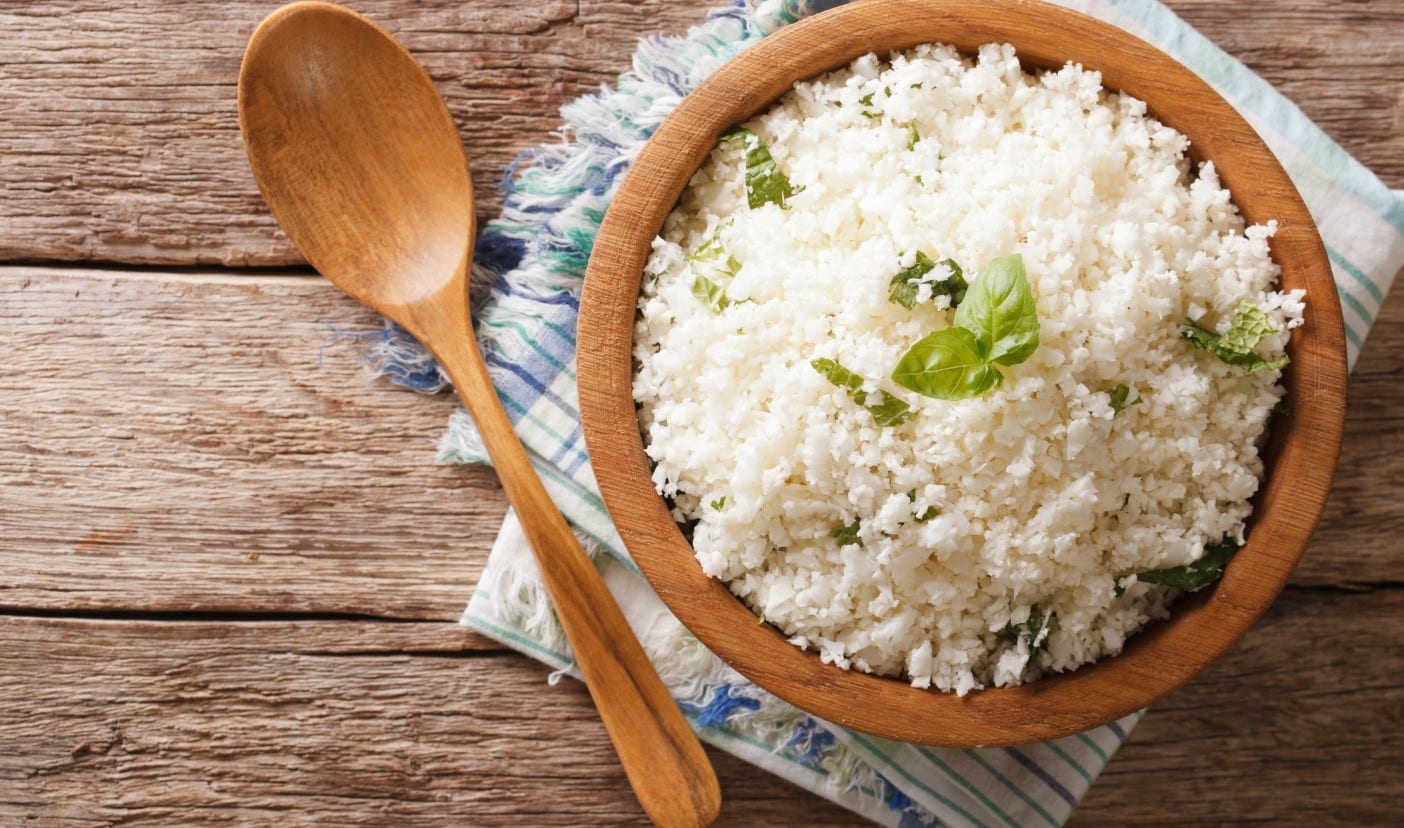 For more delicious recipes, visit Play With Your Food and From The Wanderlust Kitchen, located on Wanderlust TV. 
---
Finding a healthy side dish can be a challenge.
Don't get us wrong—we won't say no to a solid salad—but every now and then it's nice to pair your proteins with something warm and creamy. If you're still looking for plant-based foods but need a break from leafy greens, consider the cauliflower.
Cauliflower rice totally rocks as an alternative to grains, but what if we could kick it up a notch? Maybe even gave it a little Indian/Thai flavor so that is pairs perfectly with curried chicken and veggies? The answer lies below—and it's delicious.
In addition to being a super low-carb version of a pantry staple, cauliflower is packed with fiber, vitamin C, magnesium, and vitamin B-6. Even though coconut milk and coconut oil are high in fat, they're the best kind of fats out there. Also, coconut has a plethora of health and beauty benefits, as it can help lead to shinier hair, and clear, luminous skin. One more bonus? The cardamom in this dish has detoxifying and anti-inflammatory properties. (The knockout flavor doesn't hurt, either!)
Coconut Cauliflower Rice
Serves 2
1 medium cauliflower
1 finely diced shallot
1/2 tablespoon coconut oil
1/2 teaspoon ground cardamom
3/4 cup lite coconut milk
Sea salt and freshly ground pepper, to taste
INGREDIENTS
Chop the cauliflower into florets. Add to food processor/Vitamix and pulse until cauliflower looks like rice, or about 10-15 seconds of pulsing.
Heat a large non-stick skillet over medium-high heat for 1-2 minutes. Add the coconut oil, melt, then add the onion. Sauté until tender, about 5 minutes. Add the cardamom and stir with a wooden spoon until fragrant, about 30 seconds.
Add the cauliflower and coconut milk, stirring to combine. Sauté the cauliflower for about 10-12 minutes and until the coconut milk is absorbed.
Season with salt and pepper and serve.
Bonus: Serve with lemon ginger chicken for a complete and comforting meal.
Want more food from Wanderlust? Tickets are on sale for our six-series Find Your True Fork dinner. Buy your tickets today. 
—

Michaela is a certified holistic health + lifestyle coach through the Institute of Integrative Nutrition, and a registered yoga teacher. She lives in Los Angeles, CA, where she works as a part of Wanderlust Media. In addition to her dedicated yoga practice, Michaela loves music, travel, cooking + eating healthy food (of course), and spending time with her family and friends.