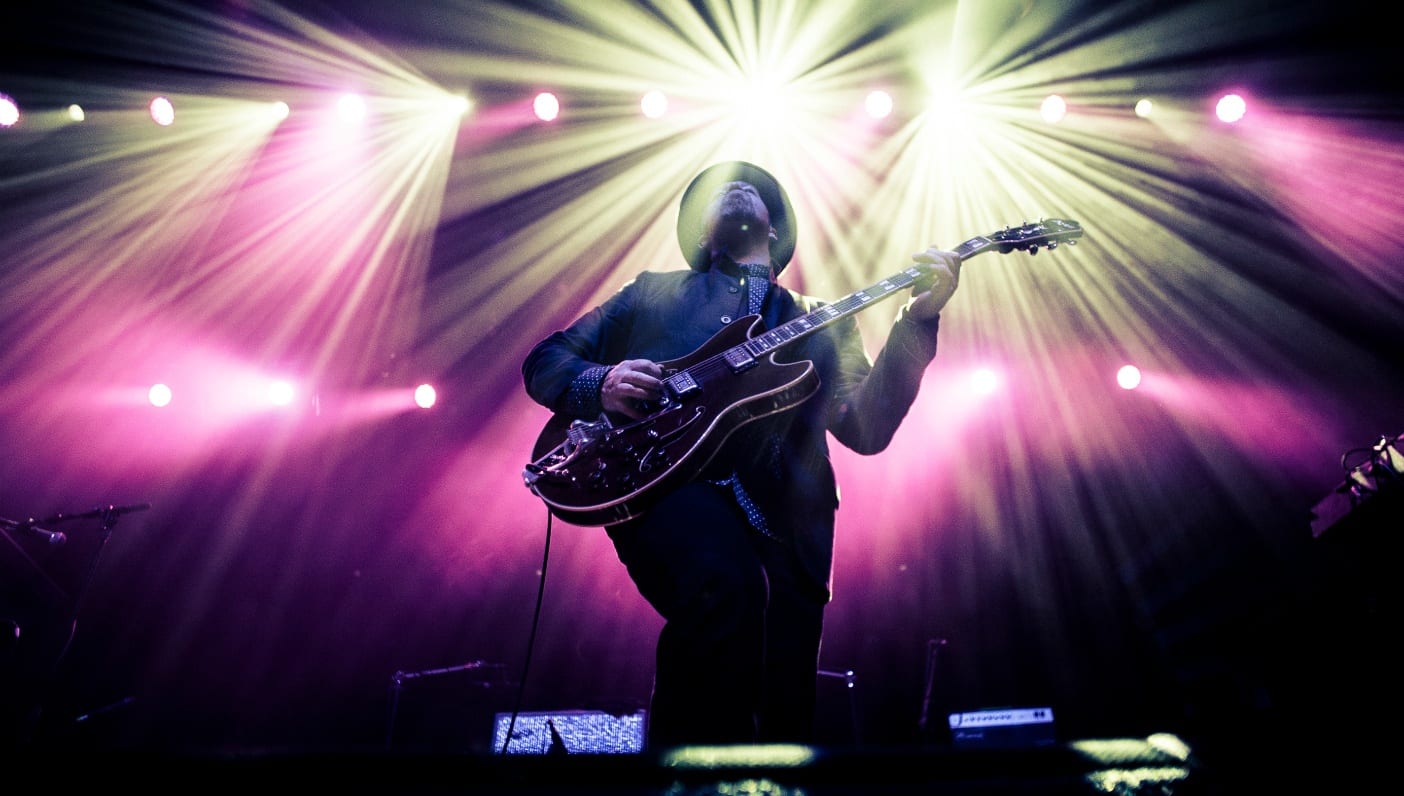 Photo by Jay Sansone
His band Soulive has been on tour with the Rolling Stones and Dave Matthews Band. He's played the mainstage at the first-ever Bonnaroo, and accompanied Phil Lesh to thousands of die-hard Grateful Dead fans. He's well-acquainted with the sound of roaring crowds, and no stranger to luxe tour vans or the shiny brass of a Grammy trophy. Yet Eric Krasno still recalls playing at the community center with his high school band as the most nerve-wracking moment of his musical life.
"This hasn't been said in so long!" Eric laughs as he recounts those early days, taking on the tone of someone fondly recalling a formative moment or relationship. "We only did one show, maybe two," he says, "we were called Skew, which is a horrible name! We didn't have a huge career," he says.
Skew may not have made it big, but Eric's career took off—as did other Skew members (the drummer went on to drum in Gogol Bordello). Soon after Skew, Eric was a founding member of the band Lettuce, which has earned a reputation over the past two decades a not-to-be-missed live experience. But that's just one part of an illustrious career moving people with soul-grooving funk.
Eric's latest endeavor, the Wanderlust House Band, promises to be one for the books, and will be gracing the stage at Wanderlust Stratton and Wanderlust Squaw this summer. The lineup varies by festival, but the House Band features the likes of Grammy-nominated Allen Stone, Robert Randolph, and Marc Broussard, "Late Night with Stephen Colbert" band member Louis Cato, and Trey Anastasio Band member / Phish guest vocalist Jennifer Hartswick.
Eric—always quick to laugh—chuckles when I ask him if the Wanderlust House Band could be considered a supergroup. "Supergroup?" he says, "I think I would say that! It's not the most humble statement, but let's go with it."
How the band formed
Eric has been going to Wanderlust since the beginning, and believes that the intersection of music and yoga can be one that elevates and complements both experiences. "Music and mindfulness go hand in hand," he says. "If you're doing a yoga practice and the music really flows through you and you flow with it, you're going to get to a whole higher place. I also think that feeling, that rush, those endorphins, are sourced from both yoga and meditation, and from music. Not only do they go together, they're both trying to feed your soul in a certain way."
Eric kept this complementary aspect top of mind when selecting members for the Wanderlust House Band. He picked people who he thought would connect with the ethos of the festival, and who he thought would take advantage of the festival itself. This is a departure from the same-old roster at Wanderlust, where bands sometimes make the festival a stop on a much larger tour, and who don't really engage with the many facets of Wanderlust.
Not only do music and yoga go together, they're both trying to feed your soul in a certain way.
"What we're going to bring to these festivals is not a set that we tour all over the country," he says, noting that their set will be different for each performance. It's also the band's intentionality that makes this a different kind of Wanderlust music experience.
"A lot of bands come to Wanderlust and may not necessarily know what it's all about," says Eric. "But then there are people like Nahko and Michael Franti who are very much a part of it. That's something we're looking to work toward as we build the House Band thing. Something where we're not only a band but also a part of this. Kind of spreading the love, spreading the word."
Becoming a part of the festival
In the same way that Eric hopes the musicians will become a part of the festival and take advantage of the activities Wanderlust offers, he envisions the House Band as another way for guests to feel a part of the program. He wants to involve attendees and the Wanderlust community in the set. This, he says, "will create a cool kind of engagement between the audience and the musicians and the dancers and performers."
What exactly does he mean by that? First, keep your eyes out for an Instagram survey, and also for Eric popping into the Stratton Facebook event page and the Squaw Valley Facebook event page. Then, pack appropriately: Each night of performance will be themed to a genre, and guests are encouraged to dress the part. For funk and soul night, bring your bell-bottoms and colored wigs. For rock-and-roll night, pack those faux leathers and studded belts.
Eric also hopes that the House Band will be able to introduce new audiences to the magic of mindfulness. For Eric, it was Wanderlust that really helped him get started on his own journey of wellness and consciousness. "That's something that I want to do with the music side," he says, "bring people in who haven't done any of this before, just give them a taste of [mindfulness]. It doesn't have to be expert level right from the beginning. You know, it can be intimidating to be around all these people who are so advanced. But I think that's part of the message here. Just getting started is a great step."
Who's who and where to find them
One of the most inspiring and heartwarming things about Eric is how he speaks about his fellow musicians. For someone who's slung bourbon with Keith Richards and worked out with Dave Matthews in his 18-wheeler traveling gym, Eric is humble and quick to elevate others. One of the things he's most excited about the Wanderlust House Band is the opportunity to collaborate with some of his favorite musicians.   
"They're all leaders in their own right," he says. "The idea of the all-star band is that everyone sort of switches roles from supporting role to lead role as the moment. Everyone on [the House Band roster] is a leader themselves." A child of the 80s, Eric likens the group to Voltron: When they all come together, it's a massive machine that can perform wonders; but pull everyone apart and they're still making magic in their own right.
You can catch the Wanderlust House Band at Wanderlust Stratton and Wanderlust Squaw for the 2018 season. Check out the roster below, and get your tickets to see them today.
Eric Krasno VT, CA
Danny Mayer    VT, CA
Mary Corso    VT, CA
Jesse Murphy    VT, CA
Louis Cato    VT, CA
Robert Randolph    CA
Allen Stone    CA
Marc Broussard    VT
Jennifer Hartswick    VT
James Casey    VT
Eric Finland    VT
Steve Swatkins    CA
Music-only tickets are also available. For more information, click here. See you on the dance floor!
—
Lisette Cheresson is a writer, storyteller, yoga teacher, and adventuress who is an avid vagabond, homechef, dirt-collector, and dreamer. When she's not attempting to create pretty sentences or reading pretty sentences other people have created, it's a safe bet that she's either hopping a plane, dancing, cooking, or hiking. She received her Level II Reiki Attunement and attended a 4-day intensive discourse with the Dalai Lama in India, and received her RYT200 in Brooklyn. She is currently the Director of Content at Wanderlust Festival.