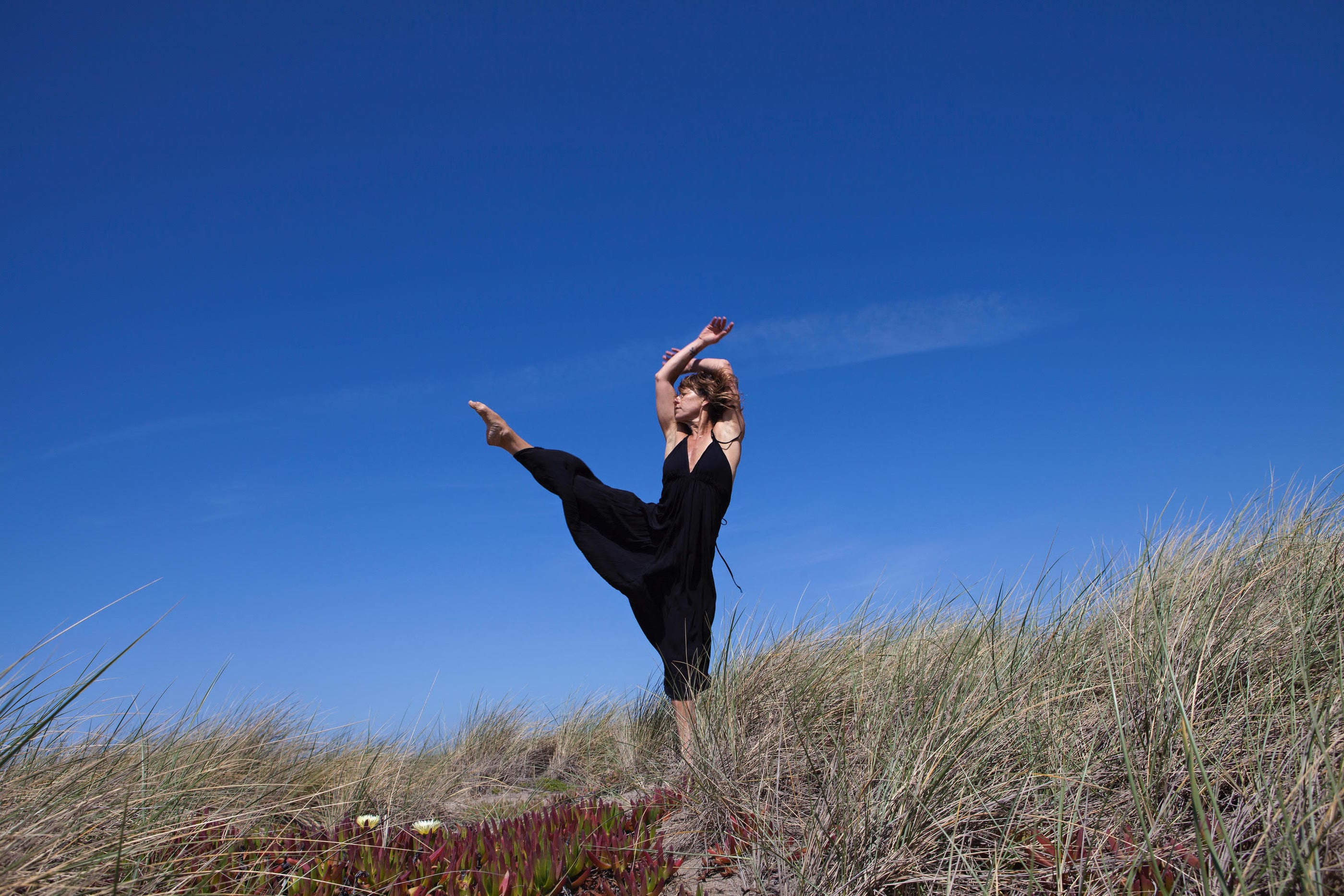 Photo courtesy of Annie Parr
Annie Parr is a dancer, choreographer, teacher, and proprietress of RoCo Dance in Marin County. Find her unique MDRN YGA classes on Wanderlust TV here.
---
Imagine combining the strength and stability of your yoga practice with the fluidity and grace of modern dance.
Consider what it might feel like to flow through movements with an ease that opens you up to new possibilities beyond the boundaries of a static routine. Sounds liberating, right?
Founder of RoCo Dance Annie Parr has always had a strong desire to make dance accessible to those not technically trained in the art. As a professional dancer with extensive experience in choreography, she enjoys this form of movement because it unleashes her most authentic self. After she completed her 500-hour yoga teacher training, Annie decided to create a new concept that she describes as "a yoga class with a dance personality."
"I started developing a format that I wasn't finding in any yoga class anywhere, but was feeling like I really needed in my own body," says Annie. "I wanted more movement, really thoughtful transitions, and more root in sequencing."
Blending Yoga and Modern Dance
Coined Modern Yoga, Annie brought this concept to life by combining Laban/Bartinieff technique—which uses deep core muscles, spine, and breath for functional and expressive movement—with pilates and yoga. She views Modern Yoga as an access point for anyone to experience the freedom of what it's like to be in a dancer's body, without the intimidation of trying to move in a completely new way.
"It's bringing all of the pleasure of what it feels like to move to music with intention and to transition from one asana to another in a pattern that feels sequenced like a dance," says Annie.  "There's no movement that's not intentionally or authentically taking you from one place to the next."
Unlike a traditional yoga class that might play music in the background for ambience, Modern Yoga uses music as a connector for everyone in the room.
"It sets the tone, the landscape, the aesthetic, and the environment to want to move that way," says Annie. "It's there as a guiding point. And it's there to settle into a place or move on." While the class introduces modern dance vocabulary, Annie also uses familiar yoga terminology, Sanskrit, and asanas. She draws on her dance background to cue spinal movement as well as the rhythm of alternating between physically engaging and releasing the body.
"Sometimes we use a measure of counts instead of a measure of breath, which forces you to pay attention to what you're listening to," says Annie.
Creative Expression Through Movement
When it comes to listening in today's modern society, it can be difficult to drown out the noise and cultivate our own freedom of expression. Living in a world where we're forced to make choices that are not in alignment with how we want to live can rob us of our freedom and disconnect us from our true selves.
"The least you can do is integrate practices in your life that pull you out of your head and into your body and soul," says Annie. She highlights movement as an opportunity to harness our creativity and channel the uniqueness that lives within each of us.
"Movement is an access point to manifest an attitude. To manifest a feeling. To manifest expression," says Annie. "Integrating a creative practice in your life is going to alter your lifestyle."
Inspired by the teachings of many iconic modern dance artists, Annie recognizes the powerful connection between the mental body, the physical body, and how the artistic nature of dance enables unique ways of expression.
"You may begin to see the world differently, and you might start making less predictable choices," says Annie. "You may be able to tune in to your intuition and give yourself permission to go where your heart is pulling you."
Change as a Catalyst for Personal Expansion
Annie views the unique approach to movement experienced in a Modern Yoga class as an opportunity to become comfortable with the unfamiliar and allow yourself to be vulnerable in a new environment. "When people have been involved in a practice of very traditional yoga for many years, there's a lot of resistance to moving out of that and to allowing yourself to experience a hybrid of things," says Annie.
But it's our ability to keep changing and evolving that prevents us from getting stuck and enables us to lead a vibrant life. Studies show that dance can affect neuroplasticity—our brain's physiological ability to adapt.
"Creative movement connects you to your most authentic self," says Annie. "People have to let go to find that—to be uncensored and not care what they look like. That is the spiritual practice of dance—to just not think so hard."
Through Modern Yoga, Annie has created a safe container that allows people to push past their own boundaries and release their expectations of how they show up in the studio—and in the world. "It's often through a curated class that will take your hand and step you into that world until you become comfortable enough to start exploring on your own," says Annie.
Learning to Let Go Off the Mat
While Modern Yoga is largely a mat-less class, Annie also offers a partial mat class at her studio to introduce the idea of moving beyond the limits of those four edges.
"I think there can be a lot of resistance for people about not being on a mat," says Annie. "They need an entry point that feels safe."
At Wanderlust Squaw Valley, Annie will be teaching a variety of classes, starting with a class that's fully on the mat. "Using the mat for the very first class will introduce people to some of the transitions and the movement quality and the musicality of it," says Annie. "We won't really get into the depth of what's possible until the mat starts to go away."
The second class will start on the mat for core stabilization work and progress into the mat-less format of Modern Yoga, and the third class will abandon the mat entirely.
"You get the full experience of the freedom of not having a mat and what that can give you inside your practice and what the possibilities are—because they're kind of endless," says Annie.
She will also be leading a fourth Modern Yoga class format that integrates the basic principles of modern dance partnering and the experience of an AcroYoga class. "It's giving people the tools to understand how to both give and receive weight," says Annie. "It's a sensory class that requires listening to another body."
To foster this spirit of exploration, the progression of Annie's classes at Wanderlust will embody the journey from traditional yoga to the full expression of Modern Yoga.
"We might work a little more with momentum—moving slowly first and making sure everyone really understands and connects the pathways from one place to the next and knows how to properly and safely place themselves," says Annie. "And then we just start moving faster and faster like a momentous phrase."
It's the opportunity to reach beyond your comfort zone and learn to cultivate a more intuitive form of movement—in all aspects of your life—that makes Modern Yoga such a powerful practice. "Once you start to settle into what we're doing on the floor without the containment of this relatively small space to work with, it's so liberating," says Annie.  "You'll never want to be on a mat again."
—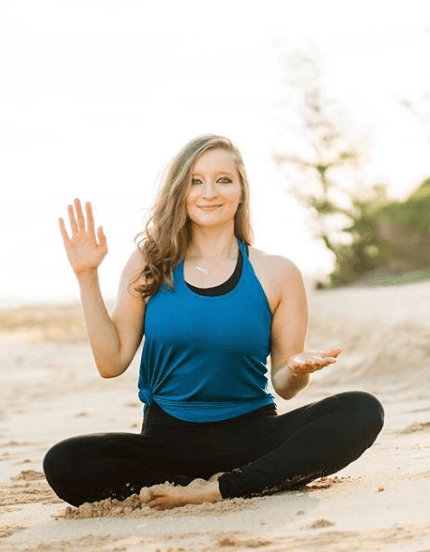 Laura Hanson is a writer, mentor, and yoga teacher with a background in the therapeutic applications of yoga. She focuses on using breathwork, meditation, and reflection to empower others to find their inner strength. Her mission is to enable practical wellness and help others create more productive, fulfilled lives by nurturing the mind, body, and spirit through mindful living. Follow her on Instagram and Facebook, @laurajhanson.