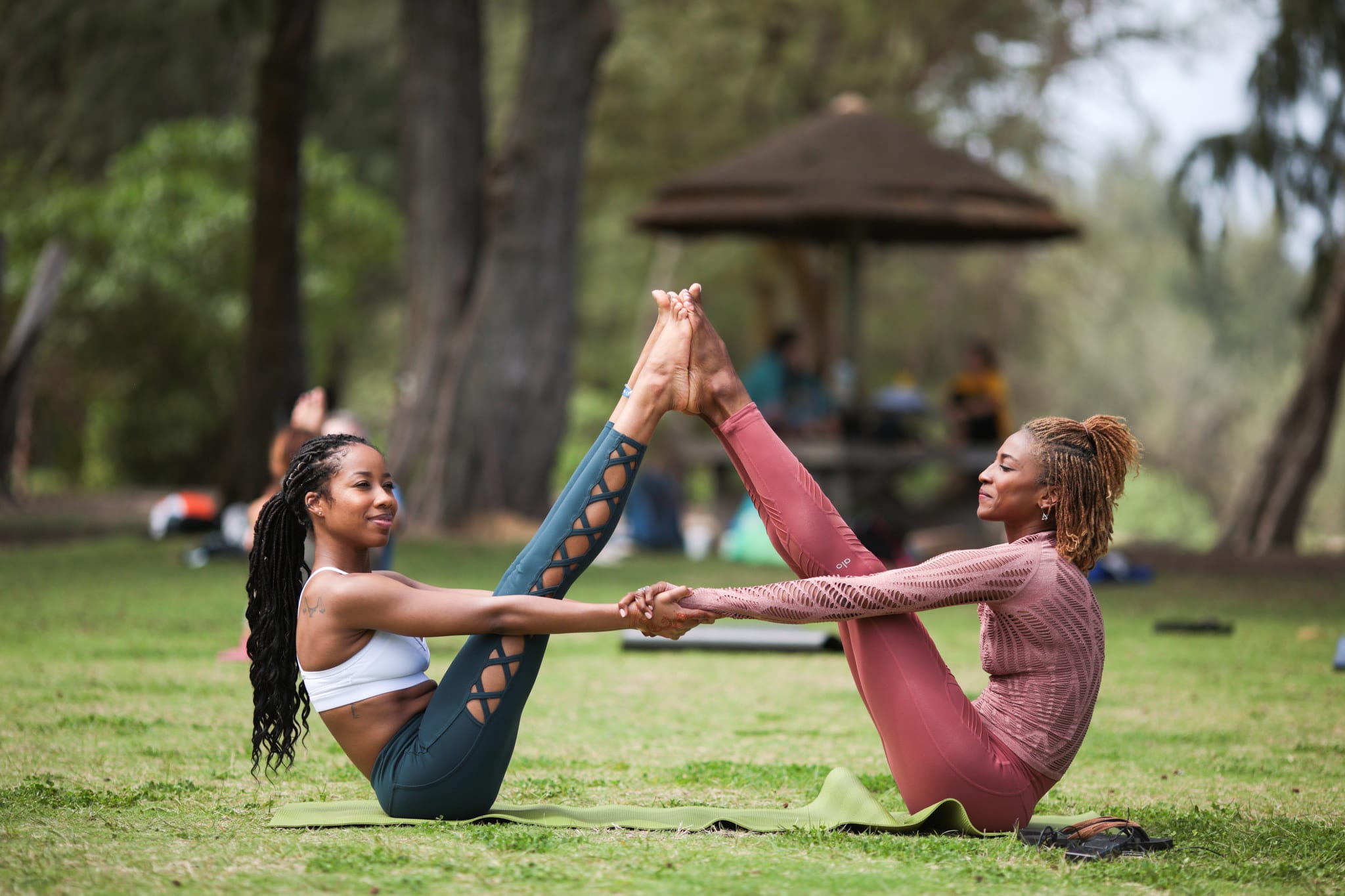 Photo by Arik Cardenas
Imagine waking up to the sound of the surf, greeting the sun and allowing the salty air to splash your face, and stretching out on the lush island grass for your morning Sun Salutations. Next you grab a kale-pineapple smoothie and head to your 10am Vinyasa flow, followed by a creative writing class led by Elizabeth Gilbert, the day ending with a sunset meditation and a star-kissed dance party. No, this isn't the long-lost Mary Kate and Ashley movie "Passport to Paradise"; it's your next vacation to Hawaii.
Clearly we love Hawaii. This will be our seventh Wanderlust O'ahu—and we have a history of making it an epic adventure. Combining outdoor exploration, inspiring talks from wellness revolutionaries, and transformative yoga classes nestled alongside the surf, our O'ahu festival is the only one that puts you up close and personal with the shoreline. It's the perfect opportunity for yogis to combine vacation with personal wellness (which should be one in the same anyway) and let themselves b-r-e-a-t-h-e.
And what could be more perfect than letting yourself relax with your besties? Be honest: When was the last time you and your girlfriends (and just your girlfriends) ditched the dudes, the to-do lists, and the chaotic schedules in order to spend a few days dedicated to enjoying one another's company? We're guessing it's been too long—making it well worth your while to consider planning your next estrogen-filled adventure.
If the image of you and your GF downing açaí bowls under a palm tree with a ukulele strumming in the background isn't enough to get you on a plane and out to the shore with us, consider these reasons to plan a girls trip ASAP.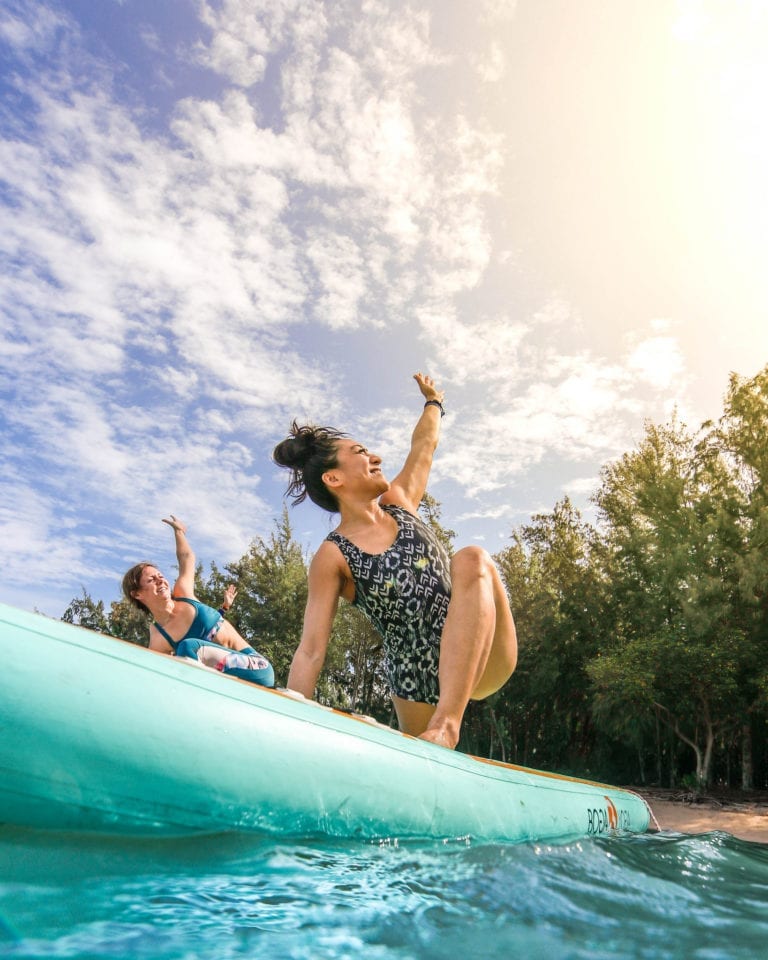 You'll be more motivated to try new things.
Often times we're more inclined to do something for the first time when we do it alongside a buddy. There's something about camaraderie that makes us braver, bolder, and more likely to sign up for that KIAKAHI class. Bringing your girl gang along most likely means you'll be stepping outside your comfort zone, which is only a bad thing if being outside your comfort zone means attempting a brand-new inversion with no partner. 
You remember your natural beauty.
Most of us are our own worst critics, especially when it comes to our bodies. In fact, we all probably something we don't like about our physical appearance, so much so that we dedicate a great deal of time, money, and energy to either changing the way we look or complaining about it. But there's something about being on a surfboard or standing strong in Warrior II that makes us forget about the makeup, our changing shapes, and any perceived "imperfections." When we take them time to use our body, we're reminded of our inner and outer strength. And with your girl gang there to cheer you on, expect confidence to surge to a 10. 
You're more accountable for showing up to something hard. 
Wanderlust O'ahu isn't solely about midday meditations and hard kombucha by the pool—there are some booty-kicking classes in this year's lineup. Combine more challenging yoga classes (hiii, Level 2/3 Vinyasa with Schuyler Grant) with surf lessons or SUP yoga, and you've got a schedule that might really demand you push your boundaries. That's when your girlfriends come in—when we make plans with others, we're more likely to show up, even if at the last minute we'd rather stay in bed and scroll through Instagram. When you think you can't, your girls know you can.
It doubles as shopping trip.
We're all for letting go of material possessions that no longer serve us… But we're also all for stocking up on some sweet swag made by sustainable, environmentally-focused producers. There are rows and rows dedicated to vendors at Wanderlust O'ahu, all of which offer a myriad of beautiful, trendy, and intentionally-made products. Buy some unique souvenirs for your loved ones back at home or something special for yourself. 
You'll support women in wellness.
From Liz Gilbert to Ana Forrest, Carmen Curtis to Ashley Neese, Wanderlust O'ahu is bursting with inspiring female luminaries and wellness leaders. But we're not just talking about our lineup of all-star talent—this also goes for the attendees. A number of people who attend Wanderlust are yoga teachers, entrepreneurs, life coaches, nutritionists, meditation instructors, and more. Heading to a Wanderlust festival is a great way to meet new women in wellness, network with likeminded people, and support a future where we lift one another up. Arrive curious, leave supported and inspired.
You get to reconnect with nature.
Whether you're wading in the cerulean sea, allowing your bare feet to feel the tropical forest earth, or hugging a palm tree, you and your girls are guaranteed to reconnect with nature in Hawaii. This Pacific paradise is bursting with flowers in all colors of the rainbow, with wildlife around every corner and the sound of tropics echoing through the breeze. Rest under trees with leaves as wide as elephant ears and take walks through the pine groves to inhale that fragrant forest air. (If you've got the one friend who is particularly Type-A, this might be precisely what she needs to unwind)
Every night is girls' night out.
Selecting outfits with your wolf pack, getting ready in a shared hotel room, ordering a ton of food and drink, and then dancing your face off—could there be a more perfect night? At Wanderlust's O'ahu, imagine your favorite girls' night out… Every night of the long weekend. Come nighttime, you and your team can head to one of Hawaii's delicious seafood restaurants or have a kombucha cocktail before hitting the field for a concert under the stars. This year's headliners are Corinne Bailey Rae and Bob Moses and we cannot wait for that dance party. 
You create forever memories.
Friendships are like plants—they need nourishment and attention to bloom and grow! And we're guessing your schedule (work, babies, boyfriends, whatever) may make it hard for you to dedicate more than a once-every-two-weeks drink with your bff. Get an entire vacation on the calendar and water those precious flowers! Besides, when was the last time you actually regretted time spent with a loved one? Put your to-do list aside and grab some quality time with your girl(s). You'll all be better for it.
Where's your favorite place to do a girls' only vacay? Tell us in the comments below! 
—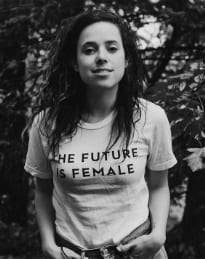 Amanda Kohr is the editor at Wanderlust. You can find her exploring new highways, drinking diner coffee, and on Instagram.