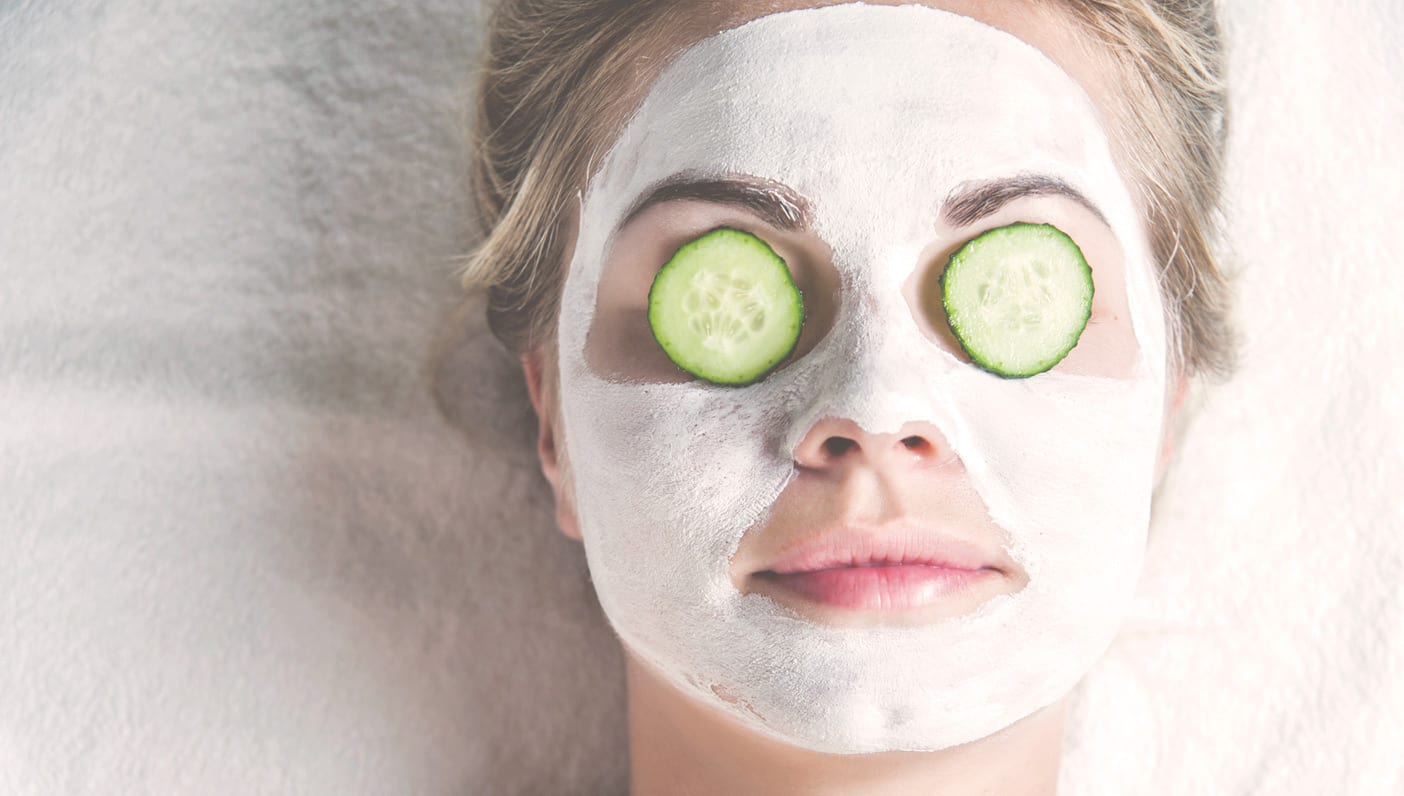 Is there anything more nourishing than cozying up with a good book, a cup of chamomile, and a face mask? Only if you make the face mask yourself. With our easy DIY recipes, you can create a soothing spa using ingredients that are likely already in your kitchen.
These face masks are void of any unpronounceable ingredients, and instead include things like honey, turmeric, fruit, and even chocolate (!). Your wallet will thank you for the break from fancy spa facials, Mother Nature will love that you're making good use of her bounty, and your skin will glow after these fresh-feeling face treatments.
Honey Mask for Acne-Prone Skin
Got acne? Try honey. Studies have shown that honey offers high antibacterial activity. Applying it to your face can help create a gentle barrier to prevent infection and breakouts. Be sure to use local or organic honey purchased at the Farmer's Market; anything that comes in a bear-shaped bottle is a big no-no.
3 tablespoons raw honey
½ teaspoon cinnamon
Mix the honey and cinnamon together and apply to your face. Allow the mask to sit for 10 to 30 minutes, then remove gently using warm water. Note: Sometimes cinnamon can irritate highly sensitive skin, so consider doing a test patch on the back of your hand before applying a full mask. Use once a week.
Turmeric Beauty Mask
The hottest superfood of 2016, turmeric is exploding with health-enhancing possibilities. But this deep, orange spice is more than just a modern fad; Indian brides often used turmeric masks before their marriage ceremonies. Perhaps it's because the masks are anti-aging, help to slow hair growth (buh-bye pesky moustache), improve skin elasticity, decrease acne, and help control oily skin. Regardless, we love the healthy glow that comes with the aftermath of this refreshing facial experience.
2 teaspoons sandalwood powder
2 teaspoons turmeric powder
½ cup chickpea flour
1 teaspoon almond oil or ghee
Water, enough to make a smooth paste
Mix the powders, flour, and oil together. Add the water slowly, stopping when you have enough to make a paste. Apply and allow to sit for at least 20 minutes, or until the mask has dried and stiffened. Rinse with warm water to remove.
Yogurt and Avocado Face Mask
While it sounds like something you'd add to a smoothie, the combination of  yogurt and avocado also aids the health of your skin. The avocado is rich in omega-3 fatty acids, making it moisturizing without clogging your pores. The lactic acid in the yogurt helps to work as a gentle exfoliant, and the honey helps hydrate your skin. (AKA, you'll look like you just bathed in fresh morning dew.)
½ avocado
1 tablespoon organic yogurt (the higher in fat, the more moisturizing)
1 tablespoon organic honey
Mash the avocado until smooth and then stir in the honey and yogurt. Apply a thick layer of the mask onto clean skin. Let sit for 10 to 15 minutes, or longer if desired. Remove with warm water.
Detoxifying Mocha Mask
The combination of coffee and chocolate goes further than a good latte; the caffeine helps to reduce swelling and the antioxidants in the cocoa can help reduce aging. To top it off, the yogurt helps replenish moisture in dry skin, making this mask an ideal match for a variety of skin conditions.
2 tablespoons freshly ground coffee
2 tablespoons pure cocoa powder
1 tablespoon honey
3 tablespoons yogurt or sour cream
Stir all ingredients together until smooth. Spread evenly over skin and allow to sit for about 15 minutes. Wash off with warm water, massaging gently to help exfoliate the skin.
Exfoliating Pomegranate Scrub
Crunchy and bursting with juicy flavor, pomegranates make for excellent face masks. The seeds are filled with anti-aging compounds, and can also help remove dead skin cells for softer skin. The lactic acid in the buttermilk works as a natural exfoliant, and the honey helps ward off bacteria.
2 tablespoons pomegranate seeds
1 cup uncooked oatmeal
2 tablespoons honey
2 tablespoons buttermilk
Blend all ingredients together in a food processor or blender. Apply to face for a few minutes, then massage off with warm water to help exfoliate the skin.
—
Amanda Kohr is a 25-year-old writer and photographer with a penchant for yoga, food, and travel.  She prefers to bathe in the moonlight rather than the sun, and enjoys living in a state of the three C's: cozy, creative, and curious. When she's not writing, you can find her driving her VW Bug, looking for the next roadside attraction or family diner. She also roams the internet at amandakohr.com and through Instagram.