Body. Breath. Beats. Sign up for the 2019 Wanderlust 21-Day Yoga Challenge with Schuyler Grant, and ground into what this connection means for your practice—and your life. Free access is available March 4–March 31. For more information, click here.  
---
Three straight weeks of #yogaeverydamnday is no joke, but signing up for a 21-Day Yoga Challenge is one of the greatest gifts you could give yourself. It's a huge, albeit rewarding, commitment that will bring a roller coaster of bliss, sweat, maybe some tears and hopefully a landslide of good vibes. Above all, it's a transformative process that will leave your soul shining brighter, lighter, and higher. From mental prep to making sure you have all the materials needed for success, one of the best things we can do for our bodies before embarking on such a challenge is to adequately prepare. The following are several tips and techniques to help get your mind and body ready for 21 days of yoga.
Getting Started
First, set an intention. What are you aiming to get out of the next 21 days? A more peaceful outlook? Recalibration? A new set of abs? Carefully consider your reasons for starting the challenge—and be sure you believe in them wholeheartedly. Coming back to that intention over and over throughout the next few weeks will be key in getting you to that sweet, sweet finish line. And allow yourself some flexibility as you go! Your intention may change (in fact, it almost certainly will) and that's great. Just keep coming back to what motivates you and why you want to do this.
Release Your Expectations
Next, set some expectations for yourself—and then forget about them. No matter what happens over the journey, be gentle on yourself. You are embarking on a challenge of the mind, body, and spirit. It's a beautiful thing, but listen to your body along the way and remember everything is best in moderation. Starting a challenge like this is a bit like starting a race—if you gun it right out of the gate, you will be gassed from the get go. Same goes for a 21-Day Yoga Challenge. This year's Body. Breath. Beats. Challenge will get progressively more difficult as the weeks go on—so listen to your body as the difficulty increases. Be sure to give your body time to recover between classes; surrender your mind to letting yourself have the sacred time on your mat to heal and recover. Lean into the juicy poses, stretches, and Savasanas. Move slowly, but with intention.
No matter what happens, remember to be kind to yourself. If holding Crow Pose (Bakasana) for 10 breaths straight feels overwhelming, let yourself sit still in Child's Pose. Remember, this is your body and your challenge; what works for other folks on the journey may not work for you. Surrender to what you need and what will serve your highest self—no effort is ever wasted.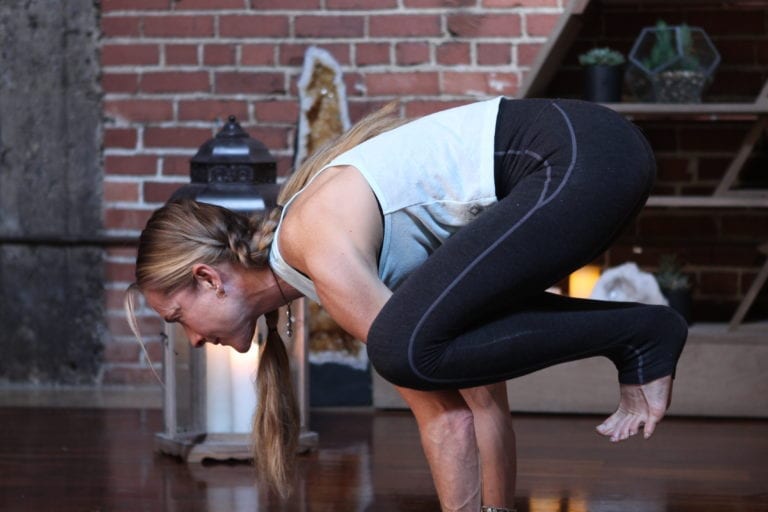 Get Ready
Prepare a few things. Think about what physical materials you need to get the most out of your experience. Maybe it's a new pair of leggings to get motivated, or perhaps it's finally buying that new mat—just be sure you have everything you need.
One of the most important things to have in your toolbox is healthy, quality nutrition. Consider stocking up on some supplements to help keep your body strong. Twenty-one days of yoga may not seem like a lot, but around the fifth day straight, you will start to feel it in a big way. Your muscles are sore, your arms are tired, and you'll think you couldn't possibly do another Chataranga. This is what we call the dukkha (a Buddhist term for "suffering."). Feel it. Get mad about it. And then lean in, baby, because it's about to get so, so good.
That feeling of discomfort is your body changing. It's getting stronger and so is your mental fortitude. Help your body in its journey by giving it proper nutrition and supplements. In addition to a suite of leafy greens and protein, consider incorporating a multivitamin, like the Swisse Ultivite. Not only can a multivitamin help fill in nutritional gaps, the Swisse Ultivite contains adaptogenic herbs that aid in energy production and help your body adapt and respond to stress. Taking a multivitamin each day as a part of the 21-Day Yoga Challenge is a great way to incorporate this simple habit that supports optimal health into your wellness routine.
Make it Part of Your Routine
Be sure to think through the logistics. One of the biggest hurdles I faced when doing my own 21-Day Challenge was planning. On some days, work ran long, or a friend's birthday party was just too promising to pass up. Things will happen. If you miss a class, remember that you can always make it up the next day (during the free access period, classes will remain unlocked for three days!).
It's important to remember that if getting your yoga practice in each day is stressing you out, it's doing more harm than good. A few small things did help me overcome some of these more logistical roadblocks. One was aiming to do early morning classes, or get one in right after work, so that I had little interruption or distractions.
Build a support system. Setting expectations with your friends, family and coworkers will help mitigate these pop-up events that may derail your plans. And hopefully everyone around you will be supportive of your journey as you spend a bit of time away from them and with yourself. One awesome resource is the Wanderlust Virtual Yoga Studio, where Challenge participants and yogi-enthusiasts gather to help each other through the weeks.
You've got nothing to lose by signing up for free access. Give it a go, and watch how you grow! We can't wait to see you on the mat.
More than a multivitamin, the Swisse Ultivite contains vitamins, minerals, plus unique herbs and phytonutrients to support optimal health.  Backed by science and rooted in Australian heritage, these premium and comprehensive formulas assist in energy production and provide support for a stressful life. To feel your best, make Swisse a regular part of your daily wellness routine.