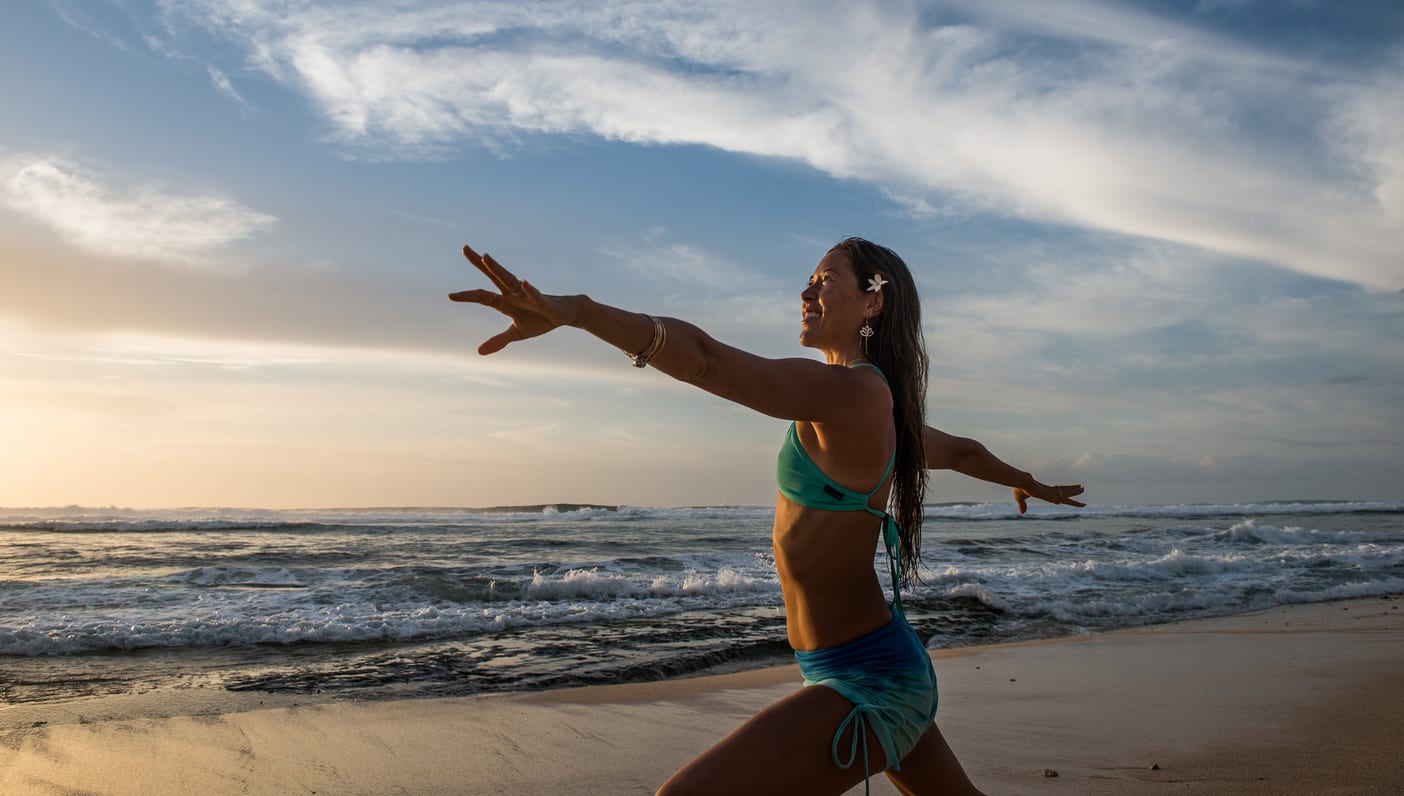 Photo by Ali Kaukas
Globetrotters everywhere are opening their maps and plotting this year's adventures. When you combine yoga and travel, you not only enjoy the benefits of a retreat, but also gain exposure to new cultures and ideas.
That's why we've collected a handful of our favorite global yoga retreats. From Spain to the Swiss Alps, you'll find all sorts of exotic retreat ideas to add to this year's adventures.
---
With clear waters and white sand weren't enough, consider Belize for the yoga. Akbol Yoga offers all sorts of unique retreats throughout the entire year, allowing you to find something that fits within your hectic schedule. In addition to yoga on the water, guests are invited to socialize over drinks and healthy food at the beachside bar and restaurant. Snorkeling, day trips to San Pedro, and massages are also encouraged.
If you're looking for a unique and beautiful vacation destination, look no further than Croatia. Located on Vis Island, the Being Urban retreat includes seven nights in an island villa, vegetarian and vegan cuisine, two daily yoga sessions, beach tours, and a yoga BBQ. For an extra cost, visitors can rent bikes, kayaks, and SUP boards, or socialize over wine and cheese.
If you're a fan of Tapas and sangria, check out this seven-day retreat in the Alpajurra region of Europe. Participants explore the country's waterfalls, Moorish villages, and breathtaking gorges as they wander the hills of Spain. Each day is comprised of meditation, yoga, group meals, and moderate hikes. Don't forget the afternoon healing therapies, which are sure to leave you glistening with gratitude.
Nestled in between the Mexican jungle and the bright sands of the Caribbean, this retreat provides travelers with a weeklong adventure of yoga and beach time. This bohemian paradise offers meals, massages, daily juices, candlelit practices, and eco-friendly housing. For those looking to absorb the local fauna, travel into the Mayan ruins or swim in the underground caves. You'll see corners of the natural world you never knew existed.
All yogis make it out to Bali eventually. If you've yet to explore yogi wonderland, make this your year. Grab a friend and enjoy daily Vinyasa and Hatha yoga classes, meditation and pranayama sessions, and a variety of healing workshops. Topics include Yoga Nidra, understanding Chakras, Ayurveda, and Vedanta.
This unique retreat uses powerful yoga sessions to celebrate the power of May 1. Guests will engage in Prana Vinyasa solar-lunar sessions, Soma Prana Vinyasa, or tantric Yin yoga sessions, and spring lifestyle vitality practices. If that weren't enough, yogis commemorate the last evening of the retreat with a transformative "trance dance." (We can't wait to find out what this entails.)
If you're looking for a retreat that allows you to ride some waves, head to Morocco. Surf Maroc offers weeklong retreats throughout the entire year, each one featuring the sublime combination of yoga and surfing. A typical day includes morning and evening yoga classes, afternoon beach time, and nourishing meals. For extra fun, visitors can partake in hammams (traditional Moroccan steam baths), massages, day trips to the surrounding villages, and horse and camel riding.
The hills are alive with the sounds of Ujjayi breathing in this Swiss Alps retreat. Guests enjoy morning and afternoon yoga classes, hikes, and delicious meals alongside the brilliant views of Ascharina. The hotel includes private and communal spaces, a hottub, and sauna, allowing you to socialize with fellow yogis or enjoy some well-deserved alone time.
A deeply spiritual country, Bhutan serves as an ideal location for powerful meditative practice. This 17-day experience full of hikes, evening and morning practices, delicious dumplings, and cultural immersion. For the true explorer, the retreat also includes an optional five-day trek through the Druk Park.
You love Free People's maxi-dresses and beaded headbands, but did you know they offer yoga retreats? We didn't either. These brand new retreats offer yogis the opportunity to meditate and unwind in nature's most wild lands. The emphasis for the Yelapa trip is "fostering dreams," and participants will be encouraged to explore their innermost imaginations. In addition, the retreat offers jungle sleeping, vegetarian meals, daily yoga, water sports, moon workshops, and $500 worth of Free People merchandise.
Explore new lands and enjoy, remembering to always follow your True North.
—
Amanda Kohr is a 25-year-old writer and photographer with a penchant for yoga, food, and travel.  She prefers to bathe in the moonlight rather than the sun, and enjoys living in a state of the three C's: cozy, creative, and curious. When she's not writing, you can find her driving her VW Bug, looking for the next roadside attraction or family diner. She also roams the internet at amandakohr.com and through Instagram.