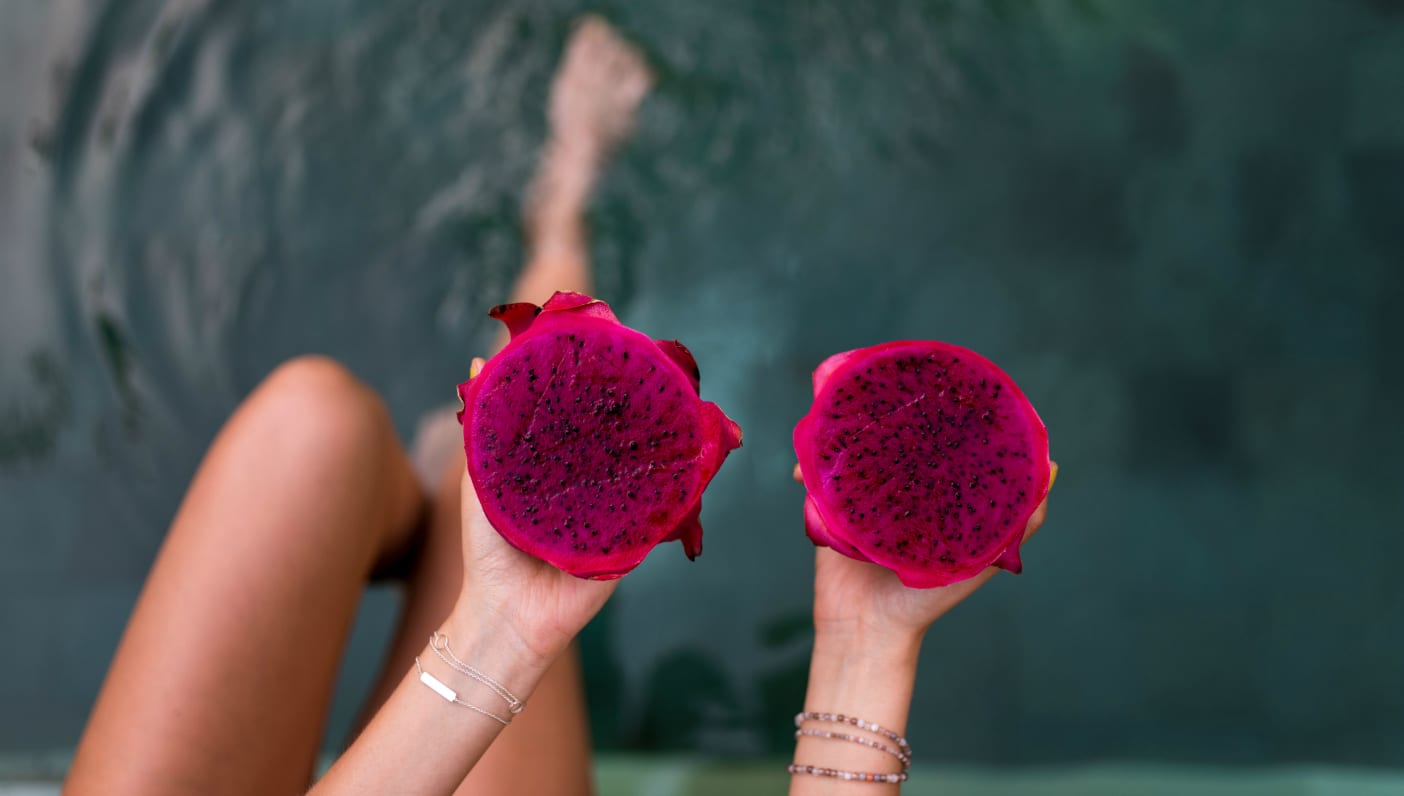 Summer may be coming to an end, but your kitchen can be a spring of endless summer. We teamed up with our friends at The Vitamin Shoppe to give you two recipes to keep that sunny feel all autumn long. Get a taste IRL at the Brooklyn 108 on September 9, where natural beauty expert, holistic chef, and Wellness Council member Sophia Roe will be serving up these treats at The Vitamin Shoppe booth from 1pm–3pm. 
For tickets and more information, click here. 
---
Dragon Fruit Smoothie Bowl
Makes 1–2 bowls.
INGREDIENTS
2 packets frozen unsweetened dragon fruit
1/2  cup frozen raspberries (or fruit of choice)
2 medium ripe bananas previously peeled, sliced, and frozen
3 vegan vanilla protein of your choice
1/4 – 1/2 cup coconut milk, or other alternative milk
1/2 cup coconut water
1 scoop Probiotic of choice
Stevia to taste
INSTRUCTIONS
Add frozen dragon fruit, frozen raspberries, banana, protein powder, and dairy-free milk (starting with lower end of range). Blend until creamy. The trick to a thick smoothie bowl is blending slowly, adding only as much liquid as necessary, be sure to scrape down sides. Taste and adjust flavors as needed, adding more fruit for texture, or more stevia for sweetness. Divide into bowl, and add toppings of choice. (We love things like shredded coconut, hemp seeds, chopped dragon fruit, goji berries, sliced kiwi, fresh raspberries, blueberries, sliced banana, or peaches!)
No-Bake PB&J Treats
Makes 15 balls.
INGREDIENTS
1/2 cup creamy peanut butter (or almond, cashew, sunbutter)
1/4 cup maple syrup
1 tbsp vegan protein powder of your choice
1 scoop collagen powder of your choice, unflavored
1 cup gluten-free rolled oats
1/2 tsp maca powder of your choice
2 1/2 tbsp flax seed meal
2 tbsp hemp seeds
1/4 cup dried fruit of your choice (blueberries, cherries, golden berries, etc)
1/2 tsp sea salt to taste
INSTRUCTIONS
To a large mixing bowl, add peanut butter, maple syrup, protein powder, collagen, maca, rolled oats, flax seed meal, chia seeds, and dried fruit of choice. Mix until well combined. If too crumbly, add more peanut butter or maple syrup. If too wet, add more oats or flaxseed meal. Chill in the refrigerator for 5 minutes. Scoop out 1 tbsp amounts, and roll into balls.