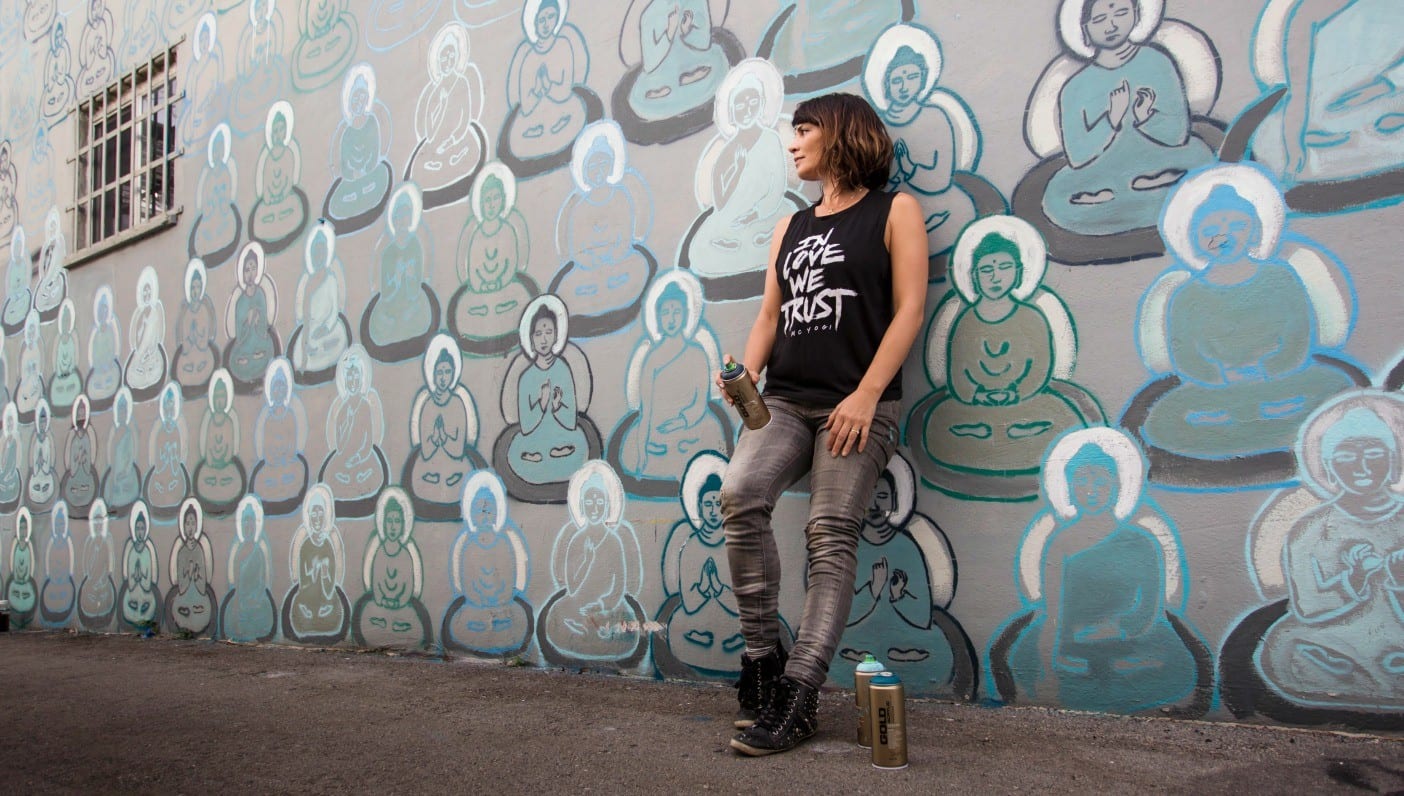 See Amanda Giacomini's 10,000 Buddhas this year at Wanderlust Squaw Valley! For tickets and more information, click here. 
---
It all started in a cave.
Or at least that's where Amanda Giacomini was inspired to start painting her Buddhas, having no idea that she would eventually be painting 10,000 of them. Now the famous image covers a variety of spaces, including living room walls, city streets, sweatshirts, and yoga studios. 
"I had been traveling around to study yoga with my teacher, Sri K. Patabhi Jois, and I wanted to venture around a bit and see more of the country," Amanda says. The young artist was in teacher training at the time, and using her off-hours to explore some of the country's local fauna. Her wanderlust led her to the Ajanta caves—2000 year-old Buddhist caves used as shelter for the monks during monsoon season. The Buddhists, who were on pilgrimage, aimed to travel as wide and far as possible, staying only three days in each city. But that wasn't possible during monsoon season, and thus the caves were born.
"Such beautiful caves, floor to ceiling, all about the life and past lives of the Buddha," Amanda reminisces. "In one of the caves, I saw a painting of 1,000 beautiful Buddhas. There's a whole story about the 1,000 Buddhas, the moral being that students shouldn't compete in yoga, that they shouldn't do fancy tricks or read minds. Rather the practice is about compassion, and helping others to be good people."
Amanda elaborated, saying that in the story, Buddha then performed a miracle for his students, and replicated himself 1,000 times. Thus the beginning of 1,000 little Buddhas.
The Birth of the Buddhas
The mural left Amanda with an image and story she couldn't forget. In addition to the history lesson, the presence of so many Buddhas in one space reminded Amanda of the power of people coming together in order to practice yoga. Throughout her years as a yoga teacher and practitioner, the artist has worked with others in enormous capacities. 
"There's something really powerful about bringing people together," she shares. "It reinforces your enthusiasm for the practice. There are so many layers behind the image, but that's what really stuck out to me."
The image was so potent that Amanda felt the urge to recreate it on her own accords. After her travels, she set to work to make her own version of the Buddha mural, a piece of art that would eventually become the one to populate walls all over the United States. While painting, Amanda continued to feel the essence of "coming together," enjoying the presence of the many Buddhas she was creating.
"The first painting took me nine months, and I realized how much I enjoyed it, and was sad that the painting would be complete," she says. "Every time I went and painted, I was in the presence of all these little Buddhas! I never felt that happy and peaceful painting before."
The process came from a genuine place. Amanda felt the urge to surround herself with her "Buddha babies," and thus sought out more and more resources to replicate the painting. She reports, her voice brimming with kind honesty, "At first it was more of a personal practice—I just felt really good."
Inspired by the good feelings of building so many Buddhas, Amanda continued to develop the project in innovative ways. She started documenting her paintings, made them public, and started to feel accountable. Once it was out there in the Internet Universe, Amanda reports that it felt "more real," as folks started to follow the project. She played around with new resources, testing out different colors and scale and materials. She shrank and grew the Buddhas. She painted them gold and pink. She was doing so many that she decided to count them, thus leading to the creation of 10,000 Buddhas. Eventually, she painted her first wall.
Spreading Peace Through Art
The first mural came to fruition in Miami. Amanda was initially inspired by a large mural she saw while working an event in New York with her husband MC Yogi, and asked around for walls that she might be able to cover with Buddhas. When a friend brought up a wall in Florida, she jumped at the chance.
"It really excited me to do public art, and I fell in love with it," Amanda says. She remembers people coming up to her while she worked, asking questions and taking pictures. Many replicated the Buddhas or stretched into a yoga pose. This only fueled Amanda's desire to make more.
"People were getting the same joy that I was," she reveals. "It's spreading and I'm just kinda going along for the ride."
Since then, Amanda's painted her Buddhas on walls, t-shirts, canvas, and more. Some of the large murals can be found in Hollywood, Washington D.C., West Palm Beach, northern California, and Panama. At this point, she estimates that she's done around 9,400 paintings. When I gasp at the number, she laughs.
"I've been a Buddha making machine," she says. "I feel like one of those traveling monks!"
The connection is clear. Like those Buddhist monks who sought shelter in those caves so many years ago, Amanda is spreading peace. Seeing the Buddhas, regardless of one's location, tends to inspire feelings of tranquility, joy, and companionship. It's a visual method of connection.
The Walls Go Mobile
Amanda revealed 10,000 Buddhas' latest development at Wanderlust 108 New Orleans with her first-ever mobile wall. To those looking to fuel their own creative endeavors, Amanda encourages patience, reminding others that "good things take time."
"This project has taught me to trust the process," she says. "Good things take time. When I think back to when this idea came to me, how long it's taken to catch…It's been years. If you love something, don't give up on it."
In other words, keep at it. Perhaps one way of inspiring peace is to create it yourself. 
For more Buddhas, visit Amanda's website and Instagram.
—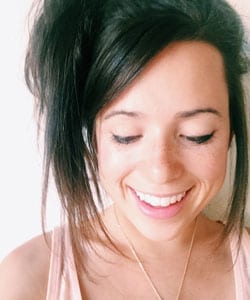 Amanda Kohr is the editor at Wanderlust. You can find her exploring new highways, drinking diner coffee, and on Instagram.