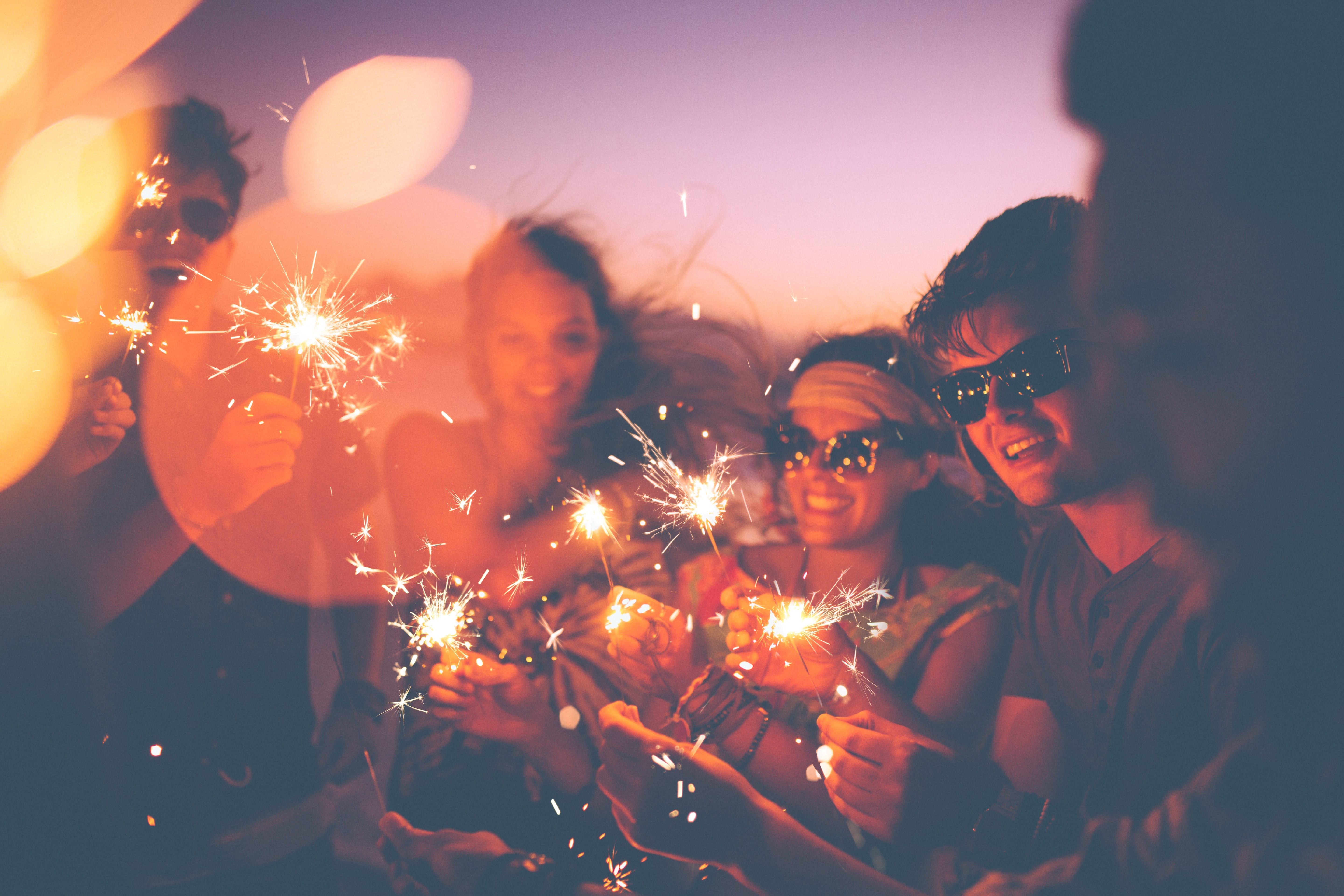 Want more mindfully-inspired recipes? Check out the new Find Your True Fork cookbook, available now for pre-order. 
---
The Fourth is known as a time for barbecues, frosty beers, and sprinkle-covered sugar cookies. There are parades, fireworks, and general patriotic prana. It's an ideal time to gather your loved ones, combine forces, and craft a tasty meal.
That being said, you or your friends might be trying to cut out gluten, dairy, animal products, or something else that can stir up personal health issues. But fear not, hungry yogis. We've assembled 10 recipes that feature the best of nature's bounty—bonus points if they conveniently rep the holiday's infamous color scheme.
Aloe vera and basil seeds are body coolants, so it was a no brainer to include this drink in our Fourth of July lineup. It's perfect for those hot summer days when your body is asking for some chill time. When paired with lemon, it adds a tangy, not-too-sweet flavor that livens up the traditional back porch beverage.
Some of our favorite ingredients come together in this refreshing and unique party drink. While typical mojitos call for soda, this recipe uses kombucha, meaning you've got a cocktail that actually works with your digestive system. The blueberries balance out the tangy kombucha, with the mint adding a sweet, herbal component. Rum is optional, so go as light (or heavy) as your heart desires.
You love fruit. You love protein. These two heartthrobs come together in this epic side dish, creating a lovely amalgamation of color, texture, and flavor. Strawberries and blueberries work to add the salad's signature color, and a handful of sliced almonds provide the crunch. Everything is tied together with a tangy honey-lime dressing, creating an ideal backyard side for a hot summer night.
BBQ is a staple for the fourth, but the store-bought brands are loaded with added sugars and corn syrups. Save a plastic bottle and make your own with this homemade recipe, which uses whole ingredients and maple syrup to sweeten. The recipe provided is pretty divine, but feel free to play with the quantities and make your sauce as smoky/sweet/hot as you like. Vegetarian? It's great on shredded jackfruit and tempeh.
Tortilla chips are one of those beautiful foods that brings the whole party together. Whether you're a fan of guacamole, bean dip, or a good ol' pico de gallo, tortilla chips are a universally loved party snack. The homemade version tastes so much better, and you end up saving a bit of plastic. And with only four ingredients and ready in 30 minutes, this recipe can't get much easier.
Just because a potato salad is vegan doesn't mean it can't be creamy. Cashews work their magic in this recipe, yielding a flavorful salad with a rich and indulgent texture. Lemon and mustard balance out the fat, and you're left with a recipe that will have all of your guests (non-vegans included) asking for more.
Veggie burgers aren't what they used to be. Gone are the days of mystery meat and black-bean concoctions; now you can get a veggie burger that's actually full of veggies. This recipe utilizes whole oats, roasted beets, aquafaba, and chickpeas to create a flavorful patty that won't fall apart on the grill. The flavor is savory without being overpowering, so feel free to experiment with your favorite toppings.
The dessert deserves to be celebrated. It needs to be honored, placed on a pedestal, and recorded in culinary history books for the rest of eternity. After all, what's better than the combination of cake and ice cream? Hint: a combination of cake and ice cream that your dairy-free friends can dive into.
These gems are essentially mini-versions of a strawberry shortcake, making them a fluffy and fun option for your holiday dessert table. Angel food is naturally lighter than most cakes, so it's great if you're feeling full after one too many vegetarian chili cheese dogs. We love how the coconut cream frosting adds a tropical twist.
There are few things more picturesque than a lattice-pie atop a Fourth of July dessert table. Instead of butter, this beautiful recipes uses coconut oil to create a comforting and perfectly-crusted summer recipe. Pair alongside a scoop of almond ice cream, or enjoy the next morning for breakfast (if there's any left).
Want even more treats from Wanderlust? Visit us at the Find Your True Fork stage this summer at one of our Wanderlust Festivals.
—
Amanda Kohr is the editor at Wanderlust. You can find her exploring new highways, drinking diner coffee, and on Instagram.