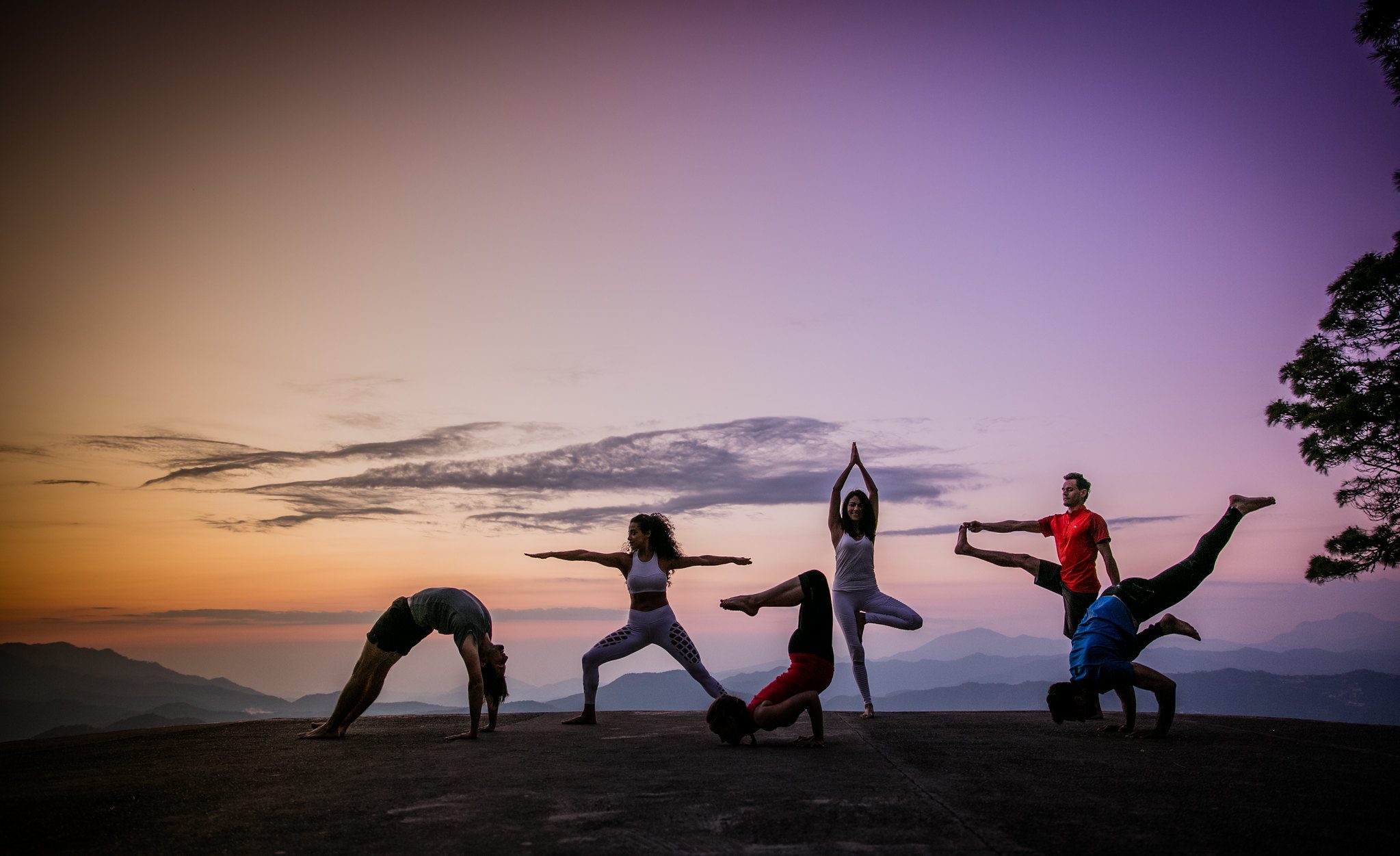 "Yoga is the journey of the self, through the self, to the self."      – The Bhagavad Gita
The International Day of Yoga shines a light on the importance of the practice of yoga in all its forms. We're excited to be offering practice from all over the globe, partnering internationally with our Wanderlust family today.
Here in North America, Wanderlust will be donating the proceeds from all Wanderlust TV classes on June 21 to the organization chosen by the teacher.
For details on how to register for these classes on Wanderlust TV, scroll down or click here.
North American Schedule 6/21
All programming happening on Wanderlust TV.
11a ET / 8a PT:  
Reggie Hubbard  ~ Resilience, Refocus, Reunion ~ benefitting Juxtaposition Arts
---
1p ET  / 10a PT:
 Sarah Finger  ~ Chakra Flow & Meditation ~ benefitting Yoga Gives Back

---
3p ET  / 12p PT:
 Donovan McGrath  ~ Form & Flow ~ benefitting Audre Lorde Foundation

---
4:30p ET  / 1:30p PT:
 Nicole Cardoza  ~ Kids Yoga ~ benefitting Yoga Foster

---
7p ET  / 4p PT:
 Orlee Klempner  ~ Yin, Breathe, Chillax ~ benefits Campaign Zero

---
10:30p ET  / 7:30p PT:
 Ambi Kavanagh  ~ New Moon Soulstrology Soundbath ~ benefits Color of Change

---
Our international teams are curating programming on their respective Instagram channels (click Stream button below).
We'll update this page as teachers confirm for their respective national spotlight!
G

ermany, Austria & S

witzerland (DACH)
10am CEST ~ Eva Klein ~ Embodied Yoga for your Life – not just your hamstrings ~ Yoga Class ~ English ~ Stream
An embodied yoga practice where you will inquire how to take good care of yourself and your loved ones during these days ,how to give and receive support through connection with others. You will leave nourished and supported by the wanderlust community. Let's celebrate humanity !
France
5pm CEST ~ Jérome Boulenger & Keilimei ~ Fire and Inversions ~ Yoga Class with live music ~ English ~ Stream
Inversions are a staple in a good yoga practice. Think of inverting as the fountain of youth. Turning upside down, or bringing the head below the heart, can stimulate our nervous system, bring more oxygen and blood flow to the brain. Come boost your energy levels, work on the core and live a happy day!
Great Britain
7pm BST ~ David Kam ~ Ways of Willingness. Where there's a will, there's a way ~ Yoga Class ~ English ~ Stream
Join David in the practice of willingness towards possibilities through a liberating journey of mindful movement and playful situations.
Italy
9:30am CEST  ~ Ela Mare ~ Vitality & Strength. A practice for Radiance and passion. ~ Yoga Class ~ English ~ Join the Class
A powerful Practice to ignite your inner fire and increase your radiance and positivity through a full class of Himalayan kundalini.
Spain
11:30am CEST ~ Churro and Juan Röme ~ Yoga Class & live music ~ Spanish ~ Join the Class
12:30pm CEST ~ Adriana Jarrín ~ Talk on her project Yoga for Cancer. ~ Spanish ~ Join the Class
1:00pm CEST ~ Bienvivir Vibes & Ari Blánquez ~ Cooking show. Recipe for yogis. ~ Spanish ~ Join the Class
Wanderlust 108 Spain will host a program of activities during International Yoga Day on Instagram Live. It will kick off the day with a yoga & live music with Churro and Juan Röme; then it will be followed by an interview to Adriana Jarrin, founder of Yoga for Cancer; and it will end with a cooking show hosted by Bienvivir Vibes teaching a yoga recipe to the Wanderlust ambassador Ari Blánquez.
---
HOW TO JOIN NORTH AMERICAN PROGRAMMING ON WLTV
How to Join the Intl Day of Yoga on Wanderlust TV
(North American programming happens on Wanderlust TV ~ European programming on Instagram, scroll up for links)
If you'd like to tune in for one class on International Day of Yoga: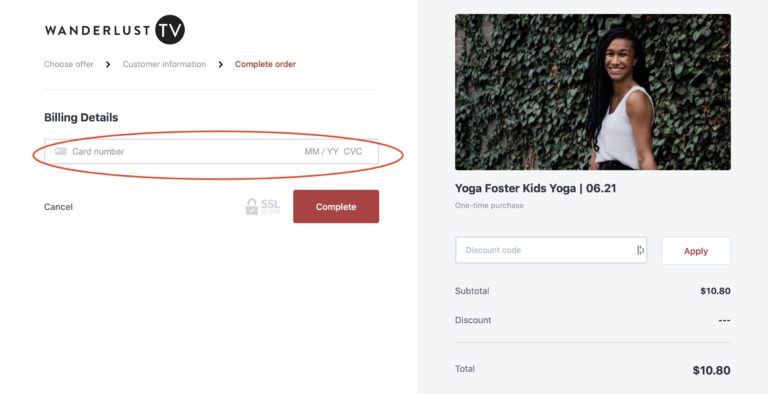 Go to the class page (linked in images above, example here) and hit the red GET ACCESS NOW button.
Then click "Purchase class for $10.80" button at the bottom of that screen and click red CONTINUE button.
Create an account and hit CONTINUE.
Enter your credit card to complete the registration (100% of this cost will go to the non-profit selected by the teacher). See example to the right.
If the cost of the class is a stretch for you during these challenging times, we have an honor system promo code for you to use to gain free access to class for Intl Day of Yoga.

When you get to the registration screen asking for a credit card, STOP (do not enter credit card) and enter this promo code in the promo code box on the right: COVIDFREE (see example, below on the left). Then hit APPLY.
Once you have entered that code, the cost of the session will update to $0.00 and you will not need to enter a credit card (see example, below on the right).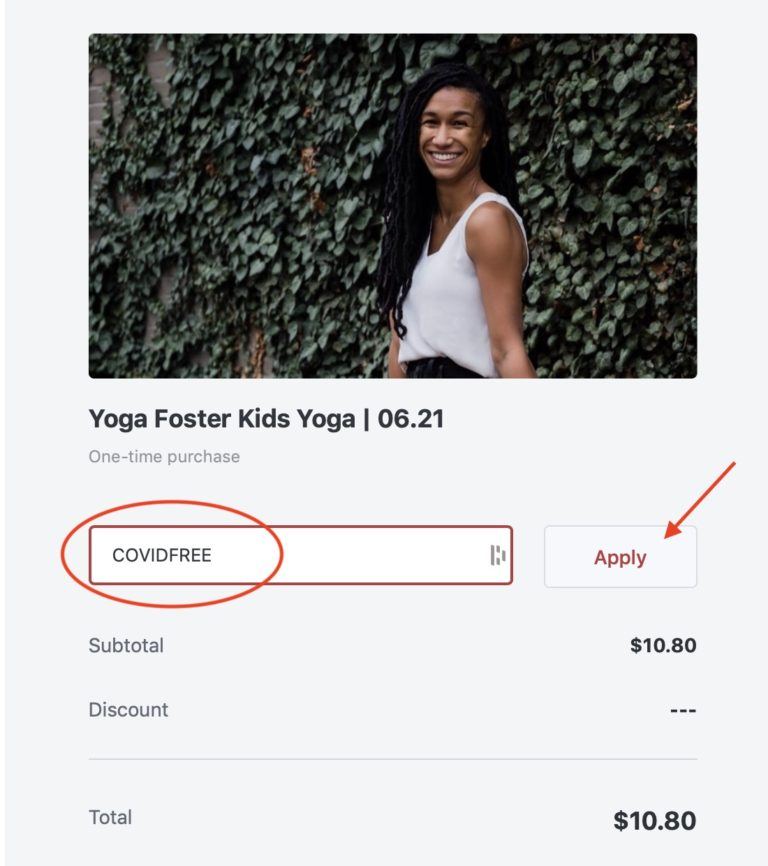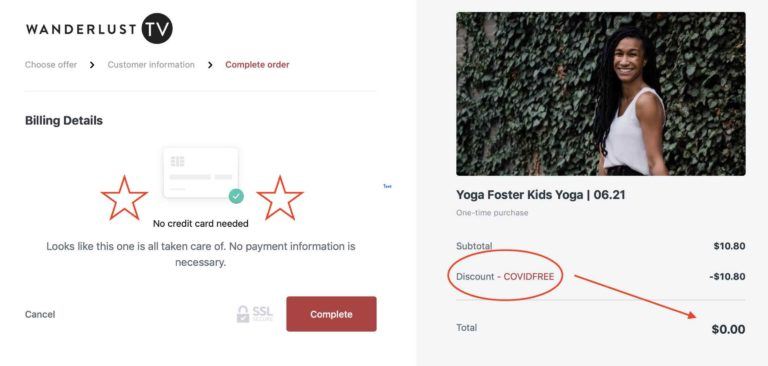 ---