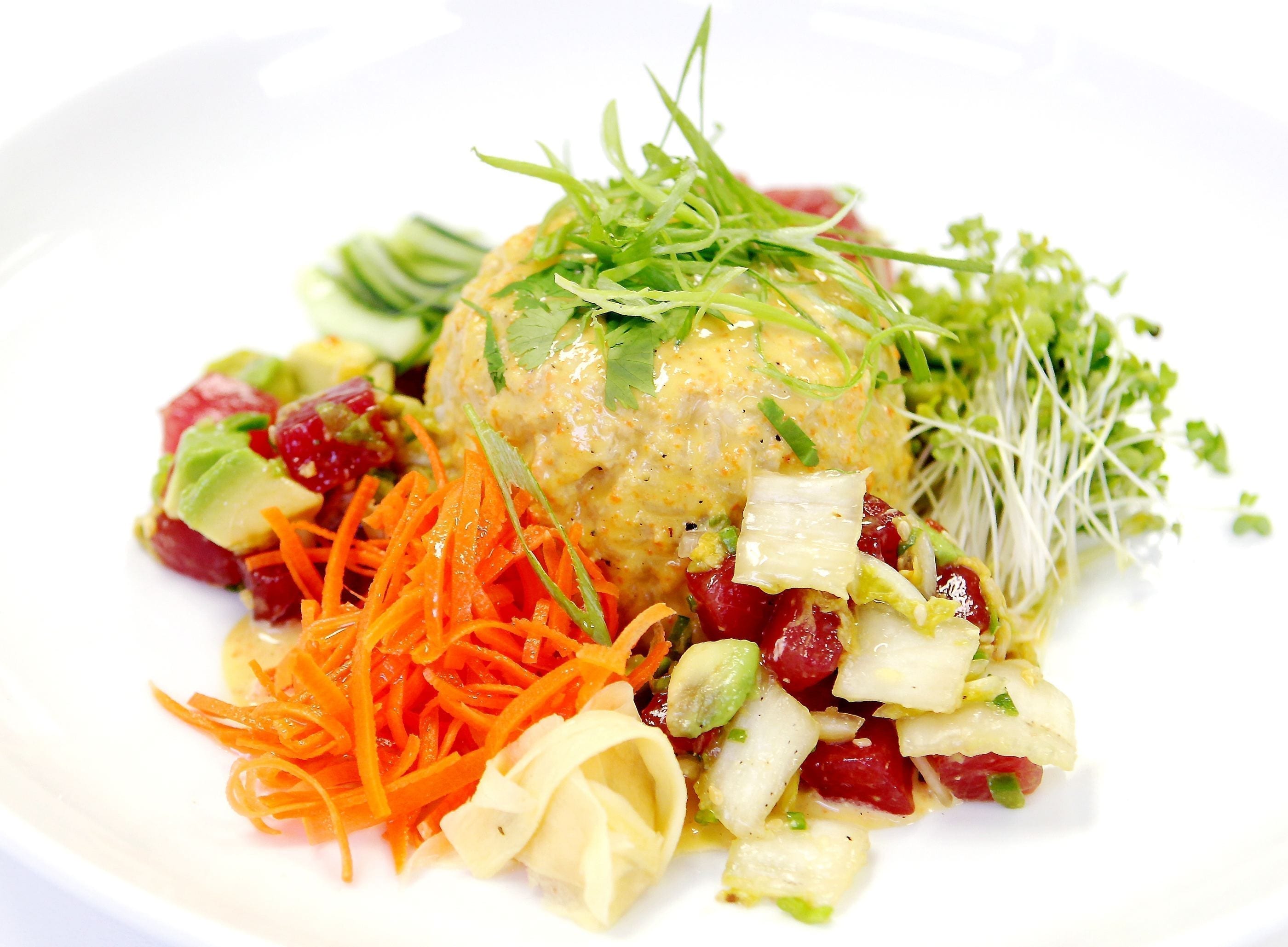 Eight4Nine Restaurant & Lounge food Shoot Ahi Tuna Poke Bowl (House-Made Kimchi, Green Onion, Ginger, White Soy, Cucumber, Avocado, Steamed Brown Rice, Miso Ginger) Snapshot Palm Spring Palm Springs 08/11/15 © John Paschal/Snapshotpalmsprings.com 310-871-6613
From Eight4Nine Restaurant in Greater Palm Springs.
Ingredients
1 lb fresh ahi tuna (find at local grocery store)
1 1⁄2 cup Kimchi (drained)
3 tbs sesame oil
1 tbs shallots (diced)
1 tbs scallions (diced) 1⁄2 tsp Kosher salt
1 avocado (diced)
1 Carrot (julienned)
1 Cucumber (julienned)
1 container Horse radish sprouts (or celery)
Brown rice
1 cup Miso ginger sauce
To assemble:
Dice tuna in small cubes (dice to liking).
In a bowl, mix tuna, kimchi, sesame oil, shallots, scallions, salt, and avocado until tuna is well coated and set aside.
In a plate of your liking, place carrots, cucumber and horseradish sprout and arrange as illustrated.
Do the same with tuna.
Place brown rice at the center of the plate and top with miso ginger sauce.
Kimchi
1 Napa Cabbage (chopped) 2 scallion stems (chopped)
1⁄2 cup sesame oil
4 cup rice vinegar
1⁄4 cup fresh ginger (minced)
1⁄4 cup Sesame seed
1⁄2 Sambal (add more if you like heat)
To assemble:
Using gloves, combine; cabbage, green onions, sesame seeds and fresh ginger in a large bowl.
Pour together; Rice vinegar, sesame oil, sambal into bowl, making sure that all dry ingredients are covered in liquid.
Mix all ingredients together.
Set at room temp for 24 hours to initiate the fermentation processes and store in refrigerator.
Enjoy Kimchi in, soups, ahi poke, fried rice and so many more dishes!
Miso Ginger Sauce
1 tbs Miso paste (find in Local grocery store)
1 cup Mayonnaise
1 tbs fresh ginger (minced)
Combine all ingredients and whisk in a bowl until well incorporated.
It's time to live your "wellest." That's what we've always done in this magical, sun-kissed oasis. Since the days of the earliest Native American settlers, we've created a destination for wellness. Besides our legendary hot springs, there are more than 1,000 miles of breathtaking trails for epic hikes, ancient waterfalls and light-filled spas surrounded by whispering palms. Whatever brings you joy, you'll find it here. Greater Palm Springs: nine resort cities, one "wellest" oasis.