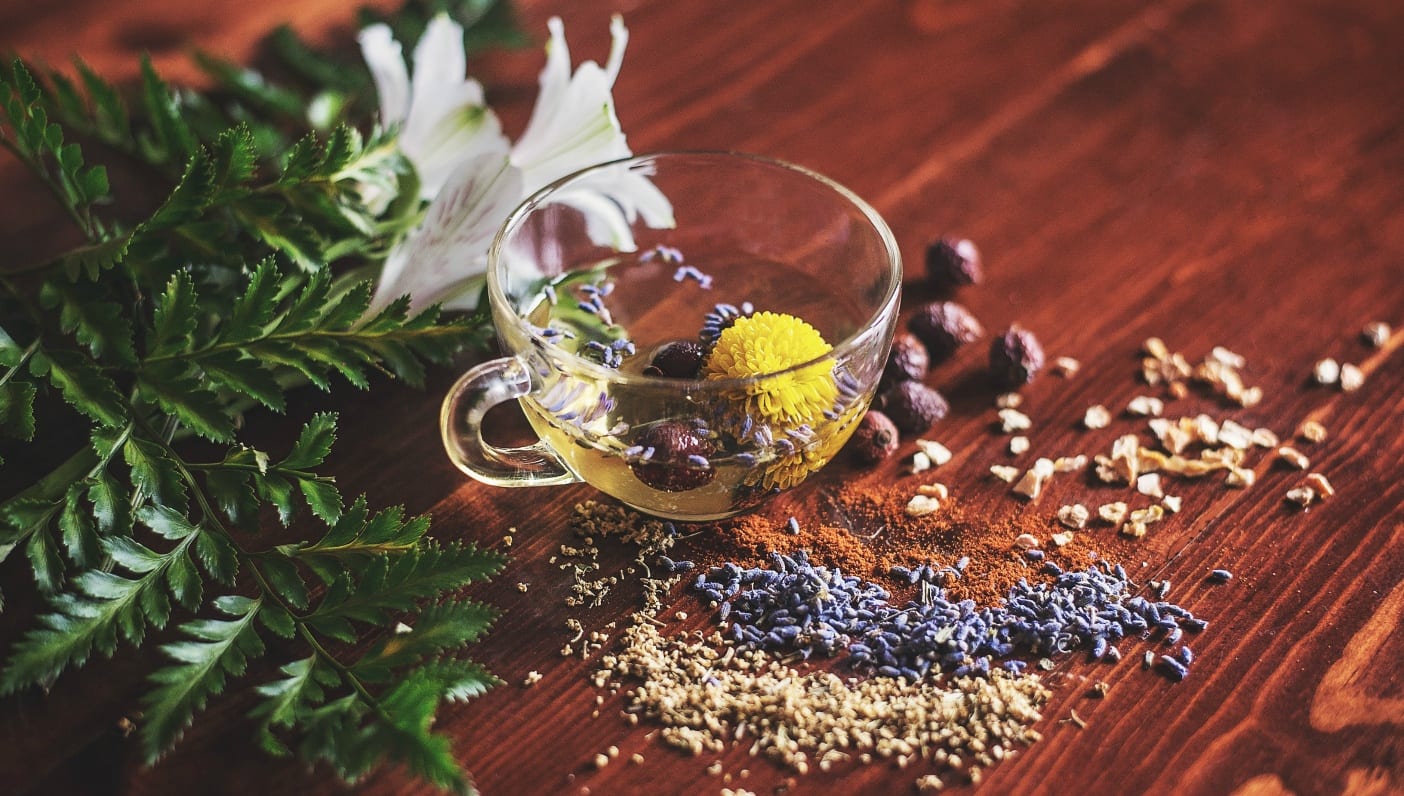 Photo by Lisa Hobbs
A few weeks ago, a group of my best friends from college gathered in a large cabin in the woods for a bachelorette weekend. There was no shortage of La Croix and adult libations, but displayed on the bar were also six unfamiliar bottles, each with a handmade label boasting ingredients like rhubarb, nettles, and honey. One friend, who left New York years ago to become a professional plant lady, had packed a collection of homemade shrubs—with which we happily (and healthily!) doctored our tequila and spritzers. The presence of the alternative mixers made me realize with absolute conviction that while tinctures and elixirs may still be in the nascent phase of becoming mainstream, herbalism is having a moment.
Herbalism is the study or practice of the healing properties of plants, particularly as a form of plant-based therapy and alternative medicine. According to co-founder of upstate New York-based Wyld Womyn Meghan Conway, the fact that herbalism is gaining traction makes sense. Meghan believes that we're living in a time in which people are looking for alternative care, support, and hope—and that in time like this, we tend to look toward what we know ancestrally. Modalities, such as yoga and herbalism, teach us ways to heal from within, and to use the natural world around us to find the healing we seek—whatever that may be.
"As woo woo or hooky as it sounds, that's our planet, our Earth Mama Gaia, and her medicine is palpable," says Meghan. "I respect modern (Western) medicine, truly. There is a reason for it, but there is also a reason why there is medicine right outside your door that most think are just weeds. These plants have such POWERFUL, medicinal properties. And these plants give their medicine for free. Imagine that! Medicine, outside your door, that costs nothing. Truly incredible. That, working together with the amazing technology and education that Western medicine brings to the table, we can really treat from the inside out," she says.
Mindfully Gathering
The practice of herbalism is so much more than just the act of augmenting or replacing modern chemicals with plants. For Meghan, one of the most surprising things she discovered about herbalism was a deeper relationship with the world around her. She started the journey of self-discovery with the practice of yoga, yoga teaching, and then becoming a doula. But for her, "herbalism really peels off more of those layers," she says, requiring her to consider how she's relating with the world and the planet.
When you work with plants, says Meghan, you're just as apt to think about the origin and sourcing of the plant as, say, someone who works with animals would think about meat or animal products. "You think, 'OK I'm going to make this nettles tea,' but did you think about this plant? Or where you got the tea from? Or how the person who harvest this plant that you are now consuming, how did they treat this plant? And how did they harvest?"
Meghan notes that the consideration of whether or not to use or consume animal products can be highly emotional. "An animal pulls at your heartstrings when you decide to be vegetarian or vegan, and you watch documentaries on mass farming, etc. You say to yourself 'I can't treat another living thing like that!' and then you consciously make a difference," she says. For her—and many other herbalists or plant enthusiasts—it's the same with plants.
Following Intuition
One of the most significant differences between traditional Western medicine and herbalism as alternative medicine could be how deeply personal the practice can be. Meghan recalls a moment in herbalism school when her teacher Tammi encouraged students to ask permission of Grandmother Plant before harvesting. Who's to say which plant is the Grandmother? "A lot of this is truly based on your heart, and intuition. Which is exactly why this is NOT a healing modality for everyone," says Meghan—one of the major things that sets herbalism apart. "Go ask the Grandmother Plant," says Meghan. "She will tell you if her land is well enough for you to harvest, if they can still survive with you harvesting a portion. It begins a deeper and heartfelt dialogue with all living things."
Such a deeply personal practice can have challenges as well—no doubt. As a birth doula, Meghan is required to be on call at all times. She experienced the challenging side of herbalism during a stint using the herb Skullcap in an effort to relieve symptoms of stress, anxiety, and depression.
"I start to drink Skullcap and I am almost immediately noticing her affects," says Meghan. "I am way more chill, to the point of pure exhaustion all the time. Drinking a quart a day I am literally falling asleep midday in the afternoon at work!" This, of course, was the plan, but Meghan says that, "Skullcap made my nervous system SO chill and relaxed that I practically gave myself narcolepsy. So it worked. I still love her. I am not taking a quart a day, but a cup of tea of her at the end of my day is just right," she laughs.
DIY! 3 Essential Recipes
We asked Meghan if she'd be willing to share three recipes of her favorite herbalist potions with us. "Willing? I would absolutely LOVE to share 3 recipes that I adore and love," she says. Happy experimenting!
Joy Tea from Rosemary Gladstar
2 parts chamomile
3 parts lemon balm
1 part hawthorne berries and blossoms
2 parts hibiscus flowers
2 parts rose petals
1/8 part lavender flowers
1/8 part cardamom pods chopped
Use 4–6 tbsp of herbs per 1 quart of water. Add herbs to cold water and place in direct sunlight. If winter, place in a south-facing sunny window. Let it sit for several hours or overnight. Strain and enjoy!
Nettles Infusion
1 oz nettles per 1 quart of water
Add boiling water to 1 quart size container with 1 oz of nettles. Let it steep for several hours or overnight. Strain and put in fridge to chill! Drink as a chilled or iced tonic.
Calendula Oil
Great as facial oil. For cuts, burns and scrapes, add lavender essential oils or peppermint. I love putting some after I wash my face every night!
Fill up a quart size container with dried calendula flowers.
Add in organic olive oil (or any other carrier oil that you know you love) until there is about 2 inches on top of flower that's just oil.
Seal it and let it sit for about 3–6 weeks.
Place it in a sunny window sill or outside where it can receive direct sunlight.
Shake it everyday and perhaps say an intention or prayer with it.
Strain and enjoy.
Meghan Conway is a birth doula, yoga teacher, herbalist, and co-founder of the "community-centered, judgement-free space to support, explore & empower the feminine in us all" Wyld Womyn in Beacon, New York. Click here for more information.
—
Lisette Cheresson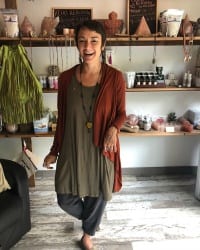 is a writer, storyteller, yoga teacher, and adventuress who is an avid vagabond, homechef, dirt-collector, and dreamer. When she's not playing with words, it's a safe bet that she's either hopping a plane, dancing, cooking, or hiking. She received her Level II Reiki Attunement and attended a 4-day intensive discourse with the Dalai Lama in India, and received her RYT200 in Brooklyn. She has served as Director of Content at Wanderlust Festival, taught Astrology Yoga on Wanderlust TV, and completed her end-of-life doula training in 2019. She lives with her husband and animals in the Hudson Valley, NY.