Learn from Eoin Finn firsthand at Wanderlust O'ahu this winter! Better yet, catch him on the road with Wanderlust all year long with a Passport—your ticket to any and all Wanderlust events, worldwide.
For more information about O'ahu, click here. To join the global mindful movement, click here. 
---
In a world driven by social media likes, in which we consider "friends" to be "followers" and our worth in clicks, it can be tough to cultivate a true sense of self-love and inner peace. Renowned yoga teachers, it turns out, are not immune from the bait of the ego. Eoin Finn, founder of Blissology and regular Wanderlust teacher, was leading a retreat in Bali when he had the revelation.
"In Bali, there are stars, there's are no walls," says Eoin. "So I'm sitting under the stars, looking at the light on my phone, when there's so much beautiful light coming in from all those beautiful stars. And I realized I was plugged into the wrong light."
There's nothing wrong with wanting to be liked, of course. But for Eoin it was a reminder to cultivate his sense of worth within before he could accept it from outside sources, even if those sources are thousands of followers.
I realized I was plugged into the wrong light.
"Yoga is a beautiful teaching because the way the texts are translated in English is there's a small "s" self and a capital "S" Self," says Eoin. The self is concerned with ego gratification, while the Self is an inner knowing; a place in which we're happy without external reason.
"Our happiness comes because we have an amazing relationship with the universe, with love, with light, with God, with nature; you fill in the blank," Eoin says. "If we don't have that love of our higher self first and foremost, we're going to get pulled in a thousand directions. In that humbleness, light comes in. Ironically, it's in feeling so small that we realize the contribution of our own hearts to the greatness of humanity unfolding."
Instead of picking up your phone to search for comments first thing in the morning, try Eoin's Self-Love Meditation. Watch the likes roll in.
—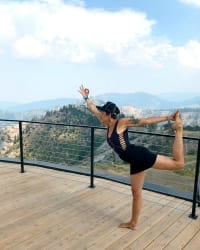 Lisette Cheresson is currently the Director of Content at Wanderlust Festival. She's a writer, storyteller, yoga teacher, and filmmaker who is an avid vagabond, dancer, dirt-collector, and dreamer. She received her Level II Reiki Attunement and attended a 4-day intensive discourse with the Dalai Lama in India, and received her RYT200 in Brooklyn. Catch her teaching @dayayogastudio, or find her on Instagram @lisetteileen.