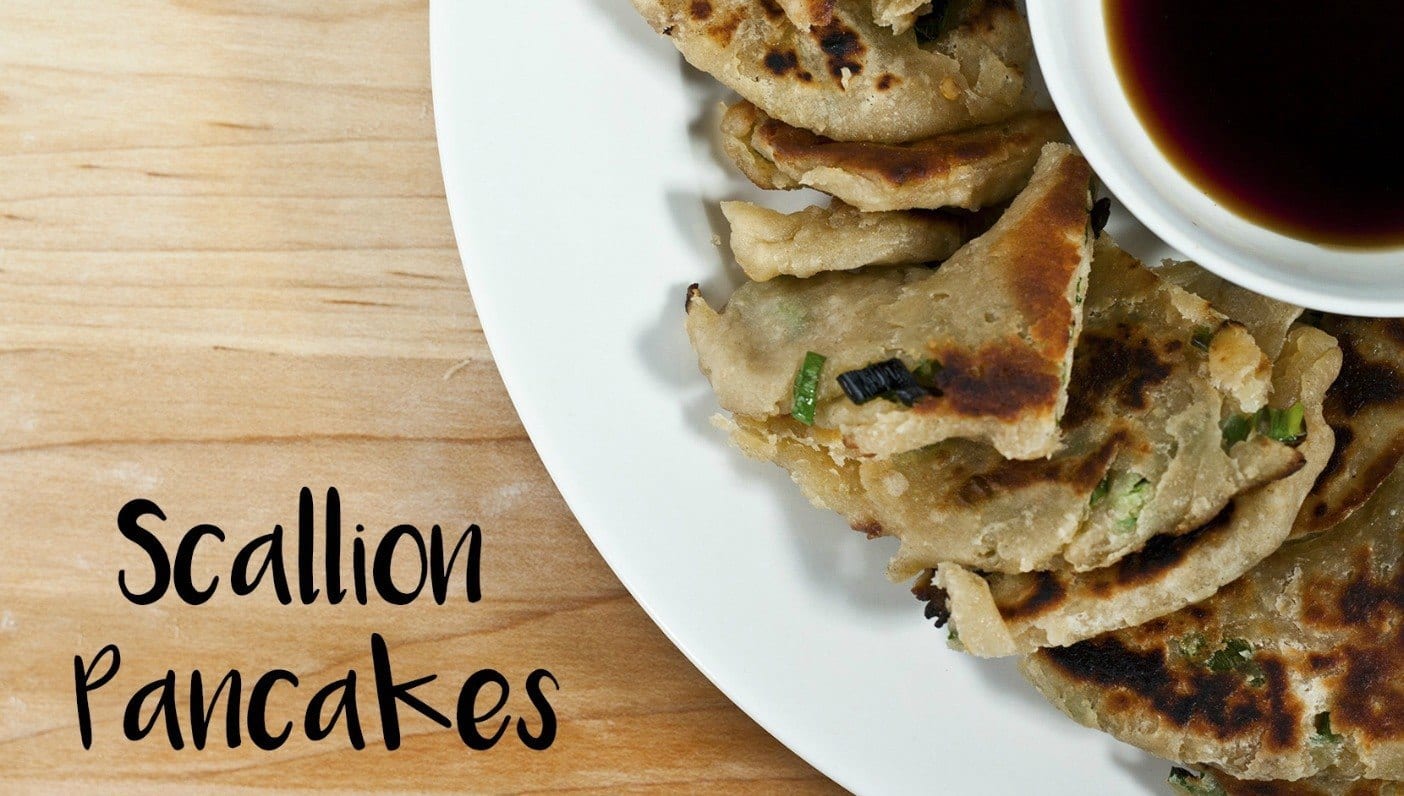 This recipe is part of a Wanderlust TV series, Play With Your Food.
---
These savory pancakes are crispy, flaky, and slightly chewy. They are made by pan-frying unleavened dough in a manner quite similar to cooking Indian parathas. Through rolling and coiling, you'll create a stack of many thin dough layers. Don't worry if the rolling process seems complicated at first glance—just think of the dough as a circular yoga mat.
Serves 4
1¾ cups all-purpose flour
¼ cup whole-wheat flour
1 teaspoon fine sea salt
¼ teaspoon chile flakes
¼ cup milk
1 tablespoon soy sauce
1½ teaspoons rice vinegar
¼ teaspoon sriracha hot chile sauce
1 tablespoon toasted sesame oil
1 tablespoon unsalted butter, softened
1 cup very thinly sliced scallions, green parts only
¼ cup olive oil
Combine the all-purpose flour, whole-wheat flour, salt, and chile flakes in a large bowl.
Bring the milk and ¾ cup water to a boil, and then pour it into the flour mixture. Use a fork to stir until the dough clumps together. Turn the dough out onto an un-floured surface and knead it for a few minutes. It should be barely sticky with a satisfying squishiness like that of Play-Doh. Divide the dough into four equal balls, cover them with a damp kitchen towel, and set aside to rest for 5 minutes.
Meanwhile, make the dipping sauce by combining the soy sauce, rice vinegar, and sriracha in a shallow bowl.
Flatten one dough ball into a 1/8-inch-thick circle. Brush a little of the sesame oil across it, and then tightly roll up like a yoga mat. Starting at one end, coil the rolled dough around itself to form a tight spiral. Repeat with remaining dough balls, keeping the others covered with the damp towel.
Flatten each spiral into a ¼-inch-thick circle. This time spread the softened butter across the dough instead of the sesame oil, and repeat the same rolling and coiling process. (If the dough sticks to the rolling pin, sprinkle some flour on it; if the layers start to separate, simply pinch them back together.)
Repeat the same flattening, rolling, and coiling process once more but this final time sprinkle the sliced scallions across the dough instead of spreading oil or butter. Roll out each coiled, onion-filled dough spiral into a ½-inch-thick circle.
Heat a large skillet over medium-high heat for a few minutes. Pour in the olive oil, and then place one pancake into the skillet. Cook for 1 to 2 minutes, or until the bottom side is nicely browned. Using a stiff spatula, carefully flip the pancake and pan-fry the second side for another minute. Transfer the pancake to a warm plate.
Repeat with remaining pancakes. You shouldn't need to add any additional olive oil to the skillet. Cut each pancake into four wedges and serve with little bowls of dipping sauce.
—
Maria Zizka is a Berkeley-born food writer, cookbook collaborator, and recipe developer. Most recently she co-authored the forthcoming Sqirl cookbook, Everything I Want to Eat, which will be published by Abrams in fall 2016. She is currently working with Elisabeth Prueitt and Chad Robertson of Tartine Bakery.
Save