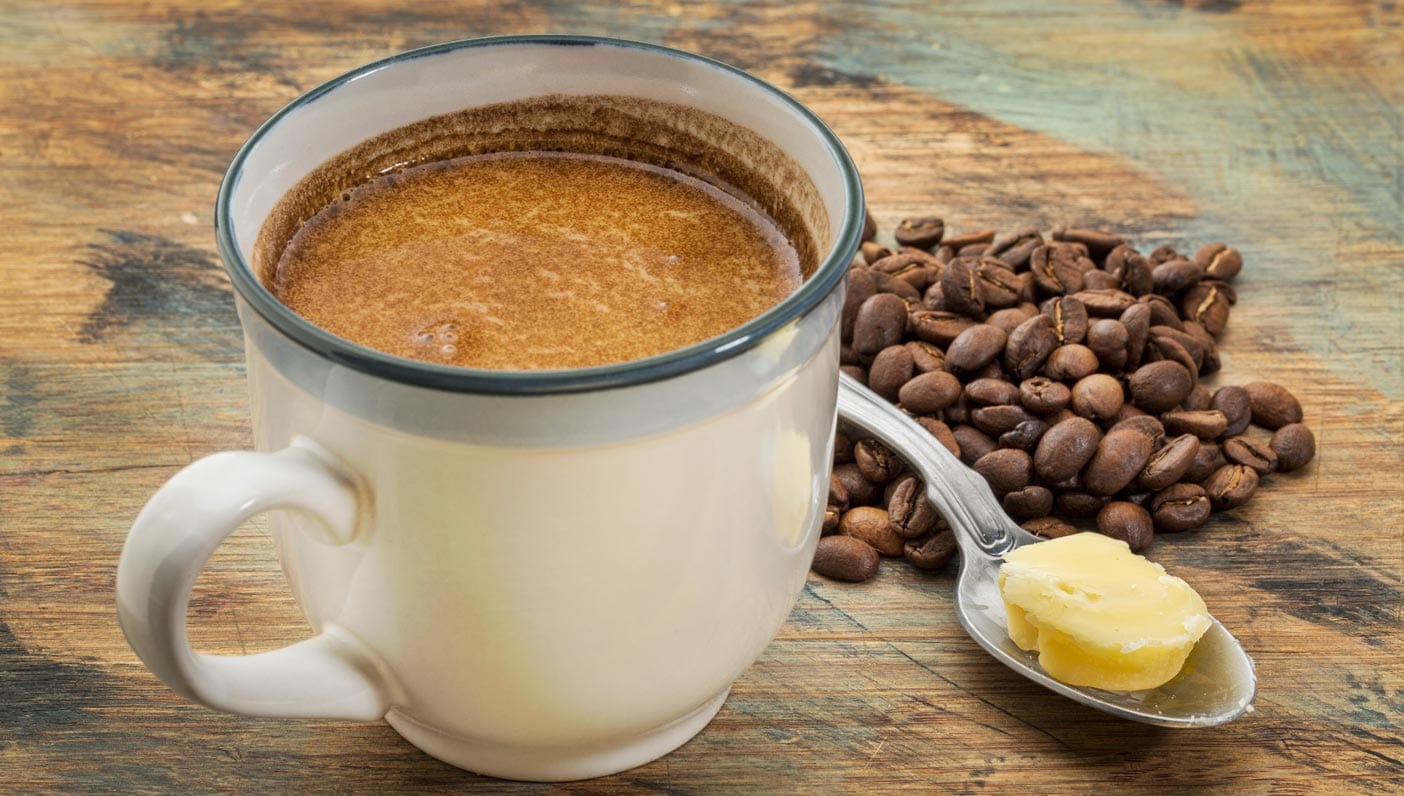 Photo via iStock
In our modern food society, everyone is trying to find the new best thing. We want the soup recipes with the best detox qualities, the cow that eats the most grass, and the coconut water with the highest count of electrolytes. So it's no surprise that plain old coffee would need a healthy super-boost at some point.
Have you heard of Bulletproof coffee? My guess is probably yes. This caffeinated concoction of butter, MCT oil, and coffee has been advertised as giving drinkers the cleanest form of energy while leading to weight loss. The stuff has appeared in coffee shops throughout the United States, including Los Angeles and Chicago. Now it's back in the news, as Whole Foods is adding BPC products to their markets. 
The creator, David Asprey, found the recipe while hiking in Tibet. The drink requires low-mold coffee beans, two tablespoons of grass-fed butter, which is higher in Omega-3s and vitamins, and two tablespoons of medium-chain triglyceride oil. The end result is a 450-calories cup of breakfast coffee said to give drinkers a clean caffeine high and promote weight loss.
Asprey discusses his thoughts regarding BPC with LA Weekly:
Asprey's claims about Bulletproof—which he suggests consumers drink in lieu of eating breakfast—are grand. Thanks to the fats in the oil and butter, he says the beverage invigorates the mind and eradicates mental fog. At the same time, he says, those fats make you feel full, encouraging more controlled eating habits. And, he claims, Bulletproof beans (which are trademarked) are superior to those of his U.S. competitors; lesser joes, he suggests, have dangerously high levels of mycotoxins that come from mold.
Since Asprey posted the recipe on his website in 2009, Bulletproof coffee has been circulating coffee shops and pop culture. Advocates of the drink include Shaielene Woodley, Jimmy Fallon, and Shaun T (creator of the Insanity workout series), who uses the coffee as part of his "Wild Diet" regime.
Not everyone is convinced, however. Some individuals who tasted the coffee reported stomach issues, or that the drink did nothing to curb hunger. Health experts have been the most critical. Also from LA Weekly:
Asprey has come under fire from health experts who say that Bulletproof has too many fats and calories, and that replacing breakfast with a single beverage isn't such a great idea. Nutrition expert Christopher Ochner told Gayomali that the effects of coconut oil extract on weight loss are "very, very small," and that he "most certainly would not recommend" Bulletproof.
These health experts have reported that Bulletproof is low in essential nutrients, too high in saturated fat, and that it can lead to high cholesterol.
But this doesn't deter Asprey. He swears by Bulletproof, and opened the first official Bulletproof coffee shop in Santa Monica in 2015, with plans for more in the future. The shop reflects his beliefs in finding the best; the floors are topped with a shiny "electrically grounding" metal, that supposedly helps visitors ground themselves. The tables are electrically connected to the walls in order to help grind out any static charges that Asprey says contribute to inflammation.
Men's Fitness recently did a story on Asprey, reporting on his background in the Silicon Valley tech industry and his venture into weight loss. (At one point he weighed 300 pounds.) He admits to experimenting with different diets because he likes learning about how different foods and exercise regimes affect his body.
Men's Fitness reports:
Asprey believes that an optimized life—not a longer life, or even a healthier life—is the only life worth living. "I don't care about health," he says. "Everyone wants health. I want high performance—which is an altered state that means I'm three standard deviations away from normal, in the positive direction."
Like other popular diet fads, it looks like Bulletproof coffee is hit or miss. If you're interested in learning more, or replicating Asprey's recipe at home, we've got the information here.
Have you ever tried Bulletproof coffee? What's been your experience?
—
Amanda Kohr is a 25-year-old writer and photographer with a penchant for yoga, food, and travel.  She prefers to bathe in the moonlight rather than the sun, and enjoys living in a state of the three C's: cozy, creative, and curious. When she's not writing, you can find her driving her VW Bug, looking for the next roadside attraction or family diner. She also roams the internet at amandakohr.com.