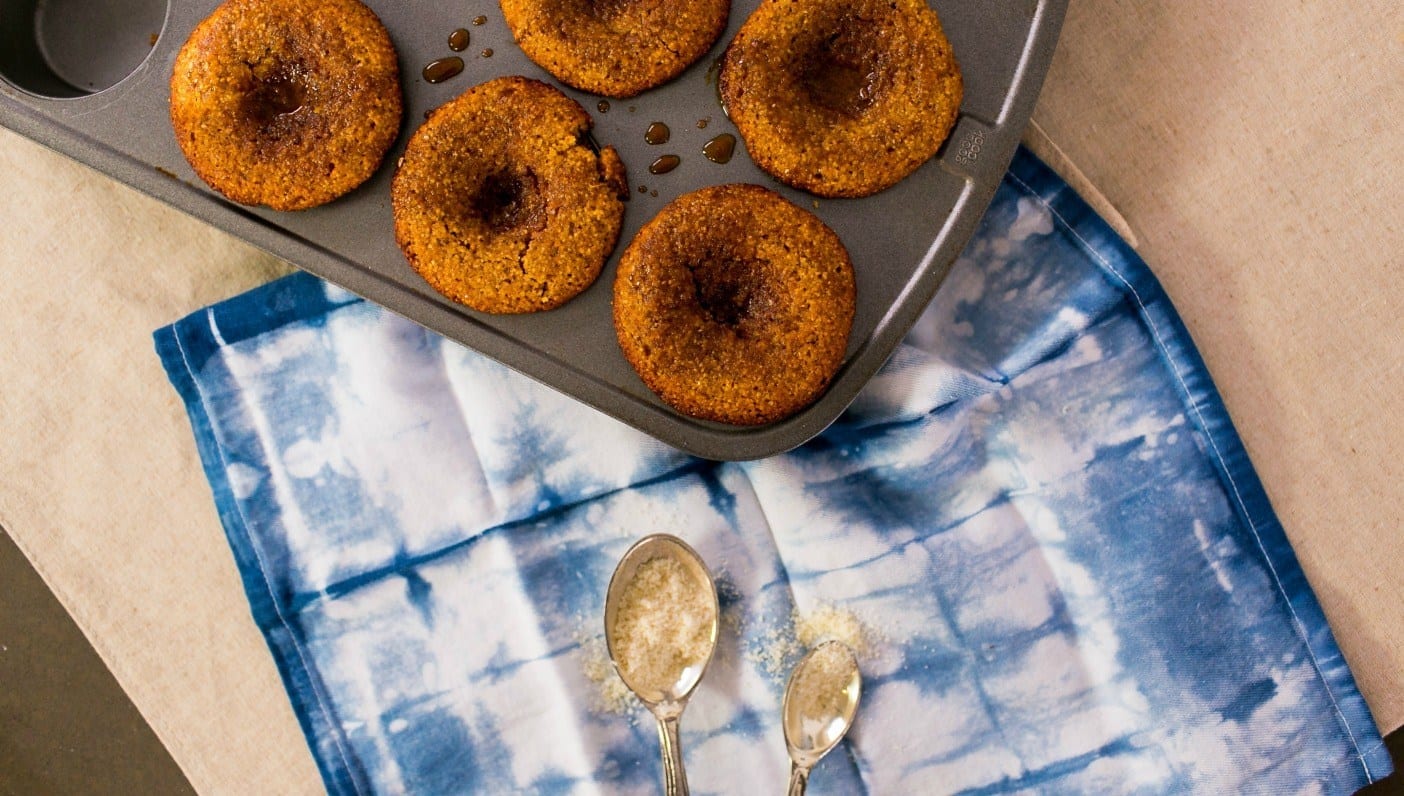 Let's talk about muffins. They're a favorite among breakfast foods—especially when served hot from the oven—but too often lack the nutritional value to make them a solid snack for the yogi-on-the-go. If you're like us, you need something with protein and fiber so that you can stay energized, and thus function as your best self. That's why we developed these orange polenta glazed muffins.
Unlike your average "healthy" muffin, this recipe doesn't sacrifice flavor for nutritional value. In fact, the addition of applesauce, siggi's vanilla yogurt, and almond flour makes them more moist and fluffy than your typical white flour-based baked good. Combined with earthy cinnamon and topped with a honey-orange glaze, these muffins satisfy your sweet tooth without messing with your energy levels. Great for sharing, or enjoy all on your own.

GF Zesty Orange and Polenta Muffins
INGREDIENTS
For the muffins:
1 egg
1/4 cup almond milk
1/3 cup siggi's vanilla yogurt
1/3 cup honey
3/4 cup almond meal/flour
3/4 cup fine polenta
1 tsp baking powder
Zest and juice of 1/2 orange
1/2 tsp vanilla extract
1/2 tsp cinnamon
1 and 1/2 tbsp coconut oil, melted
Sea salt to taste
For the glaze:
1/4 tsp cinnamon
Zest and juice of 1 orange
1 tbsp honey
INSTRUCTIONS
Preheat the oven to 350 degrees. Use a microplane to zest the oranges.
Prepare the batter by adding the egg, almond milk, honey, coconut oil, and yogurt into a medium-sized mixing bowl. Stir to combine. Next, add the almond flour, polenta, baking powder, and vanilla. Add the zest, orange juice, and cinnamon and stir to combine.
Pour into reusable muffin tins and bake for 20-24 minutes, or until the top is slightly golden brown. (Pierce the top with a knife—it should come out clean.) Allow muffins to cool. 
Heat the glaze ingredients together in a small saucepan on medium-low heat for 30 seconds. Once the muffins have cooled, spoon the glaze on top. Cut the muffins in half lengthwise, and add a dollop of siggi's vanilla yogurt in between the slices.
In partnership with siggi's
At siggi's we make yogurts with simple ingredients and not a lot of sugar. Our products are based on Scandinavian dairy traditions, such as skyr, the traditional Icelandic yogurt. Our products don't contain any of those dreadful artificial sweeteners. We only use milk from family farms who do not use growth hormones like rBST.