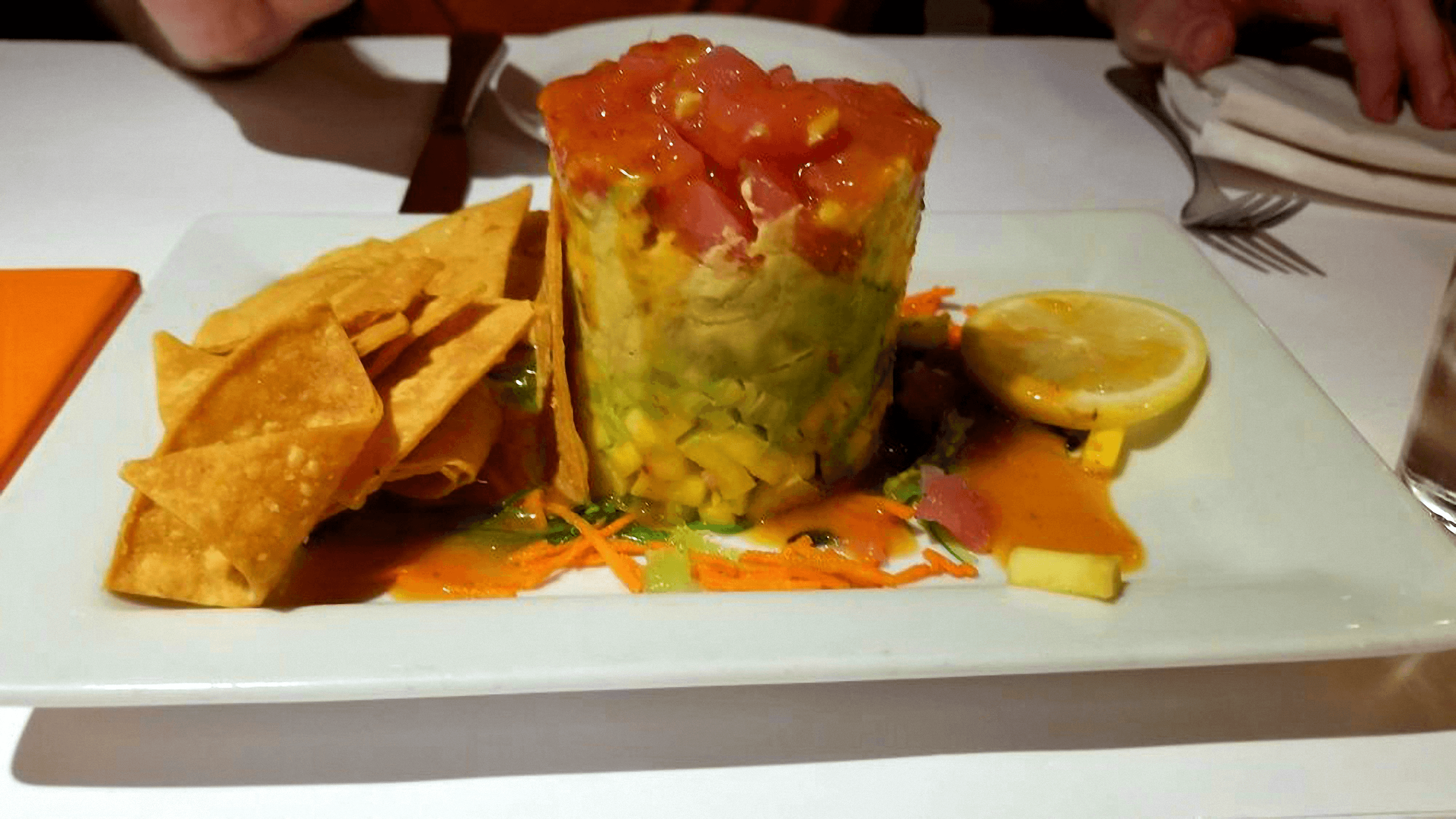 From the famed Trio Restaurant in Greater Palm Springs.
Ingredients
6 oz Ahi Tuna
2 oz Wakimi Salad
1⁄2 Ea. Fresh Avocado
1⁄2 Ea. Fresh Mango
1 oz Wasabi Ginger Sauce (recipe to follow)
To prepare the ahi:
In a bowl medium dice the tuna and set aside.
Small dice the avocado and set aside separately, and small dice the mango and set aside from tuna and avocado.
In a small bowl rehydrate wakimi salad and set aside.
To the diced tuna pour in the wasabi ginger sauce.
Gently stir together to incorporate the sauce throughout the tuna.
On a chilled plate add the wakimi salad first and then add a 2×3" round ring on top of salad and begin building with first layer of mango, followed with avocado, then mango again and topped with the ahi tuna.
Carefully remove ring and top with any remaining liquid on top.
Wasabi Ginger Sauce
2 Tbsp Wasabi Powder
1⁄2 Cup Soy Sauce
1⁄2 Cup Sweet Chili Sauce 2 Tbsp Pickled Ginger
2 Tbsp Mango Chutney
Add all ingredients to a bowl and mix thoroughly. Once incorporated place in fridge to chill
It's time to live your "wellest." That's what we've always done in this magical, sun-kissed oasis. Since the days of the earliest Native American settlers, we've created a destination for wellness. Besides our legendary hot springs, there are more than 1,000 miles of breathtaking trails for epic hikes, ancient waterfalls and light-filled spas surrounded by whispering palms. Whatever brings you joy, you'll find it here. Greater Palm Springs: nine resort cities, one "wellest" oasis.